The National College for Motorsport (NC4M) has been recognised for its services to the motorsport industry, reports Samantha King.
The college, which was established in 2003, was presented the MIA Service to Industry Award at the Motorsport Industry Association's Business Excellence Awards in January, attended by representatives from across the motor industry, including people from Bentley, British Aerospace and Porsche.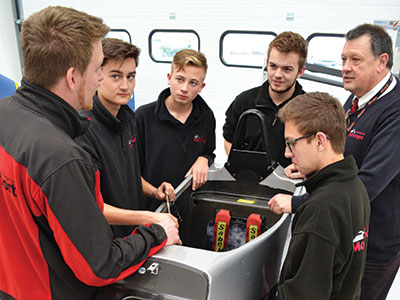 Categories at the awards included the 'teamwork award', 'technology and innovation award' and 'business of the year with annual sales over £5 million award'. Winners in each category were voted for by industry professionals and MIA members.
The NC4M was up against Ginetta, a specialist builder of racing and sports cars, the service charity Mission Motorsport and the Warwick Manufacturing Group in the 'service to the industry' category, and was the only educational establishment to receive an award at the event.
The college won for its performance in training, guiding young people into apprenticeships as race mechanics, and its "dedication to the future of motorsport", a spokesperson for MIA said.
"The MIA represents all aspects of the industry at the highest level so it is especially nice for them to recognise our work," said Chris Weller, a motorsport apprenticeship assessor at NC4M, who accepted the award on behalf of the college. "The majority of our students go onto to work within the industry, some working in Formula One and in teams based all over the world.
"We provide specialist training and the feedback we receive from the industry is that we get it right – they want to employ our students."
Based at the Silverstone Circuit, the college is part of Tresham College and the Bedford College Group, and was the first college in the UK to achieve the Motorsport Academy employer recognition scheme charter mark for training race mechanics.