The National Deaf Children's Society is taking on deaf apprentices for the first time in an effort to open up more apprenticeship opportunities for those with impaired hearing, reports Samantha King
It will be the first time the charity has run an apprenticeship programme of any kind, taking on three level three youth work apprentices and one level two business administration apprentice – and crucially, all applicants are deaf.
The Birmingham apprenticeship was advertised to deaf 18- to 25-year-olds, with an occupational requirement to become a role model to other deaf young people, and has received applicants from as far away as Cardiff.
One of the applicants for the youth work apprenticeship, 18-year-old Francesca Lanfranchi from Nottingham, cited a lack of confidence as one of the biggest barriers to deaf young people seeking employment.
These apprentices will showcase to employers up and down the country what a brilliant contribution they can make to an organisation
"This apprenticeship programme is definitely a really positive step," she said.
"By sharing positive stories of apprentices taken on through this programme, it will show other deaf young people what can be achieved and hopefully give them the self-belief to take on similar opportunities."
Over the next five years, the NDCS will use its experience with the new crop of apprentices – who will begin with the charity in July and August – to develop training resources and guidance for other employers looking to take on a deaf apprentice.
There is also an employer conference in the pipeline for 2018, which will highlight good practice and how to make adjustments in the workplace for deaf employees.
Rachel Perrin, head of youth development and partnerships at NDCS said: "The levy has provided a starting point for this apprenticeship scheme.
"In the last few years our policy and campaigns team have been campaigning for equal access to apprenticeships nationally. Just earlier this year British Sign Language was agreed as an equivalent to level two in English as a requirement to apprenticeships programmes."
Rathbone Training, a youth charity that assists young people in accessing employment and training, helped with the apprentice recruitment process, and supported the society in making adjustments for candidates' deafness.
A spokesperson for the charity, Rob Tickle, said: "We worked with NDCS to design a recruitment process enabling candidates to deliver a presentation in their preferred method of communication – be it British Sign Language, or spoken and interpreted."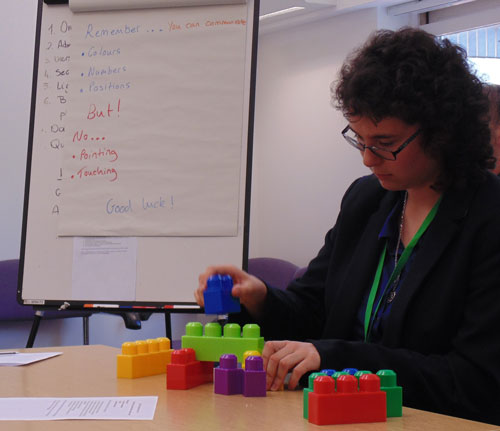 Tutors from Rathbone Training will also be delivering the training to the apprentices as part of their qualification.
"We think it's important that organisations running apprenticeship programmes recognise the incredible value of a deaf apprentice," Perrin added.
"What better way to advocate for and showcase the fantastic contribution that deaf young people can make, than by setting up our own apprenticeship programme internally.
"These apprentices will showcase to employers up and down the country what a brilliant contribution they can make to an organisation, and break down any misconceptions they might have.
 "Deaf young people can do anything other young people can do if given the right support."
The NDCS currently has two resources available on its website for employers and apprenticeship providers wanting to know more about taking on deaf apprentices: 'Breaking the sound barrier' and 'Supporting the Achievement of Deaf Young People on Apprenticeships 2017'.