The boss of Hull College has been accused of trying to bully a member of the shadow cabinet for supporting a staff strike action.
Karl Turner, who is the MP for Kingston upon Hull and the shadow attorney general, joined "angry and demoralised" Hull College workers on the picket line this week in a row over pay and a controversial new lesson observation system.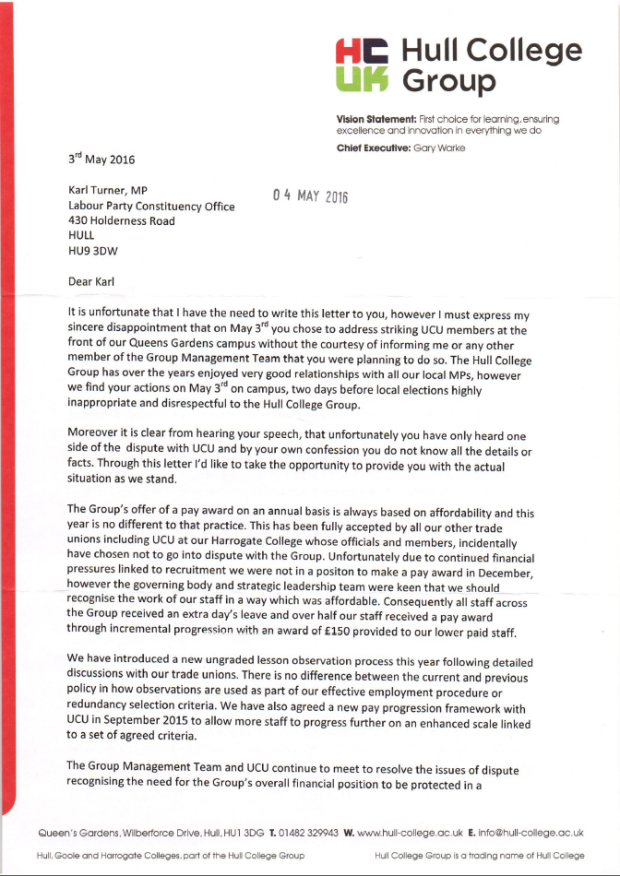 He addressed striking members of the University and College Union (UCU), and urged the college to listen to their concerns.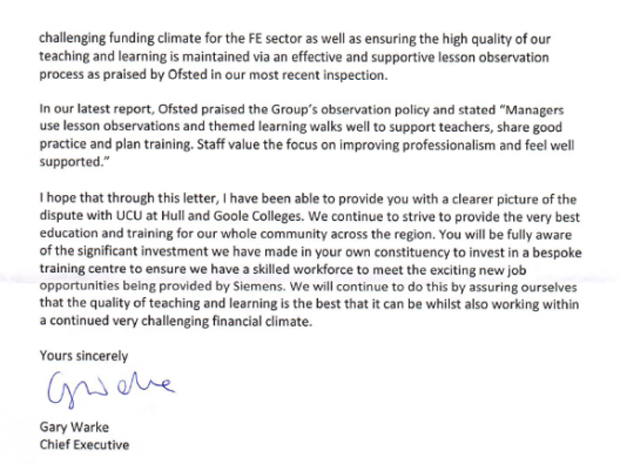 Now however, Mr Turner is calling for an investigation into the college's chief executive Gary Warke, after he was allegedly sent a "threatening and derogatory" letter.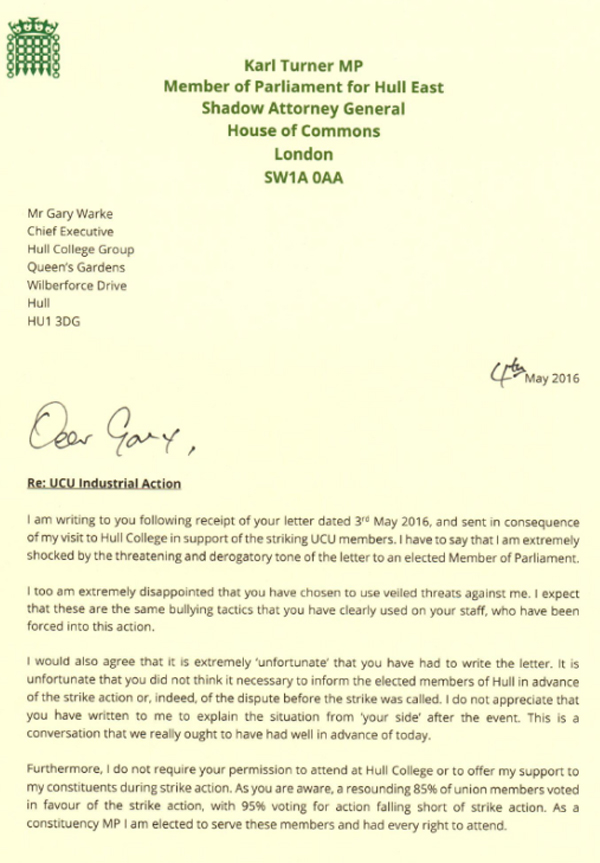 The MP uploaded a copy of the letter to his blog, in which Mr Warke allegedly wrote to "express my sincere disappointment that you chose to address striking UCU members without the courtesy of informing me", adding: "We find your actions, two days before local elections highly inappropriate and disrespectful to the Hull College Group."
Mr Turner wrote back: "I am too extremely disappointed that you have chosen to use veiled threats against me. I expect that these are the same bullying tactics that you have clearly used on your staff."
He has now chosen to take the matter further, writing to Patricia Tomlinson, the chair of the college's governors, calling for an investigation into the chief executive's "threats".
In his blog, Mr Turner added: "While Mr Warke may feel that he can bully and intimidate his staff at Hull City College, he cannot do it to me. He might pay himself more than the Prime Minister while his staff are effectively on pay freezes, but not even the Prime Minister would dare to use threats on an elected MP."
Mr Warke has declined to comment any further on the matter. However, a spokesperson for Hull College spokesperson confirmed that Mr Turner has requested an investigation into his conduct.
This is not the first time Hull College has been accused of bullying behaviour. John Giddins, UCU's Yorkshire and Humberside regional branch development organiser, told FE Week before the strike that the college had conducted its industrial relations in an "appalling and threatening" manner.
The strike action, which was backed 85 per cent of UCU members at the college, also received support from Jeremy Corbyn, leader of the Labour party, who also joined more than 120 members of staff on the picket line.
The college spokesperson said: "The group management team and UCU continue to meet to resolve the issues of dispute, recognising the need for its overall financial position to be protected in a challenging funding climate for the FE sector, as well as ensuring the high quality of our teaching and learning is maintained."