Edward Moore has returned to education following a life-changing motorbike accident that inspired him to pursue a career in medicine, writes Billy Camden.
A New College Stamford student was so inspired by the treatment and care he received after a motorbike accident that he decided to enter the world of medicine to "give something back".
Edward Moore was 17 years old when he suffered serious leg injuries while travelling as a passenger with lifelong friend, Will Stamp.
"We were travelling down the road on a quick one-minute journey. We went round a corner and there was a bit of oil on the floor making the bike completely slip from underneath us. We ended up about 15 metres into a field with the bike ruined," said Edward.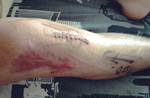 Will escaped injury but Edward paid the price for not wearing any protective motorbike clothing.
"Initially I couldn't feel my leg with the adrenaline pumping round so I stood up to make sure Will was fine but then I looked down and saw blood everywhere. One leg still had my jeans on but the other was shredded. The seriousness of the injury hit me when I see it," he said.
Edward was rushed to hospital where he underwent surgery to cover a whole in his knee and treat the burns. He then had to go through years of treatment and follow-up appointments.
When the accident happened, Edward was a keen rugby player and hoped to build a career in sport, but that stopped as a result of his injuries.
The now 21-year-old is grateful to be alive and ready to give something back by pursuing a career in medical science.
"The accident was a terrible thing to happen, but it actually re-focussed my mind and made me seriously think about the medical profession as a career," said Edward.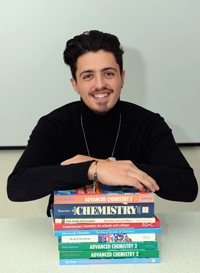 "The care and treatment I received was incredible and it has actually inspired me to get involved and follow that route. I want to give something back and make a difference to someone's life and I think I can do that by going to medical school to work in research."
Edward is studying A levels in biology, physics and geography, with the hope of gaining a place at university next year to study microbiology or virology.
"This accident taught me that your life can change in a split second. Hopefully though, I'm going to make the changes in my life a good thing and give something back. That would make me very happy," said Edward.
Marilyn Rawson, New College Stamford's learning and standards manager, said: "Edward has been through a great deal, but is using his experiences of the medical profession to drive him towards a career in research, which is wonderful to see.
"He could have let the accident deter him from returning to his studies, but instead he has an even greater passion to succeed and a commitment and dedication to his studies that is really inspiring. He will realise his dreams, I'm sure."
Main pic: Edward Moore during a biology lecture at New College Stamford