Nearly 150 young people are one step closer to taking on the world's best, having been listed among the WorldSkills UK squad.
The names of most of those who will begin training with the aim of representing Team UK at WorldSkills Abu Dhabi in 2017 were announced on Saturday night at the closing ceremony for the Skills Show in Birmingham.
Dr Neil Bentley, chief executive of Find a Future, which manages the UK's entry into the WorldSkills competition, said: "I offer my huge congratulations to every young person who has secured a place in Squad UK at The Skills Show 2015.
"By competing in the WorldSkills Competition, the UK is able to share best practice in apprenticeships, further education and skills with countries around the world, raising standards on a global scale."
Business Secretary Sajid Javid said: "The young people who have earned a place on Squad UK are worthy ambassadors and demonstrate how high quality apprenticeships and technical training can be a fast-track to a top career.
"I congratulate each and every member of Squad UK and look forward to hearing about their preparations for 2017's competition in Abu Dhabi."
The 148 young people, including winners from this year's Skills Show finals, who have so far been named for Squad UK (see list below) represent 83 different FE providers across the UK, including FE colleges, independent learning providers and employers.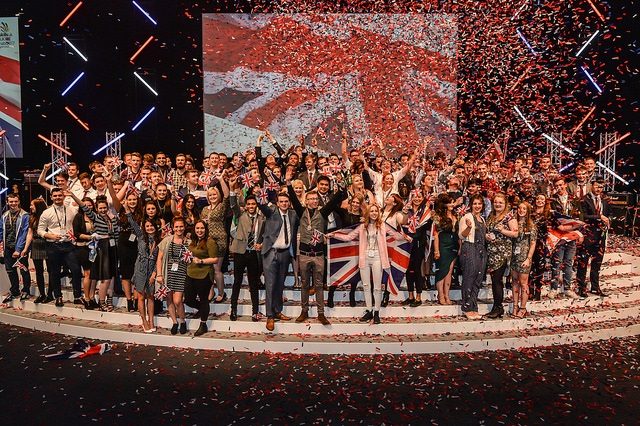 Southern Regional College in Northern Ireland has the highest number of any provider, with seven learners in the squad representing five skill areas: health and social care, joinery, mechanical engineering CAD, plumbing, and wall and floor tiling.
City of Glasgow College and Coleg Sir Gar have the next highest number of learners on the squad, with six each.
The City of Glasgow College learners will be competing for places in Team UK in four skill areas: beauty therapy (body), confectionery, culinary arts and restaurant services.
Coleg Sir Gar's squad members, which include a brother and sister, Bruno and Elizabeth Forkuoh, will represent four skill areas: carpentry, manufacturing team challenge, restaurant service and web design.
The highest ranking English provider, with four learners in the squad, is University Technical College (UTC) Sheffield. Its four learners are (pictured main, from left) Edward Anderson, Jacob Staniforth, Hannah Saville, and Jaye Griffiths, all aged 18 and they will be aiming to represent Team UK in industrial control.
New College Lanarkshire, Riverpark Training, South West College, The Automated Technology Group, The Goldsmiths' Centre and Toyota Manufacturing Ltd also have four learners each on the squad.
Squad UK members for bricklaying are expected be announced on Wednesday, November 25, as the results of the national finals have not yet been announced.
The results in the roofing (slate and tiling) and plastering competitions have also been delayed, but these skills areas are not represented at WorldSkills.
A spokesperson for Find a Future, the competition organisers, said the delay was because "it will be necessary to re-verify the results of these competitions".
Pic: Alex Reynolds
Squad UK members
Aeronautical engineering: mechanical
Philip Broodbank (Airbus)
Aaron Duckworth (Thomson Airways)
William Hughes (Raytheon Systems Ltd)
Joseph Massey (Coleg Cambria)
David Sutton (QinetiQ)
Automotive body repair
Daniel Baker (Chartwell)
Andrew Gault (Riverpark Training)
Andrew McClure (Riverpark Training)
Andrew Spiers (Riverpark Training)
Automotive refinishing
Rory Clague (Race & Restoration)
Daryl Head (Thatcham Automotive Academy)
Jonathan McNaugher (Riverpark Training)
Kyle Saunders (Coleg Gwent)
Automotive technology
Seamus Goodfellow (South West College)
Beauty therapy – body
Samantha Adams (Coleg Cambria)
Ashlea Gissing (Great Yarmouth College of Further Education)
Isla McLarty (City of Glasgow College)
Shannon Morris (Truro and Penwith College)
Kaiya Swain (Sussex Downs College)
Cabinet making
Jack Adams (Chichester College)
Jack Bateman (Chichester College)
Angus Bruce-Gardner (Waters and Acland)
David Sparkes (Bridgwater College)
Carpentry
Benjamin Allen (Coleg Sir Gar)
Shane Everett (Carter Academy)
Robert Hamilton (Northern Regional College)
Cameron Nutt (North West Regional College)
Dean O'Neill (South West College)
CNC milling
Ethan Davies (Coleg Cambria)
Liam Woinson (Training 2000 Ltd)
CNC turning
Ryan Allenby (M-Sport Ltd)
Samuel Parkinson (Training 2000 Ltd)
Phillip Whiteside (Rolls Royce Plc)
Confectionery
Chloe Hart (City of Glasgow College)
Steven Lodge (Hull College)
Chloe Oswald (City of Glasgow College)
Lorna Thompson (Hull College)
Construction metalwork
Bradley Clare (Grimsby Institute of Further and Higher Education)
Oliver Kauss (Humberside Engineering Training Association)
Macaulay Reavil (Grimsby Institute of Further and Higher Education)
Luke Sherwood (Grimsby Institute of Further and Higher Education)
Thomas Woodburn (WEC Group Ltd)
Culinary arts
Burhan Ahmed (Henley College Coventry)
Nicolle Finnie (City of Glasgow College)
Ryan Gray (New College, Durham)
Ruth Hansom (Westminster Kingsway College)
Charles Quiambao (City of Glasgow College)
Electrical installation
Matthew Doe (Bridgwater College)
Daniel Griffin (Coleg Gwent)
Harvey Hemmens (Bridgwater College)
Sutherland More (Moray College UHI)
Fine jewellery making
Sharon Alvarez (The Goldsmiths' Centre)
Hugo Johnson (Richard Talman Fine Jewellery)
Chloe Lightfoot (The Goldsmiths' Centre)
Alex Wood (The Goldsmiths' Centre)
Eleanor Woolacott (The Goldsmiths' Centre)
Floristry
Caitlin Anning (Academy of Floral Art)
Aneekah Hussain (Farnborough College of Technology)
Robyn Lingdwn (Reaseheath College)
Danielle Scandone (Guildford College of Further and Higher Education)
Hairdressing
Kelly Bishop (Red's Hair Company)
Lucy Knight (City of Bristol College)
Nicola Sharratt (Burton and South Derbyshire College)
Ashleigh Marie Simmons (Coleg y Cymoedd)
Bridie Thorne (Pride Hairdressing & Barber Shop)
Health and social care
Aine Devlin (Southern Regional College)
Jessica Duckworth (Burnley College)
Laura Jean King (Weston College)
Georgina Ravenscroft (Five Boroughs NHS Partnership Trust)
Jenny Smyth (Southern Regional College)
Industrial control
Edward Anderson (UTC Sheffield)
Bradley Crisp (The Automated Technology Group)
Jaye Griffiths (UTC Sheffield)
Yestin Lamptey (The Automated Technology Group)
James Mason (The Automated Technology Group)
Josh Russell (The Automated Technology Group)
Hannah Saville (UTC Sheffield)
Sam Scott (Industrial Automation & Control Ltd)
Jacob Staniforth (UTC Sheffield)
Industrial electronics
Tom Andrews (Alton College)
Jimmy Page (Alton College)
Jaroslaw Radecki (Belfast Metropolitan College)
IT support technician
Andrew Matthews (Highbury College, Portsmouth)
Kalum Pepperday (West Nottinghamshire College Group)
Joinery
Jack Chambers (Chesterfield College)
Jordan Mark (Southern Regional College)
Kieran Paterson (Dumfries and Galloway College)
Kyle Weir (South West College)
Conor Willmott (West Suffolk College)
Landscape gardening
William Burberry (Gardenscapes)
Adam Ferguson (College of Agriculture, Food and Rural Enterprise)
Noel Taggart (College of Agriculture, Food and Rural Enterprise)
Manufacturing team challenge
Jamie Davies (Coleg Sir Gar)
Bruno Forkuoh (Coleg Sir Gar)
Jake Green (CarnaudMetalBox)
Niall Howarth (City of Wolverhampton College)
Jonathan Mackay (City of Wolverhampton College)
Alexander McCluskey (CarnaudMetalBox)
Jacob Parker (CarnaudMetalBox)
Matthew Plant (City of Wolverhampton College)
James Stallard (Coleg Sir Gar)
Mechanical engineering: CAD
Betsy Crosbie (New College Lanarkshire)
Tobias Husbands (BAE Systems)
Christopher Hugh Reid (New College Lanarkshire)
Michael Skora (Southern Regional College)
Calum Waltho (New College Lanarkshire)
Mechatronics
Meliha Beglerovic (Middlesex University)
Jack Dakin (Toyota Manufacturing Ltd)
Sam Hillier (Toyota Manufacturing Ltd)
Mehnaz Mahaboob (Middlesex University)
Humzah Razzaque (Toyota Manufacturing Ltd)
Tom Revell (Toyota Manufacturing Ltd)
Network infrastructure technician
Oliver Davis (Bedford College)
Jonathan Samson (New College Lanarkshire)
Luke Andrew Saunders (Darlington College of Technology)
Network security
Shane Carpenter (North East Surrey College of Technology)
Network systems administrator
Matthew Thomas (North East Surrey College of Technology)
Painting and decorating
Ryan Chamberlain (New College, Durham)
Jordan Charters (Edinburgh College)
Gemma Chizary (New College, Durham)
Plastering and drywall systems
Dale Calderwood (Belfast Metropolitan College)
Sam Dowsett (British Gypsum Technical Academy)
Gwthin Jones (Coleg Llandrillo Cymru)
Harrison Moy (British Gypsum Technical Academy)
Plumbing
Daniel Martins (Briggs and Forrester Group Ltd)
Gavin Rice (Southern Regional College)
Alex Rooney (South West College)
Restaurant service
Thomas Baxter (City of Glasgow College)
Elizabeth Forkuoh (Coleg Sir Gar)
Ryan Kenyon (Marriott Hotel)
Jordan Philburn (Tameside College)
Zac Williams-Wolfe (Tameside College)
Stonemasonry
Toby Brook (City of Bath College)
Visual merchandising
Catherine Abbott (Top Shop)
Amy Greatrex (University of South Wales)
Hannah Morgan (University of South Wales)
Chloe Wills (University of the Arts, London)
Wall and floor tiling
Kieran Magee (Southern Regional College)
Jack Radford (New College, Nottingham)
Armondas Tamulis (Southern Regional College)
Web design
Tom Burton (Highbury College, Portsmouth)
Alfie Hopkin (Coleg Sir Gar)
Nathan Jones (NPTC Group)
Jordan Tucker (Weston College)
Anton Williams (Highbury College, Portsmouth)
Welding
Thomas Earle (Doosan Babcock)
Neil O'Brien (Doosan Babcock)
Jonathan Rowell (Lakes College, West Cumbria)