Department for Education staff criticised real-terms pay cuts, with one claiming "morale is at an all-time low", as they joined teachers in the biggest strike for a decade today.
Around a dozen staff and union representatives gathered at a Public and Commercial Services union picket outside the DfE's London office. Staff held banners and were handing out leaflets to colleagues heading to work.
The civil servants walked out as part of a co-ordinated day of action across the civil service and other departments.
It follows an 88 per cent vote in favour of industrial action, with PCS calling for a 10 per cent pay rise, "pensions justice", job security and no cuts to redundancy terms across government.
The DfE and other departments were told to only offer average pay rises of 2 per cent.
PCS has 1,816 members at the DfE, marking around a quarter of the workforce. Ofsted officials also walked out today, but not Ofqual, after a ballot failed to meet government turnout thresholds.
Some staff 'can't afford' to strike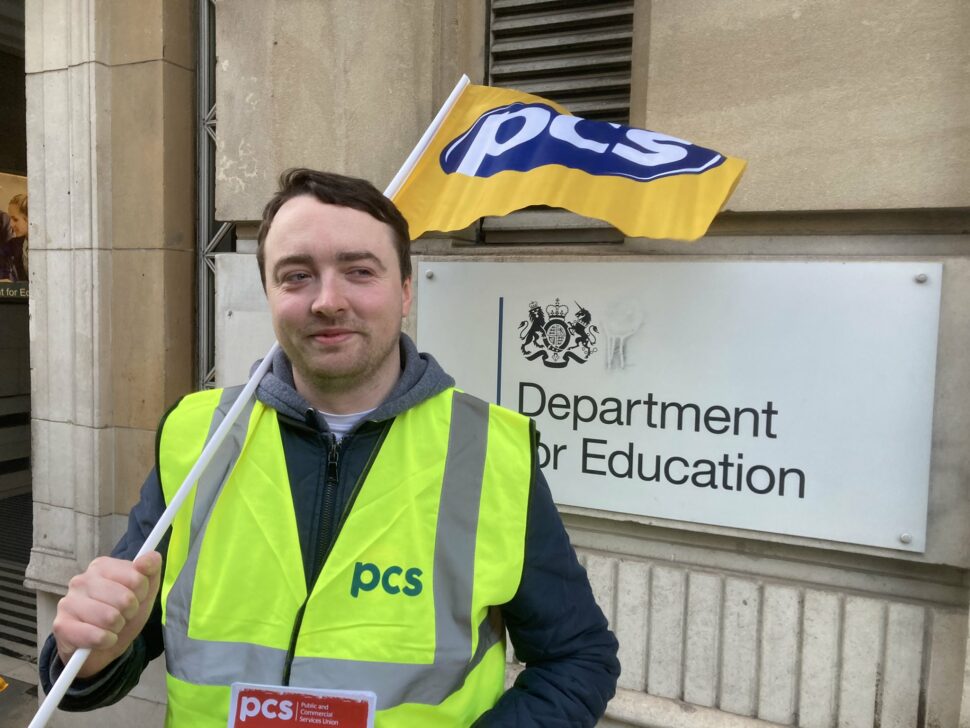 Owen Mooney, who works in the DfE's strategy group on disadvantage, said he had only worked there for just over a year but had "already had a real-terms pay cut".
"The cost of everything is going up. Everyone is feeling it at the moment."
For lower-paid staff it will be "impossible", he said – with some colleagues saying they can't afford to strike.
"It's important those who can afford to lose a day's pay do strike. You can't run public services unless you fund them properly. Morale is at an all-time low."
Civil servants are "just as important" as staff working in schools and colleges , he added.
Another DfE civil servant, Jack Hampton, said issues had been "building up" for years, including not only pay but pensions and increased outsourcing of lower-paid staff.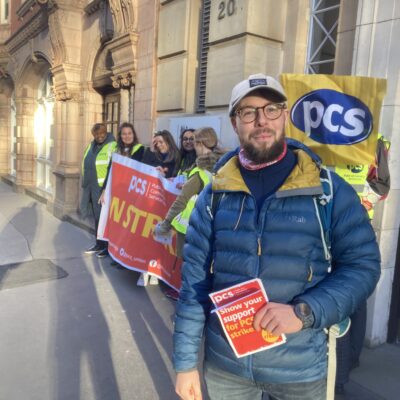 "You hear arguments about a wage-price spiral – but they don't work as people don't pay for public services."
He said he used to save £350 a month, but with his rent rising and a below-inflation pay rise he now only saves £150 a month. If he couldn't split the £1,100-a-month rent bill for a room in a house share with his girlfriend it would be "abysmal".
Hampton said he was not among the lowest-paid at the department, but an inflation-matching pay rise would have helped him save for his own property.
Rachel, a member of the DfE's skills team on the picket line, said: "It's really good the unions are all aligned. I've been a member of PCS since I started.
"It's about the right pay for the work that we do, which keeps government and FE rolling. It's about a real-terms pay cut. For lots of my colleagues, it's about being able to put food on the table, and have a life.
"It's about retention of staff too – everyone's leaving. The best retention method is pay."
ESFA chief declined to comment
Education and Skills Funding Agency chief executive David Withey was among the civil servants passing the picket line on their way to work. He declined to comment.
Trades Union Congress general secretary Paul Nowak visited the picket line to offer striking staff his support.
He said civil servants get treated as "back room staff who don't make any difference", but this "couldn't be further from the truth."
PCS general secretary Mark Serwotka also told a union rally later in the day civil servants were seen as "bowler-hatted Sir Humphreys", but thousands were claiming benefits and using foodbanks.
Education secretary Gillian Keegan faced criticism on social media for criticising striking teachers this morning, when her own departmental staff were also taking action. The minister has said little publicly about the civil service dispute.