Figures for the apprenticeship starts published this morning for the period August to December 2018 are up 10 per cent on 2017 – but 24 per cent down for the same period in 2016 – the year before the levy reforms were introduced.
The Department for Education reports: "There have been 192,100 apprenticeship starts reported to date between August 2018 and December 2018 for the 2018/19 academic year. This compares to 175,100 reported in the equivalent period in 2017/18, 230,400 in 2016/17 and 224,400 in 2015/16.
"Of the 192,100 apprenticeship starts reported so far in 2018/19, 59.1 per cent (113,500) were on apprenticeship standards."
The 15,300 starts in December 2018 were 8 per cent lower than the 16,700 reported at the same time last year for 2017.
December is the second month in 2018/19 to experience a fall in starts compared to figures published at the same time last year.
Analysis by FE Week shows that for the Government to achieve their manifesto commitment of 3 million starts by April 2020 there will need to be an average of 82,031 starts every month over the next 16 months. Since May 2015 the average monthly starts have been 38,352.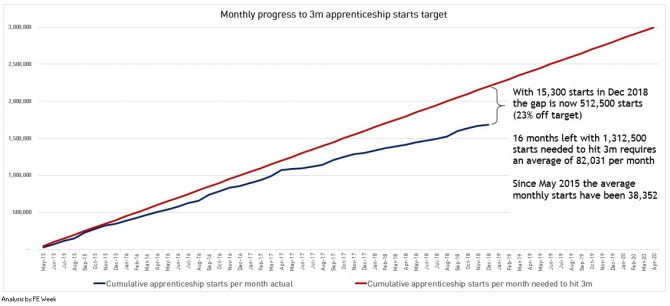 More to follow