Skills Minister Matthew Hancock has apologised for the Skills Funding Agency's (SFA) new payment software fiasco after initially seeming to suggest the problem was down to providers' "own internal management information systems".
Mr Hancock said he took "full responsibility" for the disruption caused to providers trying to calculate how much government cash they were due.
The problems have been caused mainly by the SFA and Data Service's new Funding Information System (Fis) software.
It should have been available to providers in August last year, but was not released until November and providers say it is still providing unreliable funding data reports.
But the government's Learning Aim Reference System (Lars) online search engine should also have been available to providers by last August.
It is supposed to help providers' Management Information System (MIS) officers check whether qualifications are eligible for funding, and how much per learner providers should receive.
However, it is still not available and providers are having to use Lars Lite instead, a temporary downloadable database from the SFA that providers claim is also producing unreliable data.
Mr Hancock insisted providers were being paid despite the issues, but Stewart Segal, chief executive of the Association of Employment and Learning Providers, warned payments were not filtering through to subcontractors.
Mr Hancock told FE Week: "For several months the SFA has been working with colleges to overcome difficulties with the new software used for calculating how much money is owed to them.
"I take full responsibility for everything that happens in my portfolio, including within the SFA and these IT problems. I am very sorry for the disruption caused by the new system, especially over Christmas. We have continued to pay all providers on time, and will work to resolve the problems as soon as possible."
His comments follow a written parliamentary answer he gave, where he appeared to blame providers for problems — failing to address the issue with the SFA software. Tory MP Caroline Dinenage asked him what representations the Department for Business, Innovation and Skills had received from colleges and other providers on funding data not being reconciled by the SFA's systems and resulting delays in payment to private providers.
Mr Hancock, making no mention of the SFA software problems, wrote: "There have been some issues for colleges and other providers in calculating funding due to them where their own internal management information systems have not been able to report accurately their management position."
On the WhatDoTheyKnow website his fuller reply was seen as not answering the question by 210 people, at the time of going to press, as opposed to just two in his favour.
It prompted furious staff from providers across the country to post comments on Twitter, the FE Week and Information Authority websites criticising Mr Hancock's response.
Among them was a user named alex.miles, who said: "Provider data is not the problem Mr Hancock……..luckily we have faith in our MIS PICS, but even that tells us it can't be 100 per cent accurate until Fis, Lis, Hub etc etc etc are up & running correctly……that is no fault of the providers."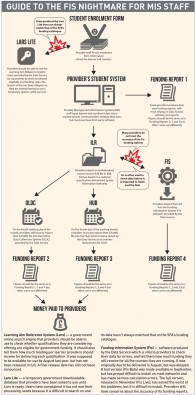 Another, named Jo Wright, said: "We are perfectly able to calculate what we believe we have earned due to our superb suppliers' software. The trouble is that none of the systems provided by the Data Service agree with these figures.
"Indeed none of the figures supplied by the Fis, the OLDC and the Hub even agree with each other and it is that which determines what we are paid."
However, a message on the SFA's website conceded the new software had been plagued with problems. A spokesperson also told FE Week: "It is important to stress that this is an IT systems issue and that all funding is being processed and paid as normal. We have openly apologised to the sector for the inconvenience this has caused."
The AELP's Mr Segal said: "The issues arising from the changes to the funding information systems are clearly unacceptable and have created a number of delivery issues for providers.
"The SFA has responded where it can to manage the payments on profile and to adjust payments where there has been significant over-delivery.
"However, we have had instances where local contract management teams have not been responsive.
"Problems have also occurred where sub-contractors have not been paid for delivery because they may not have a profiled payment structure."
The Association of Colleges and the 157 Group declined to comment.