A government u-turn on GCSE requirements for early years educator apprenticeships has the backing of the secretary of state for women, equalities and early years, but FE Week understands the final government decision is being delayed by the Prime Minister's office.
Caroline Dinenage (pictured above) is understood to have pushed schools minister Nick Gibb to accept the case for a change in policy, but the decision originally expected before Christmas is now with Number 10.
Sector representatives have called for the current requirements of at least a C in GCSE maths and English to be extended, to allow functional skills qualifications to count as a valid alternative as in all other apprenticeships.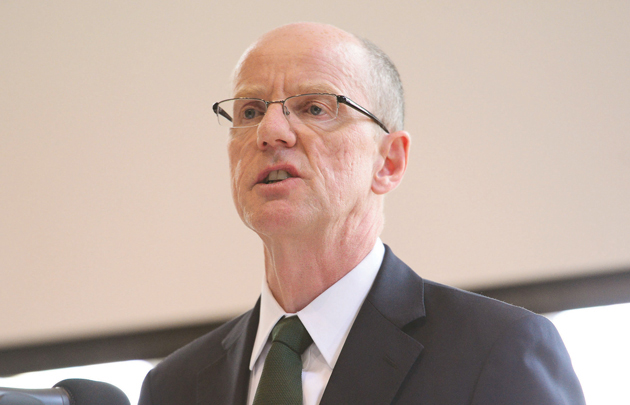 A government consultation into the literacy and numeracy qualification requirements for level three early years educators was subsequently launched on November 5, 2016.
As yet no government announcement has been made over how it plans to react to the consultation responses, but FE Week now understands a decision is imminent.
In a speech in July at the then-childcare and education minister Sam Gyimah acknowledged widespread concern about the impact of the GCSE requirements on EYE teacher recruitment, at the National Day Nurseries Association Conference in Milton Keynes last July.
On November 8, 2016, Ms Dinenage then promised she would respond to the consultation as part of a wider workforce strategy, ideally by December, in speaking to delegates at trade magazine Nursery World's Business Summit in London.
According to Nursery World, she said: "It was the biggest issue that providers mentioned to me as I went around the country."
The consultation closing date was November 28, and Ms Dinenage said she was "pushing and pushing to get the workforce strategy out before Christmas".
She then tweeted in December that the "consultation only just finished, 4000+ replies to read & wildly different views. Getting this right more vital than speed!".
Stella Ziolkowski, director of quality and workforce development, National Day Nurseries Association, said she hoped Ms Dinenage's pledge to address the issue would lead to functional skills qualifications being accepted as part of EYE apprenticeships.
She said: "Our response to the consultation was that the requirements should be broadened to include functional skills, so practitioners and apprentices could demonstrate they had working knowledge and experience in the relevant subjects to support young children in their early development of literacy and numeracy skills.
"At the moment, there is an ever-decreasing pool in which to fish for good quality candidates – the stringent GCSE requirements are reducing this further, with some vocational candidates unable to apply."
She added: "With increased demand on the horizon from 30 hours free childcare set to exacerbate the recruitment crisis the sector is experiencing, it's vital that the minister gives a positive response."
In November 2016, FE Week reported the launch of the consultation, following considerable pressure from campaigners in the sectors.
An announcement in September 2014 that EYE applicants would have to gain at least a C in maths and English before they could graduate sparked outrage which led to calls for change.
Following this a campaign to convince the Department for Education to reverse the decision for level three apprenticeships was launched in April by Cache, a sector specialist in health, care and education. 
It proposed viable alternative qualifications, including functional skills, should be allowed.
The launch of the consultation on what numeracy and literacy skills are needed by EYEs, by Ms Dinenage, was greeted as a major step in the right direction.
FE Week contacted the Department for Education on January 27 to ask when the resulted of the consultation would be published, but a spokesperson could only say that the announcement would be made "in due course".
Enquiries to Ms Dinenage's office received no response.