Learndirect has come out on top in the race to win European Social Fund contracts, securing 26 deals worth almost £49.5 million, FE Week analysis has shown.
Calderdale College was the second biggest winner, with 13 contracts worth just over £35 million, followed by Serco with 15 contracts valued at £31.6 million.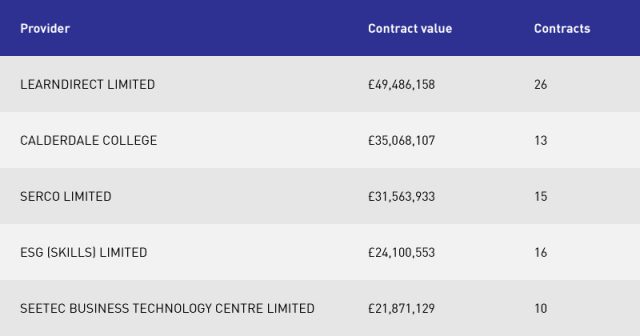 Overall, 85 organisations won 285 ESF contracts with a total value of just over £446 million, according to statistics released today by the Skills Funding Agency on gov.uk.
Independent training providers scooped a large majority of the contracts, securing 200 out of 285, which made up a total of £305.6 million, or 68 per cent, of the available funding.
This was split between 45 ITPs, who together constituted 53 per cent of all the bodies that won contracts.
After ITPs, FE Week analysis revealed 29 colleges held a quarter (70) of the ESF contracts, valued at just over £127 million.
Local authorities took a significantly smaller amount from the pot, with eight LAs securing just ten contracts (four per cent of the total number), valued at £9.1 million.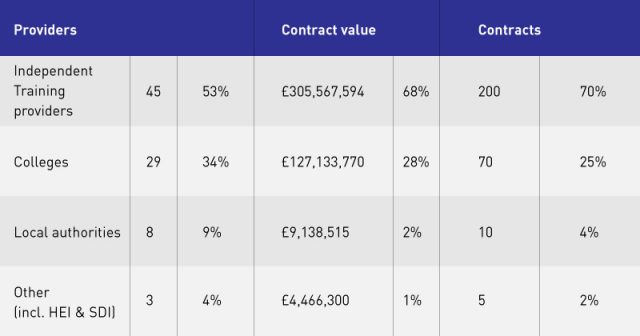 The remaining one per cent of the money, £4.5 million, went to other bodies including higher education institutions.
Following Learndirect, Calderdale College and Serco in the top five in terms of total contract size were ESG (Skills), with £24.1 million across 16 contracts, and Seetec Business Technology Centre with ten contracts worth £21.9 million.
The largest single contract went to Economic Solutions Limited in Greater Manchester, with a contract worth £11.5 million for "active inclusion".
Next was PriceWaterhouse Coopers with a £10.6 million contract in the Sheffield City Region for "enhancing equal access to lifelong learning, upgrading the skills and competences of the workforce and increasing the labour market relevance of education and training systems".
Then Calderdale College in the Black Country lep came in third with a contract valued at just under £10 million for the same purposes as PwC.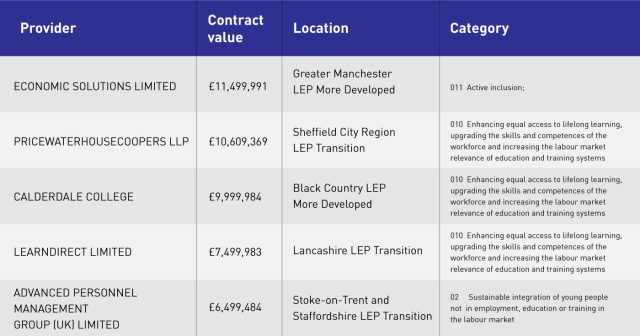 Learndirect, which has previously made FE Week headlines over the size of its subcontracting management fees, secured a £7.5 million contract under the Lancashire lep, while Advanced Personnel Management Group (UK) was granted £6.5 million in the Stoke on Trent and Staffordshire lep for "sustainable integration of young people not in employment, education or training in the labour market".
On December 7, 2015, the first areas involved in the initial round of invitations to tender for 2014 to 2020 ESF contracts were announced.
The invitations were long awaited, as the previous 2007 to 2013 ESF contracts had closed on July 31, with none going out to tender through the SFA in between.
Then on December 14, 2015, the second wave of invitations to tender for ESF cash was published, totalling £16.2 million. The third round of invitations came out on January 2017.
In this round, one contract was been tendered for each of the first five leps, while a total of 28 were issued for London, worth around £30.2 million.
The other five lep area contracts were collectively worth £7.9 million, making the third round of invitations worth more than £38 million in total.