The skills minister has admitted she's heard serious concerns about the government's apprenticeship reforms, but claims there is "just enough time" to ensure that the enthusiasm, energy and time put into the project is not lost.
Speaking at an Apprenticeships Forum fringe event at the Conservative Party conference this morning, Anne Milton said successive governments had proceeded with "good intentions and great ideas", but then the "dead hand of the state" took over.
She was responding to a question about the problems with the process for developing new apprenticeship standards and criticism of the new Institute for Apprenticeships, and admitted that the system would not work "unless there is flexibility in it".
Successive governments proceed with good intentions, and then the dead hand of the state comes in
"Successive governments proceed with good intentions, great ideas, everything's very exciting. And then the dead hand of the state comes in," she said.
"This conference is very timely, because there's just about enough time to pick it up and make sure that enthusiasm and energy and actually time, people are giving up huge amounts of time to work with the IfA, isn't lost."
Ms Milton claimed her door was "always open" to the sector and to businesses, but admitted the list of people wanting to see her was "huge".
Although she praised civil servants, who "tell me what's working and what's not", she admitted that, four months into the job, the conference had been an opportunity to identify concerns about government policy that she was not aware of before.
For example, she said she had been "quite flabbergasted" to find out that many large businesses were unaware of the apprenticeship levy, despite paying large amounts of money into the pot.
She said she had had meetings with one managing director who "didn't know anything about it", and admitted that more needed to be done to promote the levy.
"[I met a] local business, big business [that is] paying the levy. Certainly the managing director didn't know anything about it. Finance director knew vaguely about it," she recalled.
"I said, you can spend this money on training – they have a couple of apprentices anyway. They knew nothing about it. Two people around the table yesterday. Senior levels in big organisations."
Issues with the involvement of small and medium-sized employers (SMEs) in the apprenticeships system have also been raised, she said.
"That has come up quite a lot in the round tables for me, how we get SMEs involved, how we make sure that they can use the levy.
"The flexibility in the system is something that a number of people have raised with me.
"The other issues, if we're talking about upskilling the workforce, so your existing employees, can that levy money be used – and it would apply to small businesses as well – to do shorter courses. So we need to look, we definitely need to look at that."
Ms Milton also discussed the WorldSkills competition in Abu Dhabi, and said she had been "talking to the press office" about her potential trip to the event.
"What I would love to see is that get huge publicity. There can be no better opportunity than to give apprenticeships a boost. It is a brilliant opportunity."
At the event this morning, she shared a stage with her predecessor Robert Halfon.
Now chair of the education select committee, Mr Halfon admitted that changes to the apprenticeship levy system were needed.
"I'm allowed to say this now that I'm not in government," he said. "I actually think that we need to fine tune the apprentice levy. We need to do one of two things. We either increase the levy generally or we increase the amount of companies that have to pay.
"At the moment on two per cent of companies pay the levy, that have got wage bills of £  million. Perhaps you should increase that, set it at a wage bill of £2 million.
"And I would use that levy, part of the levy, to incentivise people to acquire apprentices from disadvantaged backgrounds. Because I think that will be a really good financial incentive to the companies, and I also think it will also help in the long term."
FE Week put the employers' concerns about a lack of feedback and flexibility, and too much bureaucracy, to the IfA, which replied they related to rigid guidance determined by the Department for Education.
The institute's spokesperson added: "We are listening to employers and exploring how we can improve the speed and responsiveness of the processes that we run."
We put the IfA's claim to the DfE, and a spokesperson said: "The Institute for Apprenticeships, puts employers at the heart of the decision-making processes so it's important that we listen and respond to concerns they have about how it is working for them.
"We want to ensure all apprenticeship standards are developed to a high quality and part of this is ensuring that apprenticeship standards are employer led.
"We will continue to work closely with the Institute for Apprenticeships and make sure we address concerns as the new system evolves."
Picture L-R: Kevin Schofield, Editor of PoliticsHome, Anne Milton MP, Skills Minster and Robert Halfon MP, former Skills Minister and now Chair of the Education Select Committee
---
Editorial: Milton in the middle
Sat at the front of a breakfast event, I was witness to a refreshing account from a skills minister from whom we'd not really heard since June.
On the morning of the third day of the Conservative conference, Anne Milton was speaking at her fifth fringe event.
Freed from the shackles of civil servant minders, employers were able to give her honest and frank feedback.
She declared she was "quite flabbergasted" to find several big business bosses ignorant of the apprenticeship levy.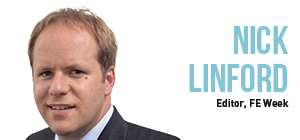 Others were telling her that employer ownership in practice meant red tape and discussing "inflexibility" from the new Institute of Apprenticeships.
Stuck between her advisors and employers, she said she would need to find common ground, and quickly.
I was also struck by how much degree apprenticeships dominated the debate, as if they were now the only show in town.
But when I asked what the saturation point was for £27,000 management degree apprenticeships, I was reassured that level two and three were also important.
The minister sounded like she was taking the feedback seriously, and change could be on the way.
Whether the "dead hand of the state" ultimately wins, only time will tell.