Sal Cooke's experience of using technology in the sector certainly proves that — at least amongst her peers — millennials aren't the owners of internet.
In fact one of Cooke's worries for the future is that the next generation might not be ready keep things moving forward with technology in the sector.
"There's a whole generation of us that seem to be this network of people working on technology in education, and it's not a closed network, it's not an old boys' network or anything like that, it's just people who have had a variety of experiences in this area," she says.
"Where do we have the time and the resources in order to be able to help the next iteration of whatever those champions are in whatever the thing is that we need?"
The recently-retired education technology expert has visited London to attend the Bett Show (formerly known as the British Educational Training and Technology Show, which she often speaks at) but does not like to spend too much time away from her hometown of Bridlington in Yorkshire.
At the weekends Cooke now volunteers at the village hall, helping locals to engage with digital media.
She was born Rotherham, in South Yorkshire, in the mid-1950s, to a father who was a doctor and a mother who taught at Kimberworth Primary School.
Cooke, who was given an OBE in recent New Year's honours list, joined the school in the nursery, but when her parents divorced and her mother moved to the east coast town of Bridlington, Cooke transferred to a small private school in Retford Lorne House.
"My parents separated at a time when divorce was an unheard of thing," she says of the time.
A couple of years later, Cooke moved to join her mother in Bridlington, which she describes as "a very typical seaside resort", and attended Moorfield Primary School for the last two years of junior school.
She passed the 11-plus exams and went on to attend Bridlington High School for Girls, where she also took on part time jobs from age 13 alongside her O and A levels.
After school, she worked in hotels, bars, hairdressing, and music and attended evening classes in FE colleges.
These included Scunthorpe College, where she took the transport managers exams and even worked in haulage driving lorries.
Cooke moved back to Bridlington in the early 1980s and completed a part time FE service teaching qualification at Hull College, where her daughter Katie would later study.
She also completed a degree in education at Hull University.
At this time she took on part time contracts at East Riding College, teaching subjects such as business studies, catering and hairdressing, to 17 to 18 year olds.
"I think the only thing I didn't teach at the time at the college was joinery … I even covered a bit of welding," she says.
She also put her training to use teaching at her former school, Bridlington High School for Girls.
Following this experience, she gained a job on secondment for Humberside Local Education Authority, on one of the early Education Support Grant programmes, supporting the 54 colleges in Yorkshire and the Humber.
This role as a curriculum development manager involved encouraging teachers and lecturers to use IT in their teaching — at the time that the very first personal computers were just coming into education.
She shook up existing provision and created continuing professional development packs that brought together students from subject areas as varied as hairdressing to construction.
It's that woman again, she's going to talk about FE
Staff may have been lucky enough to see their first Amstrad at this time, but it was long before Windows would come into being.
One of her first visits in the role was to Bishop Burton College, where she was looking at helping integrate a spreadsheet into a farm accountancy course.
Cooke ran a regional volunteer organisation called Share IT, and with the help of volunteers ran a large conference every year at Woolley Hall near Wakefield.
This heralded some of the maiden presentations of key players in the digital world, such as Professor Stephen Heppell, Chris Yapp, and Graham Whitehead.
She also worked on the BBC's education team in the late 1980s, looking at how teachers were using computers in school.
Cooke was later invited to focus on FE learning at a national level for the National Council for Educational Technology (NCET), which would later become the British Education Communication Technology Association (BECTA).
She was teaching at Hull College part time, but in her new role at NCET was focussed on encouraging staff in the post-16 world of education to use digital technologies.
This later moved into how to incorporate the internet into the work of staff — despite the fact that few could access it at home.
After this, Cooke moved to the Department for Education in 2001, again advising on use of education technology and worked in Europe circles, visiting Brussels when negotiating for legislation on accessibility in technology.
By the early 2000s, Cooke was focusing more and more on ensuring that all learners could access technology, and when a job came up 12 years ago in York for director of the Jisc funded service TechDis she eagerly snapped it up.
"We were one of the first services, in Jisc, to actually appoint someone at a senior level from an FE college. That was a real challenge but it was fantastic," she says.
"I absolutely enjoyed it. I think at the time I'm sure they thought, 'It's that woman again, she's going to talk about FE', and at times I almost felt I was completely talking a different language.
"But we got over those kind of things, and it was very productive, and I was conscious that there were half a dozen services that this committee saw the budget for that were likely to become FE focused."
One of her key achievements in this role involved working with Cereproc, a Scottish based company specialising in voice techniques, to acquire additional funding from the Department of Business, Innovation and Skills to commission two new voices (TechDis Jack and TechDis Jess) to be distributed free to 6m learners.
During her time leading TechDis, the company also commissioned from scratch a portfolio building system for students with complex needs.
With nearly 40,000 users, it gave students with special educational needs a system for controlling their work.
"They might have some pages that were for college, pages for their friends, pages for employers, and one lad I always remember used to say, 'My mum can't see that bit because that's got me and my girlfriend on it'," Cooke says.
She cannot praise the work of specialist colleges enough, saying: "If you want to see how technology really changes lives, they're the places to be — some of those students need technology to live, they are phenomenal, phenomenal colleges."
At the beginning of 2015, TechDis was closed down, when Jisc needed to rationalise their offering.
"I think the hard thing was that the things that were being recognised for FE and skills are now no longer being focused on in the new version of Jisc. But then Jisc is working on a restricted budget," says Cooke.
This goes back to her concerns about the future of technology and education.
"Times change, times move on, but there are things you have to keep doing," she says.
Click on the image for a larger version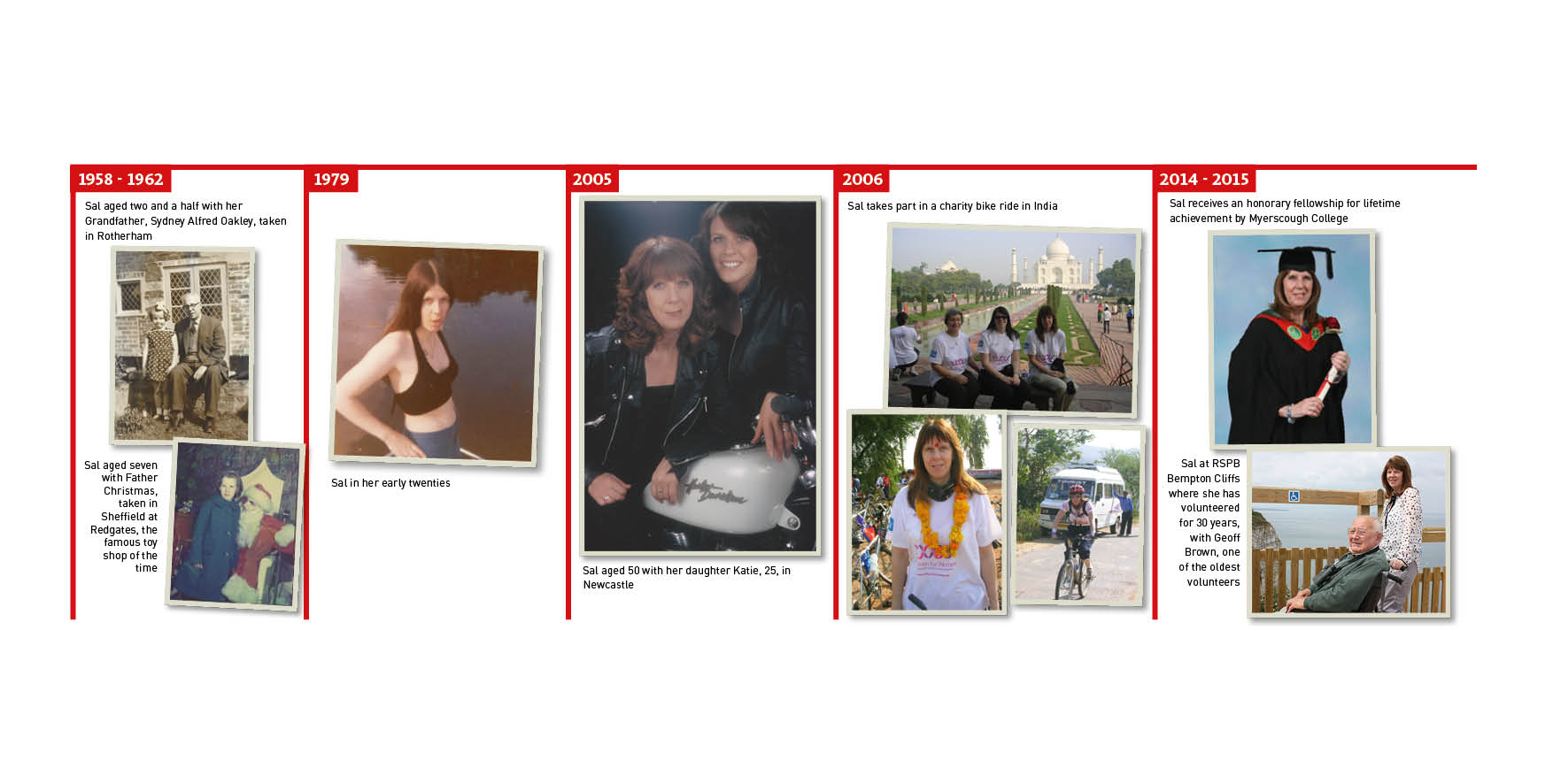 It's a personal thing
What's your favourite book?
It has to be the first accessible version of Harry Potter, for the simple reason that JK Rowling was an absolute star and realised that she couldn't have a non-accessible book. So by the time she got to the point where there were the midnight launches, you couldn't have a situation where a child couldn't get an audio book or Braille book. We worked with the Royal National Institute of Blind People and everybody else in order to get that book guaranteed by Bloomsbury at midnight on that day — they were available in all formats.
What do you do to switch off from work?
Take people to see puffins! Even though I stand on the boat and go, "Right, GCSE geography, come with me," it's probably the only time I'm not fully in work mode. It's like another job because I've done it so long and I coordinate the volunteers, but it is a different kind of thing.
What's your pet hate?
I just despair sometimes when I see people using technology and there's such a much easier way to do it, something or other that they could do if only they knew what button to press or what equipment to use. That can be just infuriating. It's not a hate as such, it's more that if I had the time I could show them.
If you could invite anyone to a dinner party, living or dead, who would it be?
I would need to have a combination of people. Who would get on, or not — watch the sparks fly. Douglas Adams would definitely be there — he's not only brilliant writer and genius but one of the first to become a technological entrepreneur. Samuel Joseph Cooke, my paternal grandfather from Northern Ireland. He was a head teacher, but he died when my father was seven years old. I'd also have Malala Yousafzai, an inspirational young lady in anyone's books; two apprentices of the year from vocational subjects; and my daughter and son — in — law, as family are the most important aspects of one's life.
What did you want to be when you were growing up?
Different. I don't like doing as other people do.
Curriculum Vitae
Born: Rotherham, South Yorkshire
Education
1955 Born in Rotherham at St Anne's nursing home
1959 Joined Kimberworth Primary,
1962 Moved to Lorne House, Retford
1965 Started at Moorfield Junior School in Bridlington
1967 Started Bridlington Girls High School
1980 Daughter Katie is born
Career
1983–1986 Secondary school teacher, Bridlington School
1986–1988 Secondary school teacher, Headlands School
1986–1992 Lecturer and staff developer, East Riding College
1987–1992 North of England curriculum representative, National Communications Educational Technology (NCET)
1992–1999 Curriculum development manager, Humberside IT Unit (Local Authority Service)
1989–2002 Development officer, BECTA
1999–2003 Part time lecturer and liaison with FE Colleges, University of Hull
1992–2004 Lecturer/staff developer/IT services manager Hull College Group
2000–2004 Member of Jisc committees as FE & Skills rep
2001–2004 Education technology advisor, Department for Education and Skills
2004–2014 Director, Jisc TechDis
2012–Present Trustee at the Royal Society for the Protection of Birds (RSPB)
2012–Present Council member, British Assistive Technology Association (BATA)
2016 Awarded an OBE for services to FE, accessibility and inclusion in the New Year's Honours List