There's a choice of comfy little red sofa with two small armchairs either side, or a cold but smart table and chairs next to the window.
My bag is plonked, hopefully, by the welcoming sofa and I hover nearby before Matthew Coffey, Ofsted's director of further education and skills, walks in.
He stands next to the table, places a pile of paperwork down and pulls out a chair — and with it, my hopes for a chatty one-to-one seem dashed.
We're in a corporate-feeling, air-conditioned room right next door to his eighth floor office at the education watchdog's Aviation House HQ in London.
But within the hour I emerge from said room with the knowledge that the man responsible for inspections of England's FE providers is a Playstation-loving wannabe helicopter pilot (among other things), "kept sane" by his two beloved spaniels, Lola and Seth. He's also a 46-year-old devoted dad to Anna, aged 25, and Rosie, 19, as well as a recently-converted Londoner.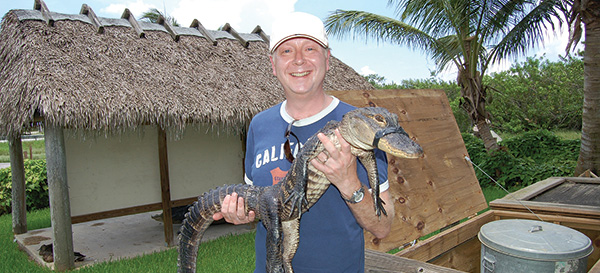 "London has been my office for four years, but for two-and-half of them I'd been commuting from Lincoln, which is one heck of a journey," says Coffey.
"So my life has changed for the better by moving to London and my whole family is here. I've gained four hours a day of my life back and I benefit from it. To have time back and my family around me is brilliant.
"And I'm really enjoying exploring London and making the most of my travel card every weekend.
"My family and I really like the London Bridge, Borough Market, Southbank areas — we're having a real cultural revolution."
But it wasn't his first big move away from Lincoln.
Aged 16, Coffey left the East Midlands cathedral city for Exeter. It came just at the right time for a teenager looking to step out of the shadow of sister Nicola, three years his elder and now a nurse practitioner in Bakewell.
My background has been absolutely vocational and my career has developed as a result of interventions from lots of people."
"I didn't enjoy school," says Coffey, whose 48-year-old wife, Louise, is a former primary school teaching assistant.
"I was always known as my sister's brother. She was the academic genius and I bumped along. Being told consistently that I was not as academic as my sister drove me to be ambitious and to succeed.
"That was the source of my determination — if you tell me I can't do something, then I'll do it. Unfortunately I had a very nasty accident and injured my leg and that put me in plaster for a couple of years from the age of 16.
"I was working in a restaurant in Lincoln and my leg was trapped in one of their big mixing machines and it smashed it in several places, so I've got lots of pins and plates in my leg.
"I'd wanted to be a policeman and got the bare minimum to get in, but of course the injury blew a hole in my dreams so I really had to rethink what I was going to do.
"Then we moved down to Devon I went to Exeter College and chose catering and hospitality. I really got on the right tracks there and was supported very much by a teacher who recognised that I could achieve and led me to believe I could achieve whatever I wanted."
The college came before an impressive stint running the kitchens and 40-seater restaurant of Tiverton's since-demolished Boars Head. Employing up to 30 staff, he also serviced the pub's attached 26-bedroom hotel — all around the age of 18.
"It was an incredible university of life experience," says Coffey.
"And I kept a relationship with the college I'd just left and took on lots of summer students and gave them work experience There was such an opportunity for others to come and see what we were doing."
He adds: "My background has been absolutely vocational and my career has developed as a result of interventions from lots of people and not necessarily on the academic side of things.
"But my journey has eventually taken in the academic route — I did my undergraduate and masters degrees later in life [criminology and social policy at the University of Lincoln, graduating in 2003].
"That's led me to want to promote the vocational route and it should be seen as a first choice route for young people at school."
But after three years at the Boars Head, Coffey moved to a national training provider in the catering and hospitality sector where he became a teacher, before moving to an awarding body and getting involved in developing NVQ frameworks as a national quality manager.
"It was around that time the government started to talk about the need for an independent inspectorate of government-funded training," he explains.
"I became one of the Training Standards Council's senior inspectors and I led particularly on developing a relationship with the Chief Inspector of Prisons to inspect for the first time training and education in prisons.
"And introducing the common inspection framework into the prison world, around 2005, was a real highlight. It put prison education on the map and lifted the lid, but it took an awful lot of work. I visited and met representatives of all the prisons in the country and made sure they all understood what was happening and what we were going to do."
Coffey later became an inspection manager at the Adult Learning Inspectorate before it merged with Ofsted in 2007.
I really genuinely believe that what we do makes a difference and that makes me want to turn up to work every day."
Starting as an assistant divisional manager for the Midlands, he moved through the ranks and in January last year was given the title national director of learning and skills. In March he was also assigned the post of regional director for the South East.
"I absolutely enjoy going out on inspections and go out on them frequently, but I don't lead them these days, I quality assure inspections," says Coffey.
"But I don't just cover the learning and skills sector because I've got a dual role as regional director responsible for all our inspections in the region.
"The last inspection that I went to was a children's home inspection, and before that — a couple of months ago — I went to a school. I'd really love to lead FE and skills inspections, but it's not just about going out on the actual visit; it's also the planning beforehand and the writing of the report and they can be very time-consuming. So inspections for me would be a real challenge.
"It's always the dilemma when you get promoted in an organisation such as this that you move further away from the coalface of what it is that you're doing."
He adds: "I really genuinely believe that what we do makes a difference and that makes me want to turn up to work every day.
"It can be a difficult job. It can be tiring. You're never the most popular person in the world, but I think if we do reflect a mirror back up to ourselves and if we do want to improve, that means having difficult discussions in every walk of life."
——————————————————————————————
It's a personal thing
What's your favourite book?
Swords, Sorcerers and Superheroes, by Tony Bradman — because it's dedicated to me as 'Inspector Coffey'. He's my brother-in-law and he dedicated the sequel to me, too
What did you want to be when you were younger?
A policeman
What do you do to switch off from work?
My two dogs are mad, but they keep me sane. I'm also a wannabe helicopter pilot — it's my dream. I've done about nine hours of my private pilot's licence. I asked my wife what she thought and she said: 'You play your Playstation.' Ten minutes of Call of Duty: Modern Warfare is my little escape and I really enjoy it
If you could invite anyone to a dinner party, living or dead, who would it be?
Neil Armstrong — I would love to understand more about the journey he took as a pioneer. That's a phenomenal conversation to be had, and David Bowie because he's a hero of mine. I'd love to talk to him about his life and what inspired him to be so off-the-wall
What are your pet hates?
Poor customer service makes me really cross