A massive 58 per cent of FE loans funding – amounting to almost £1 billion – has not been spent since 2013, FE Week can reveal.
This shocking figure, revealed by a Freedom of Information request, has been branded a "systemic failure" that could unravel the government's plans to upskill the nation in a post-Brexit world.
The Student Loans Company, which processes advanced learner loans on behalf of the Education and Skills Funding Agency, revealed that just £652 million in loan-funded provision had actually been delivered since 2013, against a massive £1.56 billion in allocations.
There has also been a near-40-per-cent fall in the numbers of level three and four learners since the loans were introduced, sparking dire warnings across the sector.
Gordon Marsden described the figures as "extremely concerning" and claimed they indicate "a systemic failure in the Department for Education and the ESFA in delivering this policy".
"The general message that this is sending out to adult learners and people wanting to reskill makes a mockery of the government's alleged commitment to promoting adult skills and learning," said the shadow skills minister.
"We are going to need the contribution of older people reskilling to keep our economy afloat," he added, and called on the government to "look urgently at what can done".
David Hughes, the chief executive of the Association of Colleges, said that demand for FE loans had been "lower than expected", leading to a "big drop" in adults studying at levels three and four.
"The government should be worried about that impact, particularly at this time when skills gaps are growing for many employers," he warned.
"The industrial strategy is clear that we need more adults to be trained in STEM subjects, so we need a plan to make the loans work for more adults and employers," he added.
But the influential vocational education adviser Professor Alison Wolf told FE Week that the government had actually anticipated that take-up of courses at levels three and four would fall when the loans were introduced – a fact she said she had been "shocked" to learn.
Prof Wolf pointed to an impact assessment carried out by the now-defunct Department for Business, Innovation and Skills in 2012, which estimated a 45 per cent drop in learner numbers once loans appeared, though it did plan for all the available loan funding to be taken up.
"They certainly did not predict or expect this massive underspend, coming at a time when we have major skill shortages, and can expect the situation to get worse, post-Brexit," she said.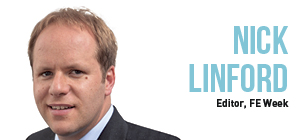 FE loans, originally known as 24+ loans, were introduced in 2013/14 for learners studying courses at levels three or four and aged 24 and older.
Their introduction corresponded with a fall in adults studying at levels three and four+, from 273,400 in 2012/13 to 195,200 in 2013/14, according to the DfE's own statistics.
By 2015/16, that number had fallen further still, to 169,400.
Despite this persistent under-delivery, loan eligibility was expanded in 2016/17 to include 19- to 23-year-olds, and courses at levels five and six.
But that expansion in learner eligibility appeared alongside a reduction in the overall loans budget – and a crackdown on loan growth requests [see box-out].
FE Week asked the Department for Education why its loan policy was underperforming so badly, and what action it was taking to address the problem.
"We continue to work with the sector to raise awareness of advanced learner loans, which offer important help with the costs of a course at a college or training provider, allowing more people to study and gain new skills," said a spokesperson.
"The overall allocations figure for advanced learner loans represents the amount received from the Treasury based on demand.
"No funding, beyond what is required for advanced learner loans to current students, is issued to providers.
"Any use of taxpayers' money is kept under regular review, and this is no exception."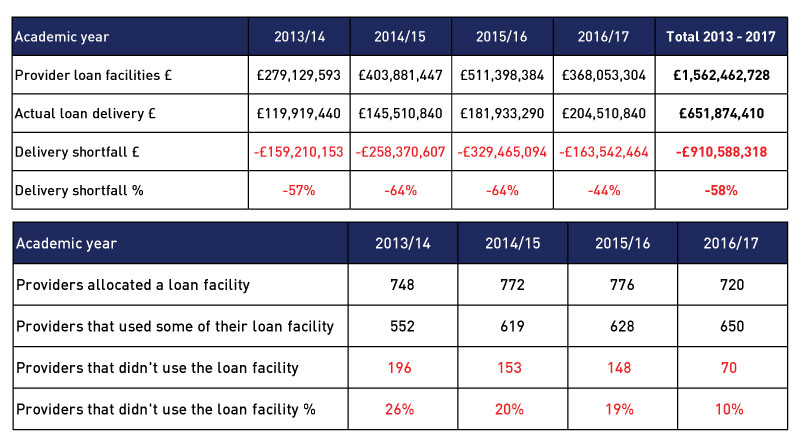 ---
A long year of loans scandals
In a desperate bid to boost the amount of loans-funded provision being delivered, the SFA handed out huge sums of loans cash to untested providers before it was forced into a crackdown in the wake of a series of scandals exposed by FE Week.
These include John Frank Training, which went bust under mysterious circumstances in November 2016.
The provider used the advanced learner loan scheme to deliver and subcontract courses in areas such as IT and health and fitness, and had been allocated £10 million in loans facilities over the last two years.
While £6.4 million was paid for around 2,200 learners to complete their training, a further £464,000 was thought to be effectively missing – leaving around 500 learners with large debts but no courses.
Loans-related scandals followed with Hampshire-based Edudo Ltd, which went under in January, and Darlington's Focus Training & Development Ltd, which collapsed last November.
The SFA had previously recognised they had a problem overseeing loans funded provision, particularly where much of it is subcontracted.
In August 2016 the SFA banned new subcontracting contracts for advanced learner loans, with a complete ban coming into force last month.
In addition, growth requests for advanced learner loans were paused in September last year, while in November the SFA introduced caps for how much loan money can be allocated to a provider.
---

Colleges lose out in loans market
Colleges are losing a vital source of funding: figures show their share of the loans market has been falling year on year, even as private providers cash in.
FE Week analysis of Student Loans Company figures shows that colleges received 83 per cent of loans cash in 2013/14, while private providers' slice of the market stood at just eight per cent.
But by 2016/17 private providers were responsible for 39 per cent of delivery, and colleges' share had dropped to 55 per cent.
If the current trend continues, private providers could enjoy the majority by 2018/19.
Simon Ashworth, the chief policy officer at the AELP, told FE Week that loans growth was "another example of independent training providers being proactive in the learner marketplace" and that it demonstrated "a very encouraging level of demand for loans around the country".
"It is frustrating for many of them that they find that their growth requests are being capped at a time when many learners need to acquire new skills to sustain their employment in a changing economy," he complained.
The AoC's David Hughes defended colleges' falling share.
"Colleges have developed their loan-supported courses and enrolments in a sustainable way, with little support from the government in terms of marketing and public awareness," he said.
Mr Hughes pointed to "recent incidents" of loans-funded learners "left high and dry by private training providers going to the wall", which he said was "very worrying" and could even "undermine confidence in the loans".
FE Week understand that colleges and private training providers as groups have both increased the total amount of loans-funded provision they've delivered since 2013 – but that private providers increased their delivery at a much faster rate.
In 2013/14 colleges delivered loans-funded provision worth £99.8 million, but by 2016/17 this had gone up to £112.2 million – an increase of £12.4 million or 12.4 per cent.
Meanwhile, private providers delivered loans-funded provision worth £9.4 million in 2013/14, but by 2016/17 this had risen to £78.8 million – a far chunkier increase of £69.5 million, or 640 per cent.
The former skills minister Nick Boles warned colleges in 2015 not to let private providers "nick your lunch", after it was revealed that private providers were delivering a far greater share of apprenticeships than colleges.