The outgoing boss of the Association of Colleges has launched into a plea for sector unity — after warning providers to be careful when they "slag off" the opposition.
Martin Doel (pictured), who will be replaced by the current Learning and Work Institute chief executive David Hughes from September, pulled no punches during his speech to the Association of Employment and Learning Providers conference on Monday (June 27).
He warned that infighting would cause the whole sector to "suffer", just a week after the AELP's boss Mark Dawe told FE Week that financial assistance for colleges could put "apprenticeship organisations in direct competition with independent training providers".
Addressing a packed conference room, Mr Doel said: "I have quite often have the experience of colleges thinking that they are gaining the benefit by criticising other colleges and I've heard of independent training providers criticising other ITPs, and ITPs criticising colleges.
"For what it's worth on my reflection, short-term that might give you some advantage; long-term all of us suffer in the training and education market, because we are destroying value in our own industry, which is a shared industry."
He added: "Be careful when you're seen to slag off the opposition in order to win.
"It's a kind of Mourinho moment [the Chelsea manager who was sacked last season after losing the support of his players], in terms of actually concentrating on how well your team plays and actually competes in that market."
Despite Mr Doel's comments, the AoC was not subsequently willing to give any examples of the criticism between providers that he described.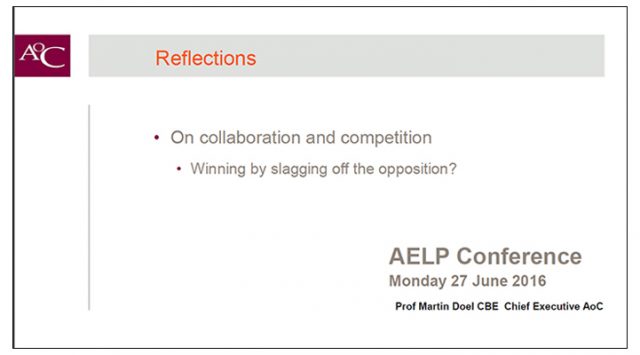 He spoke out after the AELP claimed last month that 76 per cent (378,170 of 499,900) of all apprenticeship starts in 2014/15 were shown to be delivered by ITPs rather than colleges.
The association published the analysis using Skills Funding Agency data, obtained through a freedom of information request.
Skills minister Nick Boles spoke on the matter at the AoC annual conference last November, asking principals: "Why on earth are you letting these guys [ITPs] nick your lunch?"
But after hearing the AoC chief executive's conference speech, Mr Dawe was keen to stress his organisation was focused simply on equal treatment, and did not support backbiting.
He told FE Week: "There is nothing to be gained for any type of provider to be critical of another — especially when there are official government measures, inspections and data to provide an impartial judgement of performance.
"We have also said many times that the best delivery involves a strong partnership between a college and providers meeting the needs of their local employers.
"Our concern is that the government itself may be trying to tilt the playing field away from independent providers in the face of the challenges now affecting the sector as a whole."
Mr Dawe previously discussed the issue with FE Week before the conference, when he explained that he wanted a "level playing field" for public and private providers.
He said at the time: "We are concerned that the government is providing financial assistance to colleges to help set up apprenticeship organisations in direct competition with independent training providers."