Danny Hoang loves mangoes — juicy Brazilian mangoes, just like the ones he's having to work with for his cookery challenge at WorldSkills Sao Paulo today.
The Team UK 21-year-old, who studied at Westminster Kingsway College and now works at Colette's, in the Grove Hotel, near Watford, spent day one of the competition yesterday preparing for his three-course meal, to be made today.
And his menu is set to include mangoes.
Speaking at the end of day one, yesterday, he said: "We didn't present any dishes today, it was just all preparation, but we have got to do a three-course dinner tomorrow.
"It's a soup starter, chicken main course and then we have to use some of the really beautiful mangoes they have in Brazil.
"The mangoes are so much bigger and juicier here — I love them. They pose their own challenge but you've just got to use your instinct to work with it because the food can be so variable and so different."
He added: "I had a good morning but there's still such a long competition to go. I still think there's some small minor things I could do better but that's just me reflecting — it' still early days."
It was an eye-opener day for Danny, who just missed out in selection for WorldSkills Leipzig two year ago, before storming to gold at Lille EuroSkills last summer.
"WorldSkills is such a bigger competition — more than double the number of countries for every skills and it's so much more vast," he said.
On the patisserie and confectionery stand right next to Danny, 21-year-old Mikaela Wright, from City of Glasgow College, was getting to grips with marzipan manipulation.
"I was setting up for doing chocolates tomorrow [Thursday] and I presented my marzipan figures," she said last night.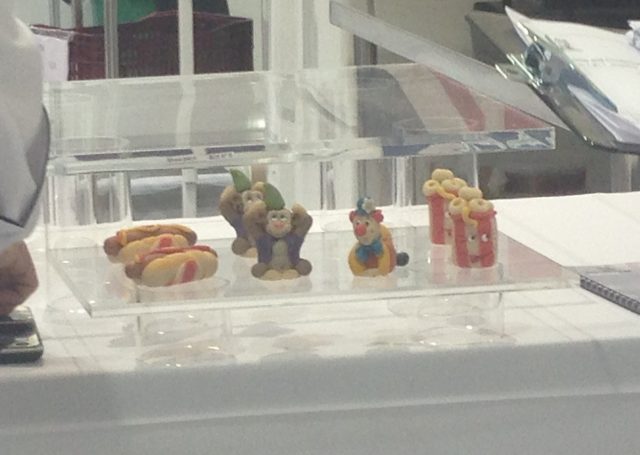 "There was a hot dog, a clown's face, a monkey and a clock [pictured right). The clown's face was the most difficult part because doing a human's face because it's trickier than doing an animal's."
She added: "I had a quick look at some other competitors' work, but I feel good even though some were really good. I'm pretty happy with how today went. I think I just need to speed it up a bit — not because I was slow, but because the rest of the week is so full-on I want to keep up my speed."
Meanwhile carpenter Owain Jones, 21 and from Coleg Meirion Dwyfor, in North Wales, had been getting stuck into geometric challenges.
"I've got a base with complicated joints in it — dovetails and big chunky joints — and a roof to go on top with complex rafters in it," he said.
"There's a lot of geometry in it and there's a dormer to finish it off. I think all the training is coming into play now and it's not as daunting as you might think because of all the training I've had and I'm just working my way through. I'm quite happy with it at the moment."
Mechatronics duo Andy Smith, 21, and Robyn Clarke, 22, who both train and work for Toyota Manufacturing UK, were also happy with their progress.
"Over the four days we have six tasks — the first one today we knew about, a 'known' task, and then a maintenance task, which had a time pressure on it" said Andy, from Buxton, in Derbyshire.
"But it's been about as difficult as we thought it would be. I'm more than happy with where we are."
Robyn, from Burton-on-trent, said: "It couldn't have gone any better today — everything's functional and working, it's just the time. The time was the only thing that would distinguish us from other teams, but there were no marks lost that we can think of."
[slideshow_deploy id='38658′]