A new programme launched by Trafford College and Salford City FC will allow the UK's top young footballers to pursue a professional career in the game while gaining qualifications along the way, reports Samantha King
Twenty-one aspiring footballers have been selected to take part in Academy 92, an initiative founded by Salford City FC, which is owned by Manchester United's famous 'class of '92' players Phil Neville, Gary Neville, Nicky Butt, Paul Scholes and Ryan Giggs.
The programme will combine coaching and practical football training with further education – with youngsters spending at least two days a week at Trafford College studying for a level three diploma in sports science, alongside an additional A-level depending on the GCSE grades they achieve.
The principal of Trafford College, Lesley Davies OBE explained: "For those young players that have the right entry qualifications and want to do more, we will make sure they can undertake an additional A-level, so that will give them a three A-level equivalent should they want to go on to university in the future. If there are players that need English and maths retakes, we will also provide that.
"We've got a view of what we believe their attainment will be from their schools this year, but we will tailor the programme to meet the needs of each individual."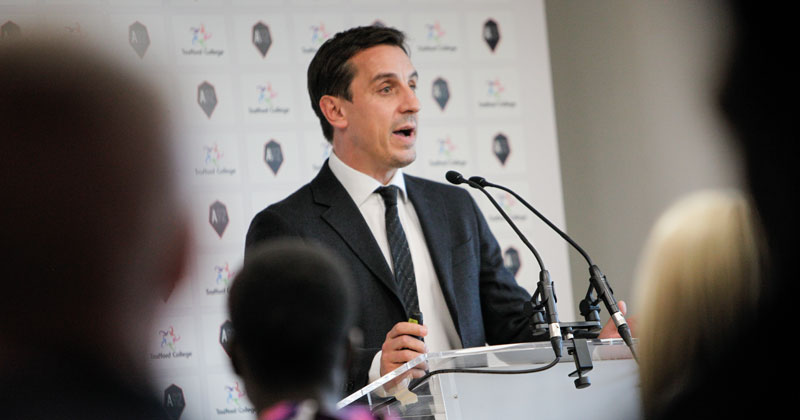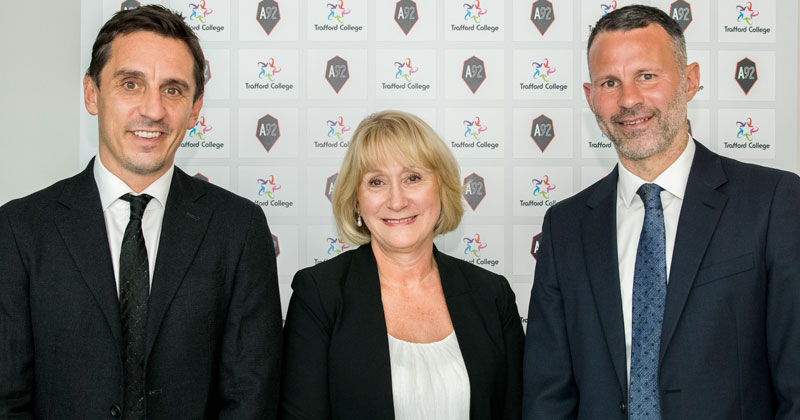 The group of 16- to 18-year-olds will study at the college for two years, and can undertake training in areas such as hospitality, business, media and literacy, with specialist staff from Academy 92 delivering football training at a nearby facility.
Davies highlighted the importance of providing a career safety net in the scheme, adding: "Should the students, for any reason, be unable to follow their career aspiration to be a professional footballer, this will give them a safety net of an alternative career.
"It's great if you make it, but if you don't, it gives you the skills and sound education base to go onto something else."
The first cohort of youngsters, who have been selected from across the UK, signed their official contracts at a recent launch event at Trafford College, attended by former United players Gary Neville and Ryan Giggs. The scheme will begin after the summer.
Gary Neville, who spent his entire footballing career playing for United, said: "The football industry is a challenging one which can see players' careers end prematurely. We have teamed up with Trafford College because our beliefs and ethos are the same.
"Their approach is innovative, exciting and they clearly want the best for their students, as do we.
"Our academy graduates will leave in two years and they may go onto university, have successful playing careers, work within the sports industry, coach or even go into the business sector. Whatever they decide the best option is, they will be prepared and ready to take on that challenge."