London has been a hotbed of industrial unrest this week – but the Association of Colleges is claiming that strikes at colleges across the capital have had no negative impact on learners sitting exams.
Members of the University and College Union took action at Lambeth College, Lewisham Southwark College and the Capital City College Group, timed for the start of exam season.
Mary Vine-Morris, the AoC's London director, was relieved that the strikes hadn't had "any negative impact on students turning up – and hopefully being successful – in their exams".
Elsewhere in the country, a two-day strike over planned job cuts at Bradford College was called off at the last minute on Tuesday after it agreed to reopen its voluntary redundancy scheme.
"The strikes this week have made it absolutely clear that staff won't simply stand by and see their pay continue to be eroded," said Andrew Harden, the UCU's head of FE.
"Our message to college leaders is simple – if they want to avoid further disruption to students they need to make a pay offer which addresses members' concerns."
Shakira Martin, the president of the National Union of Students, joined staff on the picket line at her former college, Lewisham Southwark, on May 23.
She urged colleges to "work immediately" to negotiate a deal over pay.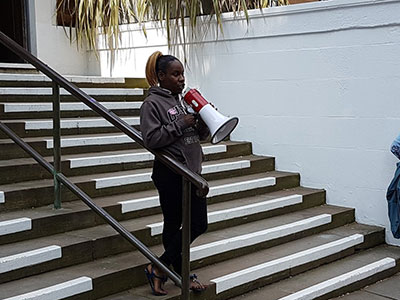 "Teachers and staff in FE colleges are the backbone of the sector and deserve adequate and fair pay and conditions," she said.
This week's action is the latest in an ongoing dispute over a below-inflation pay offer of one per cent in 2017/18 made by the Association of Colleges in September.
Staff at Lambeth and the three Capital City College Group members – City and Islington College, Westminster Kingsway College, and the College of Haringey, Enfield and North East London – have walked out twice already this year over the offer, which the UCU described as "disappointing".
And Lewisham Southwark staff joined them for the first time this week, in protest at being told by their paymasters at NCG in the north that they won't be getting any pay rise at all this year.
A Capital City Group spokesperson said all maths exams at its three colleges had "gone ahead without disruption", while a spokesperson for Lewisham Southwark confirmed that "no exams were cancelled this week".
There is some proof that strikes can work: last week, staff and leaders at Sandwell College agreed a "sector-leading" pay deal, amounting to more than six per cent over three years.
AoC boss David Hughes said he was "pleased" that the college had been able to reach a deal, which he said was a "positive sign that where colleges can afford to pay more than the one-per-cent recommendation they are prepared to do so".
"Unfortunately, some colleges simply don't have the funding and that is what the handful of outstanding disputes will hopefully soon recognise," he said.
The AoC is refusing to negotiate with the FE unions, which include GMB, Unison, Unite and the National Education Union as well as UCU, over next year's pay claim while action over the 2017/18 offer is ongoing.
Mr Hughes is "keen" for discussions to get underway "as planned in July", as are the unions.
"With good will and reasonableness on both sides I am optimistic that will happen," he said.
Staff at Bradford College were due to strike for two days in protest at plans to slash up to 75 jobs.
But the college agreed to reopen its voluntary redundancy scheme at the eleventh hour, a move it said would "avoid the need for compulsory redundancies for lecturers".