As learners up and down the country find out what their next in life will be, we'll be keeping you updated on some of the success stories from colleges, sixth form colleges and providers up and down the country.
*** The live blog is now closed. Sorry if your pictures didn't make it in – we really appreciate you sending them and don't forget to send them in next year. Congratulations to all the learners who got their results today and best of luck for the future.***
To get involved, send your pics and quotes, along with names and ages of the learners pictured and what subjects they're studying to rebecca.cooney@feweek.co.uk
——————————————————————————————————————————————————————————–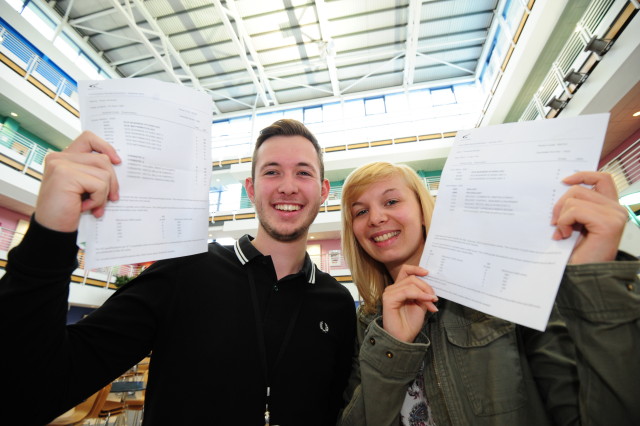 First up: Derby College's Ryan Horsnall and Fran Baldwin, both 18.
Ryan achieved A grades in business studies and maths and a B grade in chemistry and is off to do a higher apprenticeship at First Response car finance company in Nottingham.
He said: "I can't believe that I have got these grades.  I am obviously delighted."
Fran Baldwin is heading to Leeds University to study Nutrition having achieved A grades in Business and Psychology and B in Biology.
Fran, who is also a coach at champion Adam Peaty's City of Derby swimming club, said: "My aim is to be a Sports Nutrionist as I have always been interested in what goes into food and I have been swimming and now coaching for many years."
**************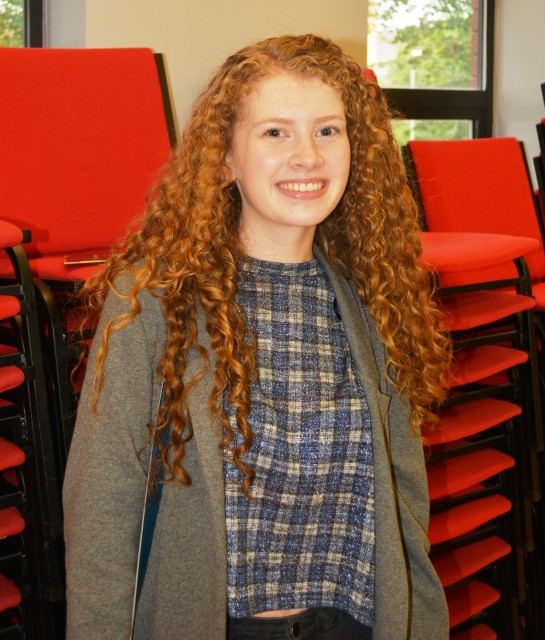 Sarah Rouse, 18, of Notre Dame Catholic Sixth Form College in Leeds studied biology, chemistry, English literature and EPQ and achieved 2 A*s and 2 As. She is going to Oxford University to study Biology.
*****************
Association of Colleges chief executive Martin Doel had a message for students getting their A level results today.
"Congratulations to all students receiving their A Level results today," he said.
"Colleges have helped many to achieve fantastic results which will open up a wealth of opportunities as they move forward on their chosen career path.
"Higher education is extremely valuable and students who are finding out their results today will face a wealth of choice, especially with the cap lifted on student numbers, but they need to remember university isn't the only route.
"Alternatives include higher technical and professional education, such as higher apprenticeships, for students who want a more practical education – colleges specialise in providing these alternatives."
***********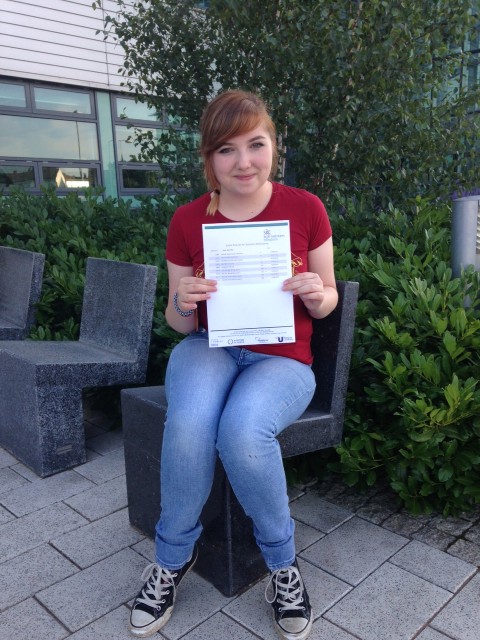 Sarah McCarthy, 18, who took her A levels at Stockton Riverside College Bede Sixth Form in Billingham, received an A* in art and a C in business studies.
She plans to study animation at Sheffield Hallam University.
Sarah said: "I was so excited but very nervous. I didn't think it was possible for me to get an A*"
"I have really enjoyed my time here at college, I have met some really good friends who I will miss a lot but I know I will stay in touch with them."
******************
 James Kewin, deputy chief executive of the Sixth Form Colleges' Association said: "Many congratulations to all students who received their A level results today. The early signs are that sixth form colleges will celebrate another year of outstanding success.
"Sixth form college staff and leaders should also be congratulated for helping their students to achieve such remarkable results against a backdrop of curriculum change and funding cuts.
"As our funding impact survey indicated this week, ongoing cuts to 16-19 funding are threatening the life chances of students and the ability of sixth form colleges to deliver the sort of high quality education young people need. To ensure the sector can continue to act as engines of social mobility and deliver outstanding exam results, the Government should maintain sixth form funding at current levels while an urgent review of education funding is undertaken".
****************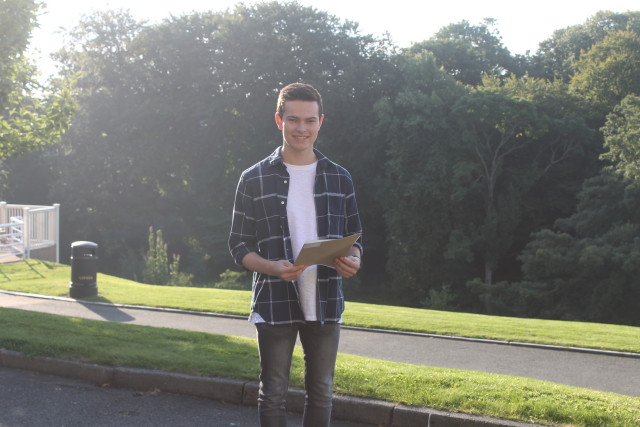 Robert Tingle, 18 and from Lancashire's Cardinal Newman College got an A* in maths, A in further maths, A in physics
He's off to study theoretical physics at Lancaster.
He said: "I'm definitely so happy with my results, I can't believe it!"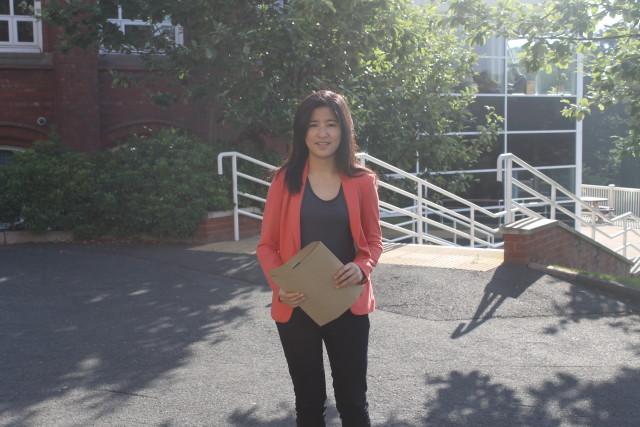 Also from Cardinal Newman is Jan-Kay Cheung, 18 (above).
She got A*s in German and biology and As in chemistry and maths, and is going to Cambridge to study natural sciences.
She said: "I'm so happy with my results, I can't believe it. It feels like a dream.
"I'm nervous, but so excited. I'm also really going to miss my time at Newman because I loved it here,"
And below is fellow Cardinal Newman student Mary Curwen, 18, who achieved A*s in ancient history and her EPQ and  As in German and philosophy and is going on to study classics with Egyptology at Oxford.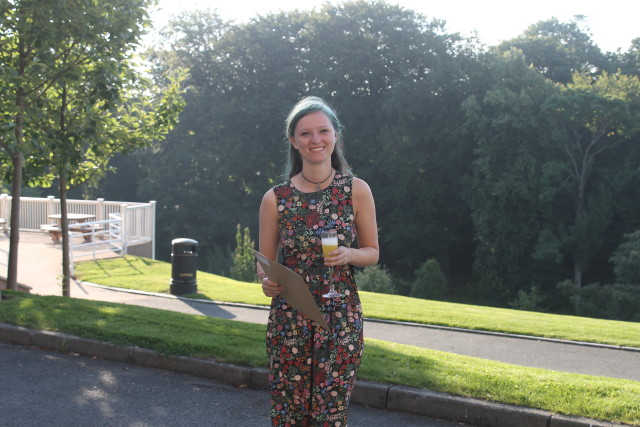 ************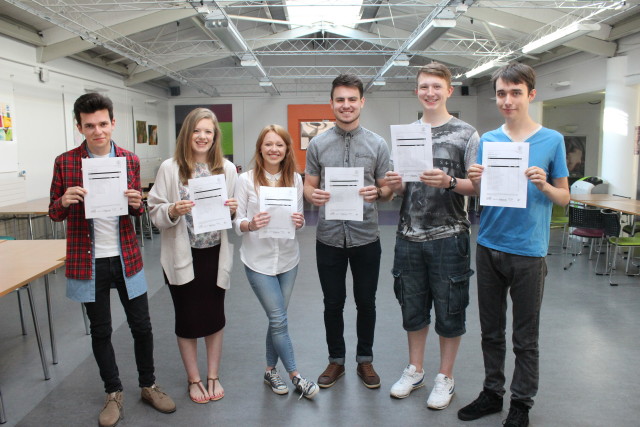 These Stockton Sixth Form College learners, all 18, are all off to university next year.
From left: Patrick Flynn ( who got A*AA), Iona Capstick (A*A*AB), Amy Everton (A*AAB), Joe Cass (A*A*A), Jamie Rees (A*ABC) and Dylan Whitaker (A*A*AAA).
***************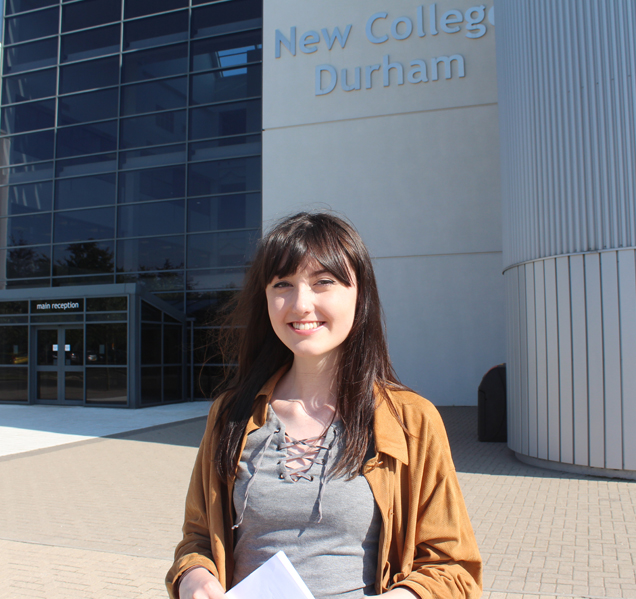 New College  Durham learner Sarah Lisgo, aged 18,  got A*AA in art, English literature and religious studies and got into Queen Mary, University of London to study English Literature.
************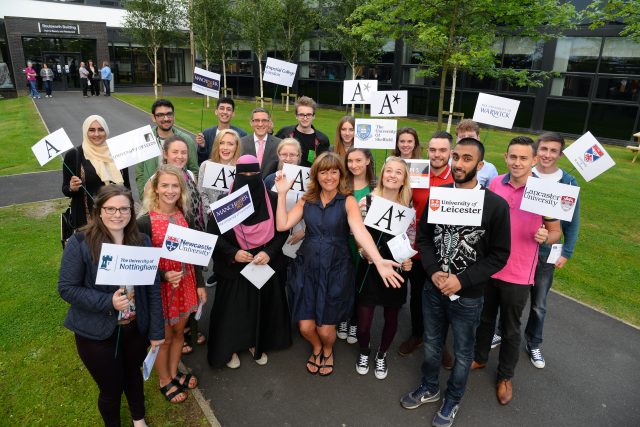 Nelson and Colne Sixth Form College staff and students are celebrating after achieving a 100 per cent pass rate for the fourth year running.
Principal Amanda Melton said: "I am delighted that the hard work, commitment and dedication of our outstanding students has paid off and that once again we are able to celebrate a 100 per cent pass rate.
"We have seen an overall rise in top grades, and a special thank you must also go to our wonderful staff, whose commitment to exceptional teaching never fails to amaze me.
"Seeing our students progress from secondary school leavers to young adults ready for University or employment is an absolute joy, and we wish each and every one of them the best of luck on their next journey. We hope they stay in touch as part of our alumni network, and go on to inspire the next set of students ready to join the NCC community.
"It is particularly pleasing to see students doing so well in our STEM subject areas, following a £2 million investment in our Engineering facilities."
***************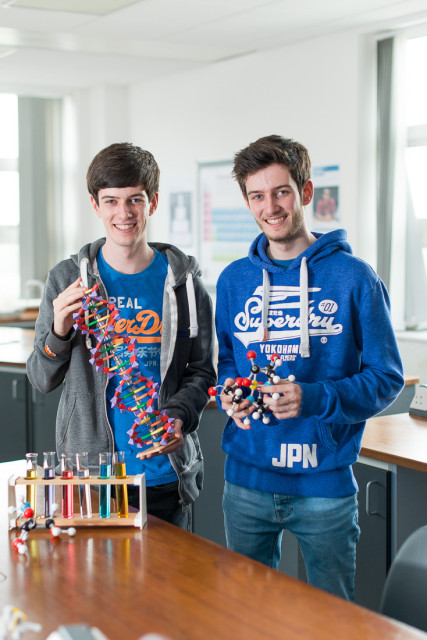 St Mary's College in Blackburn has double the success story to tell with 18-year-old twins James (left) and Matthew Harvey who totted up a total of six A* grades between them. This outstanding accomplishment has enabled the pair to secure their places at two top universities.
The duo both gained top grades in biology, chemistry and mathematics.
James will be going to New College, Oxford University to study biochemistry, whilst Matthew will be taking his place at Durham University to study natural sciences.
************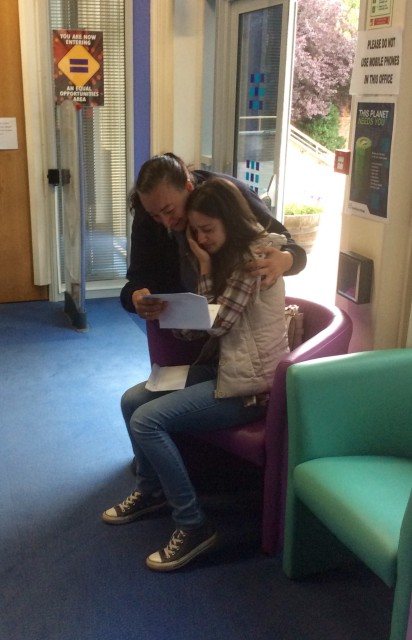 Grantham College learner Vasiliki Ntalampira, aged 18, and pictured above with her mum, achieved A* in biology, A in psychology and B in business studies. She is going to Loughborough University to study management sciences.
And below, fellow Grantham College learner Jake Spridgens, 19, opens his results with his girlfriend Sam Mould. Jake, 19,  achieved A in business studies, B in psychology and a C in accounting. He's going to East Anglia to student business management and marketing.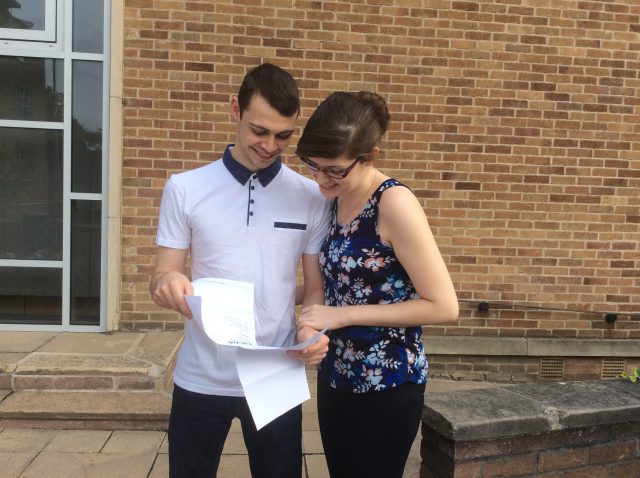 ************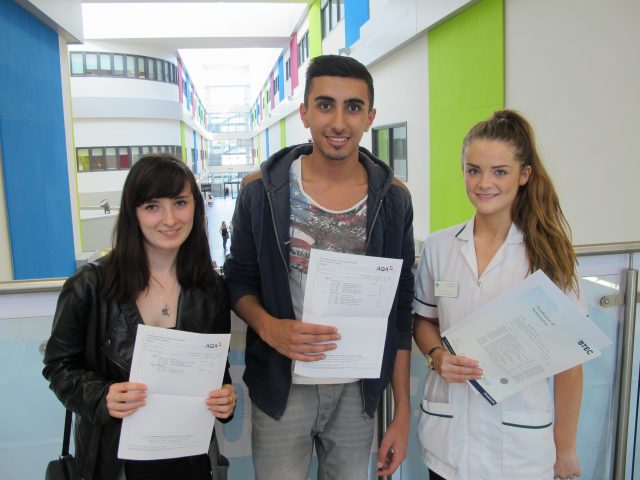 East Durham College learners, from left Beth Telfer, Sarjun Dhillon and Bethany Waters, all 18.
Beth got As in sociology and history, and is going on to study English at Leeds Beckett University, Sarjun got Bs in biology, chemistry and maths and is going on to study chemical engineering at the Lancaster University and Bethany Waters got three distinction stars in applied science and is going to study pharmacy at Durham University.
Beth said: "I am really proud of the results I have achieved. The staff at the college have been great during my time here and I can't thank them enough for the help they gave me to see me progress onto university.
"Now I can't wait to head to Leeds to get started on my course in English at Leeds"
The college received a 98.2 per cent pass rate.
Principal Suzanne Duncan said: "It is always a bit nervous waiting for your A Level results. However, following all the exceptional work put in last year, we were quietly confident the students would do well and reach their potential.
"On behalf of myself and the board, I would like to congratulate all the students and I'm sure they will make a great success of themselves as they move on to the next exciting chapters in their lives."
*************
Leeds City College student, Lauren Dexter, aged 18, got an A in sociology, B in history and an A in law.
She's been offered a place at Manchester University to study Law in September.
***********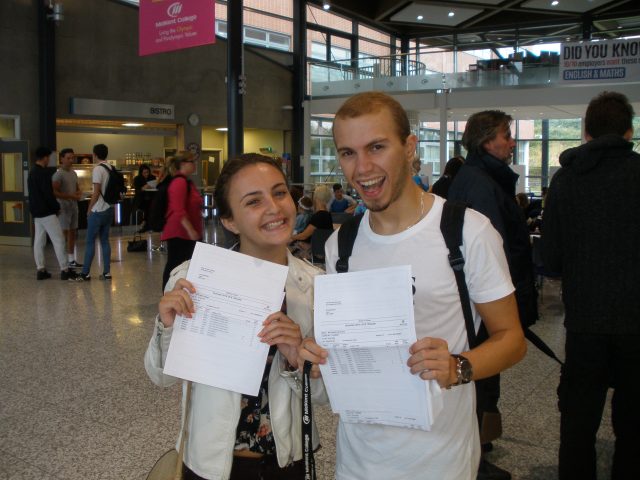 MidKent College student Amber Curling, 18, got an A in business, A* in communication and culture and  A in Psycholog and is going to University of Lincoln to study animation, while Nicholas Riccardi, also 18, got A in communication and culture, B in business and C in government and politics and is going to University of Lincoln to study Marketing.
*************
Newcastle Sixth Form College (part of NCG) student 18-year-old Lois Flounder (above) is off to Thailand following her A levels at Newcastle Sixth Form College as she has always wanted to travel and experience new cultures.
She's deferring her place at Bristol University for a year so she can volunteer for six months in an elephant nature park in Thailand.
She said : "I have wanted to travel for as long as I can remember. The elephant sanctuary does some amazing things and I feel really privileged that I can be a small part of that.
"I never wanted to go straight to university as I think it's great to try new things and experience new cultures whilst I still have no commitments. However, university is very important to me and I fully intend taking my place at Bristol and study Zoology next year."
Fellow Newcastle Sixth Form College student Nathan, 18, (below) has chosen not to go down the traditional university route and instead opted for an apprenticeship.
Nathan has been offered a job at large accountancy firm Sage – an opportunity he decided was too good to turn down, and is due to start on September 7.
He said: "I wasn't sure university was right for me so I decided to look at an apprenticeship and it's the best thing I ever did. I was in the process of filling in the UCAS form when I was offered an accountancy apprenticeship and it just seemed like the best thing for me. I didn't want to move away, but at the same time I didn't want to depend on others so being able to work and study at the same time just made sense.
"I was totally overwhelmed when I was offered the job at Sage. I knew straight away that it was right for me as they had the drive and enthusiasm that I was looking for. I feel like I have a bigger vision for the future now. Before, I just wanted to be a Chartered Accountant, but working at Sage could open so many new doors for me and I might even decide to go to University further down the line.
"Going to university straight after A Levels is not for everyone. It's a personal choice. For me, I get to earn money, gain experience and still get the qualifications I need. Either way you still get a career, you just have to think long and hard about what is best for you."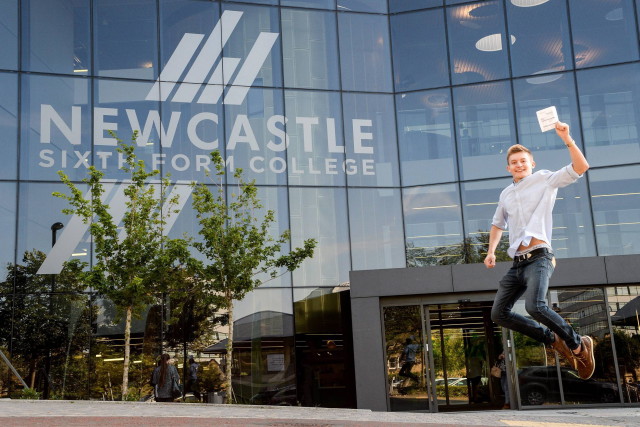 ************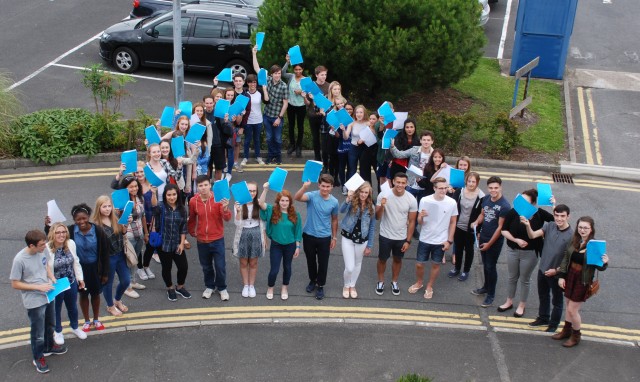 Winstanley Sixth Form College students are celebrating after 183 of them achieved three or more A or A*-grade A-levels.
College Principal, Louise Tipping said: 'We are really proud of all our students and their exceptional achievements. Our dedicated staff have worked tirelessly to support these hard-working students and it's fantastic that all that combined effort has paid off!"
Among them was 18-year-old Georgina Morris (below), who has battled against overwhelming odds to achieve amazing results.
Georgina experience the deaths of her father, from cancer and her grandmother while studying for her GCSEs, as well as her own cancer scare while studying for her A-levels.
Despite this, Georgina achieved an A*s in biology and extended project and As in chemistry and maths.
Georgina said: "I'm absolutely over the moon. I'm just delighted that I've finally managed to come to the end of this journey and make my dad proud."
The loss of her father has inspired Georgina to pursue a career as a doctor and she is now going on to study medicine at St Andrew's.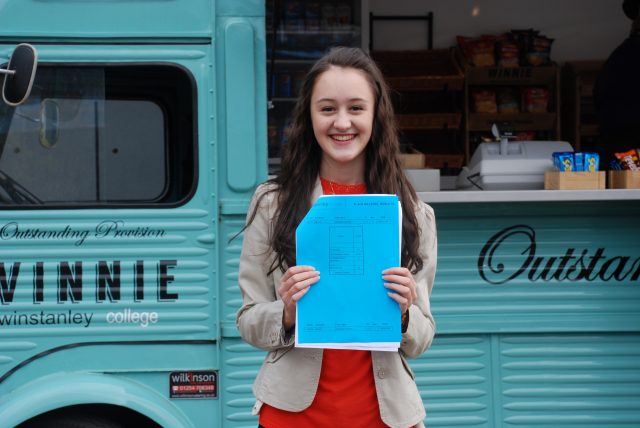 ***************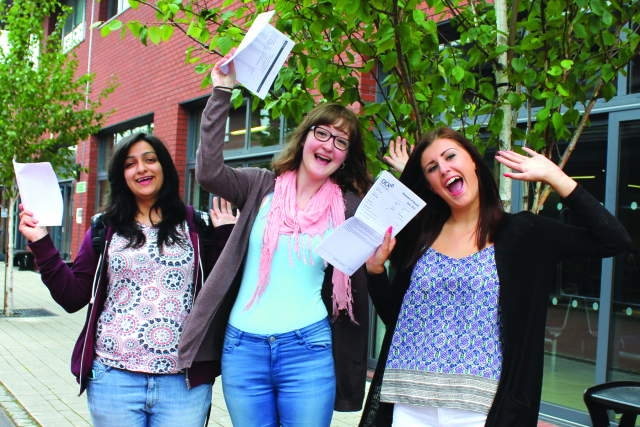 From left: Halesowen College learners Pooja Sharma, who's considering a higher apprenticeship with Deloitte, Kamila Milewska, who's off to the University of Birmingham to study dentistry and Emma Jennings who's going to study primary teaching at the University of Worcester.
***********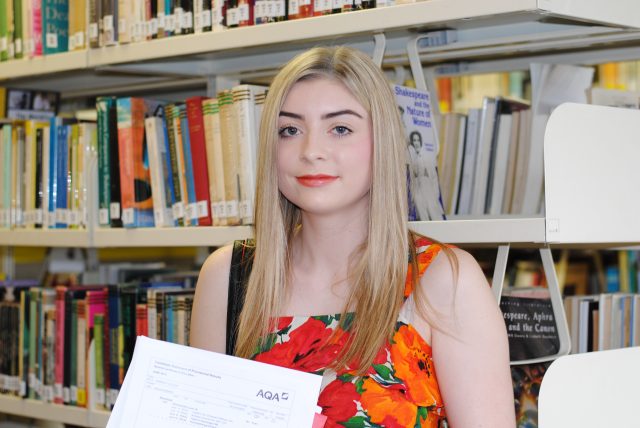 Barnsley Sixth Form College student Megan Barnard, 18, achieved A*s in psychology and sociology and a C in history and is going on to the University of York to study psychology
The overall pass rate at the sixth form college is 98 per cent, with a 100 per cent pass rate in 18 subjects, including chemistry, physics, ICT, English language, business studies, French and geography.
Principal Colin Booth OBE said: "We are thrilled to be announcing such excellent results and would like to congratulate our students on their achievements. We are delighted to see an increase in the overall pass rate, an increase in the number of high grades awarded and improvements in success in so many subjects. Both our students and staff should be very proud of their hard work.
"Many of our students are now progressing on to university, studying degrees from Geography to Paediatric Nursing, Midwifery to Mechanical Engineering, whilst others go on to employment or apprenticeships. We are certain that they will take with them the confidence and knowledge they have gained during their time at Barnsley Sixth Form College.
"These results are a brilliant start to the new academic year and things will be improving even more for our A Level students when they move into our brand new £18m Sixth Form campus on St Mary's Place in January 2016."
Tobias Fox, 18, (below) achieved two A grades in maths and chemistry and an A* in computing and is now going to the University of York to study computer science.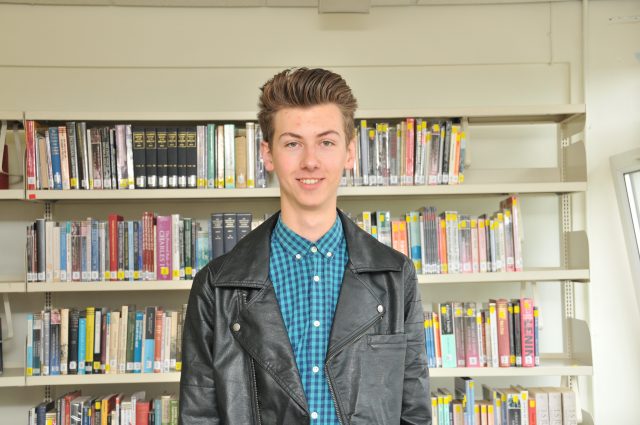 **************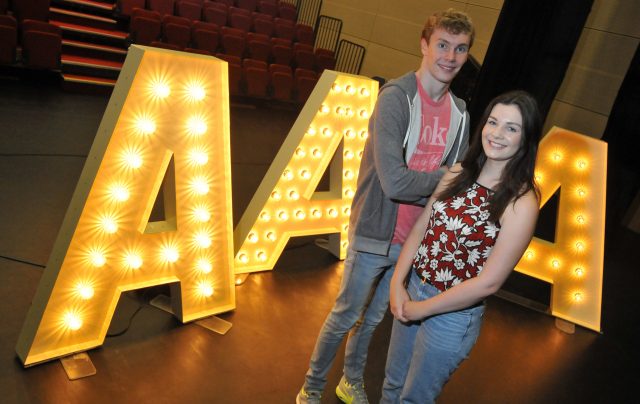 Sunderland College learners, 18-year-old twins Matt and Emma Wylie are lit up by their results. Matt is off to Sunderland University to study sport science and Emma is going to Leeds University to study criminology and criminal justice.
*************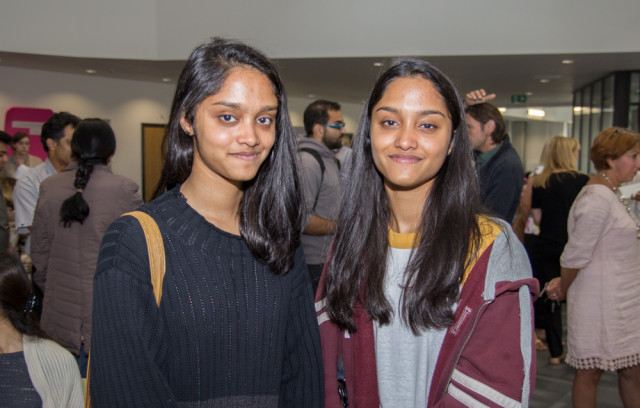 And in more twin news: 19-year-old twins Swetha (left) and Sruthi Pillai at Loughborough College  each achieved two A*s in maths and an A in further maths – securing Sretha a spot at Warwick University to study maths and Sruthi one at Sheffield for dentistry.
**********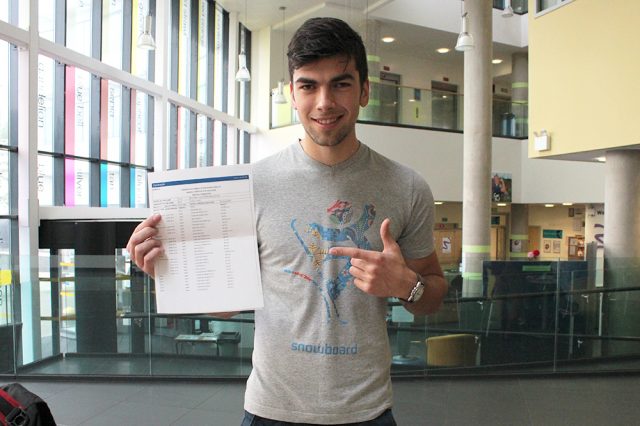 Bracknell and Wokingham College student Iurie Tarlev, 19, got A*s in maths and further maths  and B in physics.
He said: "I wasn't expecting to get these grades but I've worked hard so I'm really pleased.
"The tutors have really helped me during the year helping me whenever I needed it – so I'm really grateful. I'm now off to do civil engineering at Bath University."
The college had a 100 per cent pass rate for the sixth year running.
Head of A levels Ginette Cox said: "Yet again, our A level students have done us proud by producing an excellent set of results.
"This is testament to their hard work and the tireless efforts of teachers to go beyond standard class-time to provide as many revision sessions as possible.
"It was great to see students studying together outside of class or sitting with teachers when additional help was requested. They have now been presented with terrific results – some students achieving outstanding grades of 2 or 3 A*s.
"We aim to add value to every student that walks through our door so that when they leave they are ready for whatever they set their sights on, be it university or employment.  We can help make that happen.
"We are delighted with the results and celebrate another excellent year for the college and our students who can now look forward to what comes next, be that university or the world of work."
Will O'Regan, 19 (below) was with his mum Rosemary to collect his results.
He got As in maths and further maths and a B in physics.
He said: "I feel relieved really. I'm off to Bristol University to do maths – I don't have to worry about it anymore. The small classes here at college have been great as you can get all the support you need from tutors."
Rosemary said: "I'm so pleased he's got what he wanted and is able to do Maths at Bristol, he's achieved his goal – I'm really happy for him. He was given terrific personal attention and support from his tutors – it's been absolutely fantastic for him."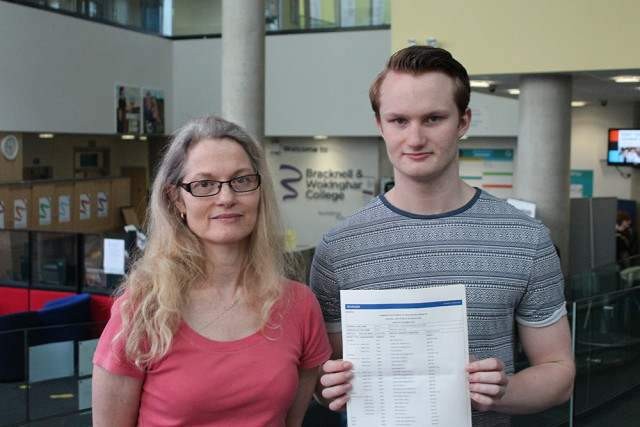 **********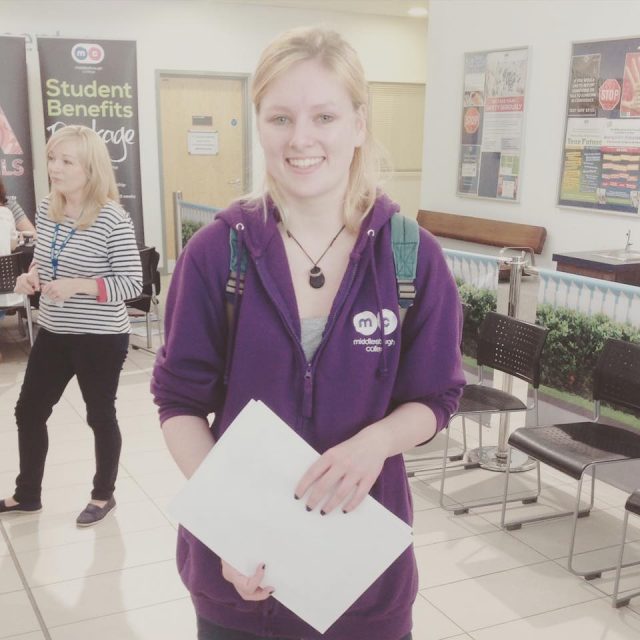 Middlesbrough College student Kelly Spence, 20, studied English literature, film studies and photography. She is now going onto Hertfordshire University to study English literature and american studies.
She said: "Middlesbrough is an amazing college, I'm so happy it has helped me go to university."
Fellow Middlesbrough student Rebecca Stang-Gjertsen, 18, (below) studied maths, psychics and psychology and is going on to study physics and astrophysics at York University, while her boyfriend Daniel Barry, also 18, studied maths, further maths, physics and chemistry and is going on to study maths at Durham University.
They both said: "Thank you for everything Middlesbrough College, you're amazing and we would definitely recommend this college"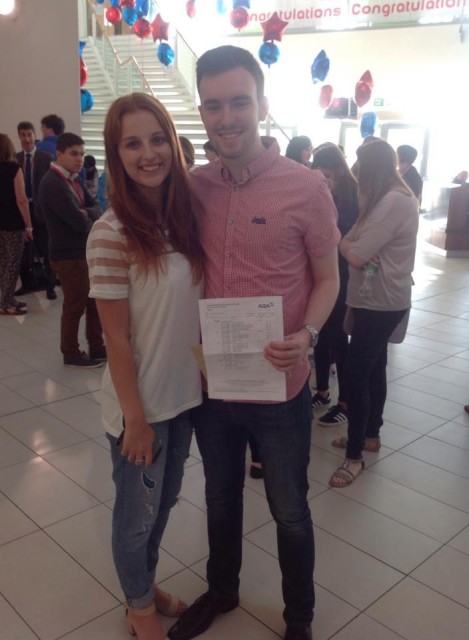 Ricardo Calcina, 20 (below) achieved A levels in biology, maths and PE and is going to Northumbria University to study electrical engineering.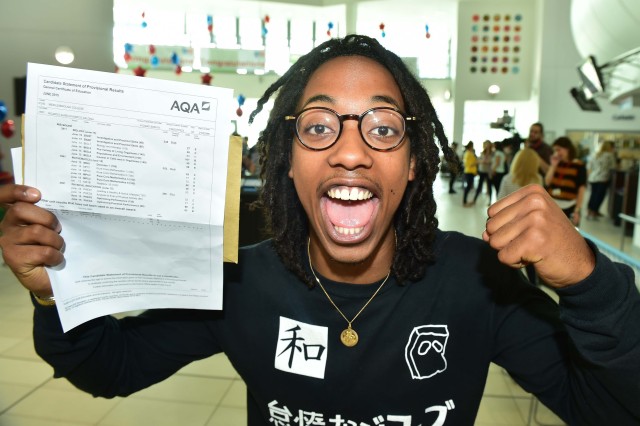 **********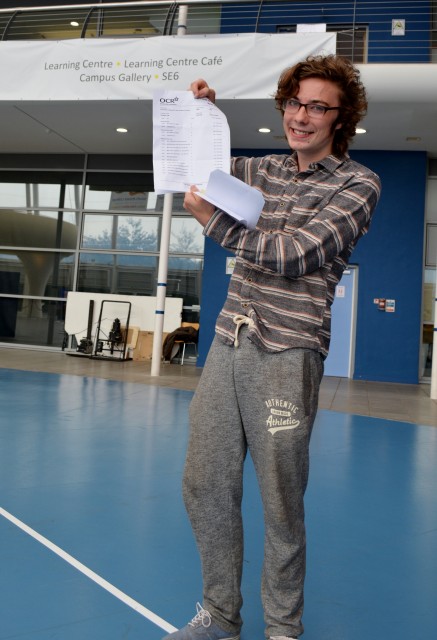 Mature South Essex College student Tim Rickman, 21, proved you're never to late to take up A levels, with As in maths and chemistry and a B in physics.
Tim said: "After completing my GCSEs at 16, I just wanted to get out into the world and get a job so I didn't put my all in when originally studying for my A-levels. I worked in a laboratory for a while analysing samples but the tasks became repetitive. I wanted more.
"I decided to start my A-Levels again so I could go to university and South Essex College is one of the only places around that would take an older student.
"Hopefully I passed my experiences onto the younger students, you really have to work hard to get to where you want to be."
Tim now hopes to study maths and physics at Nottingham University with a view to eventually studying for a PHD in quantum mechanics.
And South Essex College providers our fourth twins story of the day with Laura (who got Bs in art, media and sociology), and Rosie (B in law, sociology and a C in English literature and language) Richardson (below, Laura on the left).
They're now set for different educational routes and will be separated for the first time with Laura staying at South Essex College to complete the level four diploma in art and design  before going on to study creative arts and prop design at university next year, while Rosie heads for the University of Greenwich to study law.
Laura said: "It will be strange, for the first time we won't know what the other is going through. We've always been together at school and college to help and support each other but now we'll be doing totally different things."
Rosie said: "I'm so happy I got in to uni. We came to this college because we liked the idea of independent study so hopefully this experience has prepared me for what's next."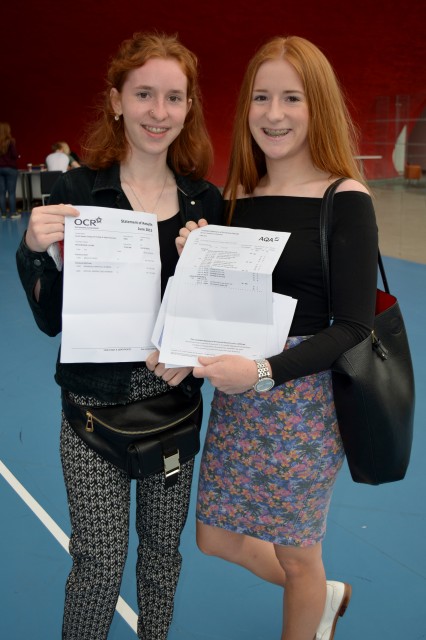 ************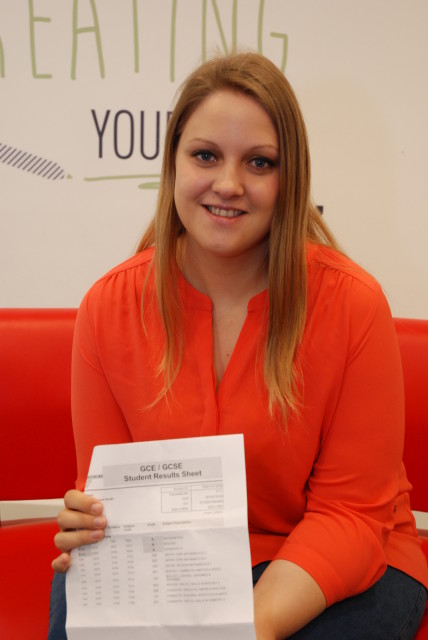 Royal Leamington Spa College student Hollie Parsons, 24,left school without any qualifications but after  but after doing voluntary work with animals, she set her sights on a career as a vet.
Today, with As in biology, chemistry and mathematics, she's on the road to achieving that dream with a place to study veterinary medicine at Nottingham University.
She said: "I did my GCSEs at home before coming to Royal Leamington Spa College to do my A-levels. I was a bit older than some of the students so thought it might be difficult, but everyone's been great. I don't think it has all sunk in yet!"
***************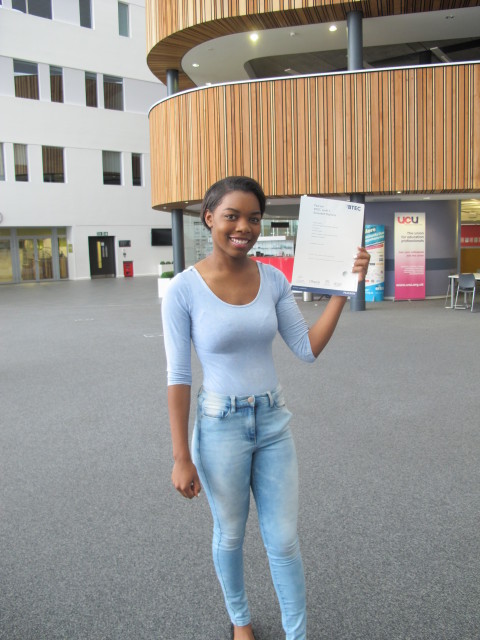 Walsall College student, Davina Wills, 17,  received the grades she needed to go to the University of Surrey to study a degree in vocal performance.
She said: "I have enjoyed everything about coming to Walsall College.  It was a lot of hard work but the tutors have been very supportive.  The course has really improved my confidence and the facilities for music are amazing."
Fellow student Daniel Jackson (below), 19, who received a triple distinction* in business, said: "I'm really happy with my grade as it means I'm now going to Loughborough University to study for a BSc honours degree in information management systems and business.
"I've had some great opportunities to gain work experience and working on live briefs set by employers which has prepared me to university."
**************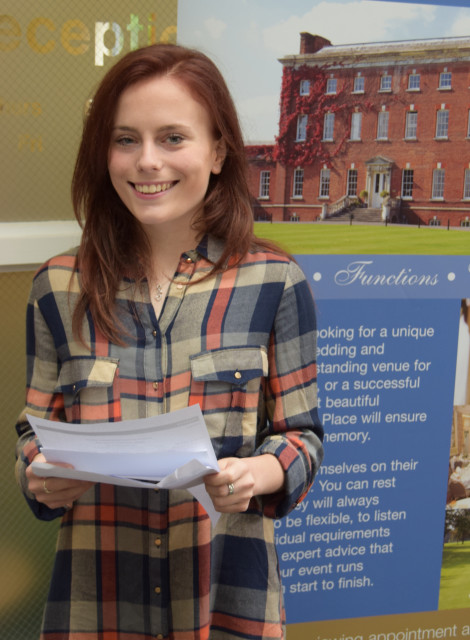 Berkshire College of Agriculture student, Rosalie Stonell, 19,  achieved A in biology and Bs in chemistry and maths, and is now off to study biomedical science at Queen Mary, University of London.
Rosalie said: "The staff at BCA have been really supportive throughout my time here; I'm really pleased with my results and my place at Queen Mary's to study Biomedical Science."
Fellow student Harrison Sala, 18, (pictured below with his mum) got an A in maths and Bs in chemistry and physics.
Harrison said: "I am thrilled to have had my offer at the University of Surrey to study Civil Engineering confirmed. My whole experience at BCA has been so positive and I received so much support along the way."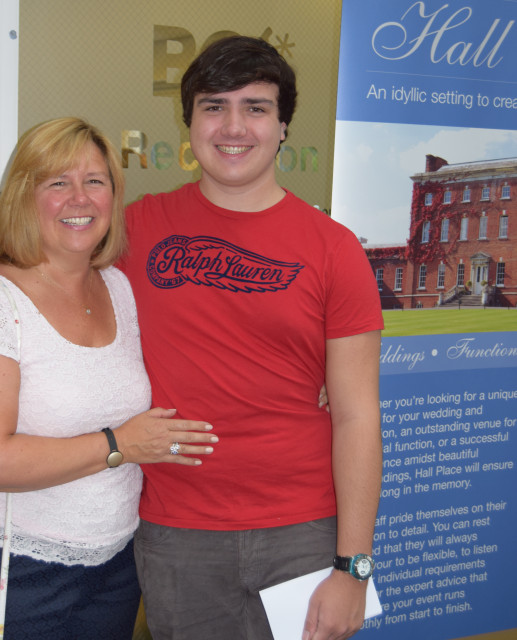 ************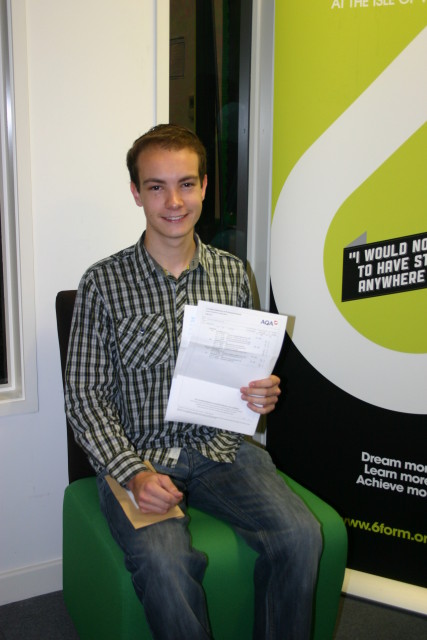 Isle of Wight College learner James Scott, 18, got As in geography and geology and B in economics, but although he got a place at University of Exeter to study geography, he has turned it down to take up an apprenticeship with BAE Systems.
Danielle Buckett, (below) got a A*s in economics, English language and EPQ, and an A in modern history and will  go to Oxford University to study law.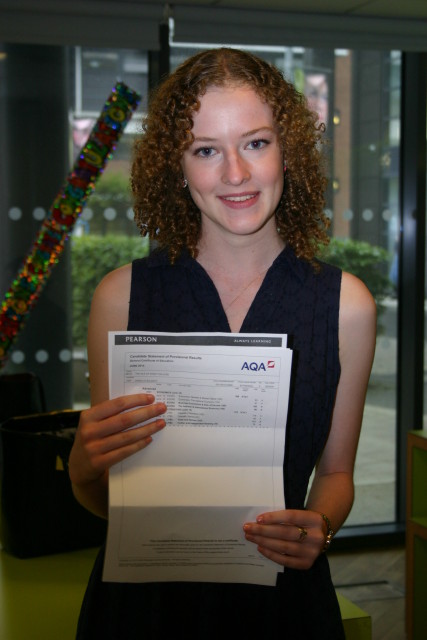 *********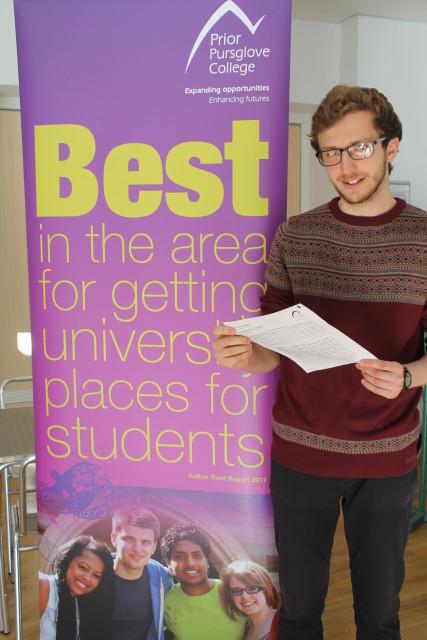 Prior Pursglove College student Daniel Gittins, 18, secured his place to study earth sciences at Oxford University after gaining A*s in geology and maths, and As in further maths and physics.
**********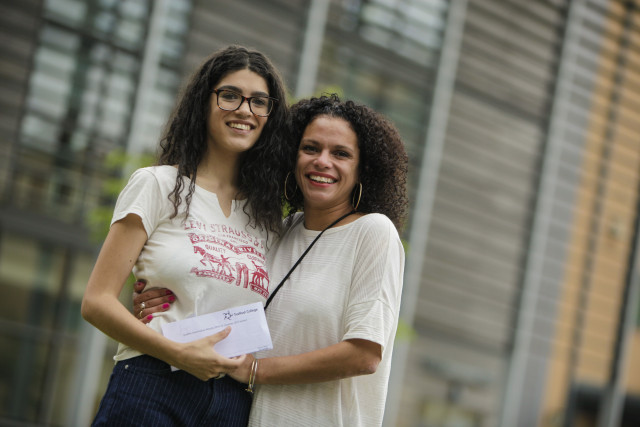 Trafford College learner Kya Buller Frew, 18, was accompanied by nervous mum Vilma, to pick up her results.
Kya got an A* in English literature, A in sociology and B in religious education, a thrilled Kya commented.
She said: "I'm amazed and so very happy as I wasn't expecting such high grades.
"I'm so glad I came to Trafford College. I'd heard such great things about it and my results are a reflection of my time here. The highlight without a doubt has been the teaching. You have such a close relationship with your tutors and I haven't had any negative experiences.
"I can't wait to start my course at the University of Liverpool."
Vilma said: "I'm so proud of Kya, this is a day I'll never forget. Kya worked so hard, constantly revising. She just loves studying English literature and I'm thrilled she has a place at university. I'm so happy she received the support she did from everyone at the college.
Fellow Trafford student Ben Would, 19, is off to study psychology at Manchester Metropolitan University after achieving an an A* in business studies, As in law and psychology) and a B in geography.
Ben said: "I'm really happy with my results and that I have my place at university. I always knew that I wanted to study psychology and I came here because there was a wider choice of subjects than at my sixth form. I've really enjoyed meeting new people and experiencing new subjects. I feel very well prepared for university now."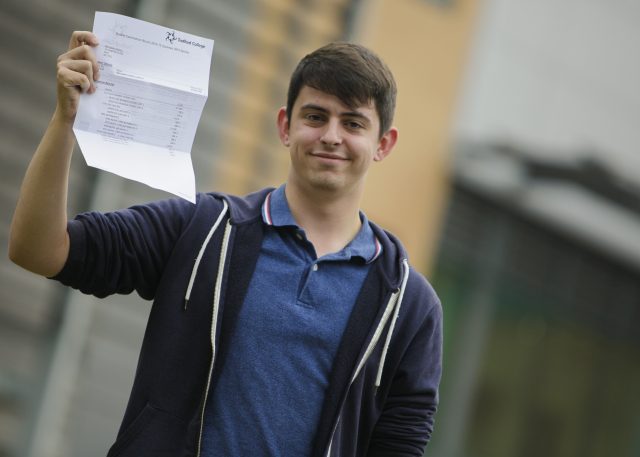 ************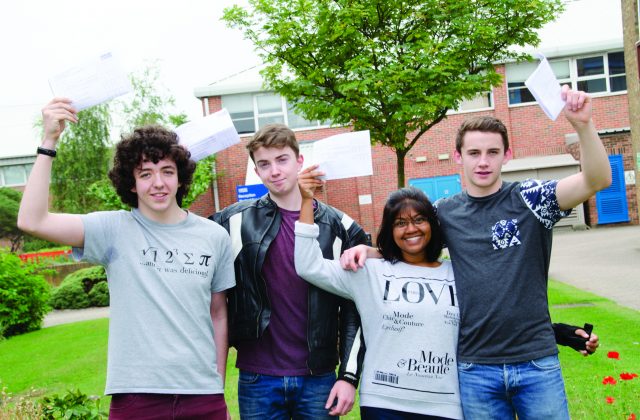 Harlow College learners (from left) James Rowe, Noah McManus-Wood, Manisha Koolman and Aaron Daly, all 18, are celebrating their results. 
James got A* in maths, As in physics and ICT and B in further maths and is going to the University of Surrey to study maths.
James taught himself AS further maths having not done the subject in his first year – as well as studying A2 further maths and his three other subjects.
He said: "Only when I came to Harlow College did I realise I had a talent for maths.
"Once I graduate I'd like to work a year in industry, either in accounting, as an actuary or in operations research. I'd like to thank all the staff at Harlow College – they were all really supportive."
Noah got an A* in environmental science A*, and As in biology and sociology, and is going to the University of Warwick to study biomedical sciences.
Noah said: "I'm feeling great! I wasn't expecting those results. The Sixth Form at Harlow College has been really good. The staff are really supportive and focused. My aim is to go into the medical profession once I graduate, hopefully in a research capacity."
Manisha Koolman got As business, government and politics, and history  and a B in French and is going to King's College London to study business management.
She said: "I finally feel that all my hard work has paid off. I've worked tirelessly for this for the last two years and for me to secure my place at King's is really mind blowing.
"My dream career is to be involved in business within the music industry, which was always my first love. During my second year I'm hoping to go to California to explore my music industry opportunities.
Harlow College has not just been another step in my education but has helped me evolve as a person. I want to tell everyone how great it is here!"
Aaron got A* in maths and As in further maths and business and is going to Newcastle University to study maths.
He said: "I'm so happy, I couldn't have asked for better results. I want to work in the City once I graduate – ideally in banking. I plan to get my foot in the door and work my way up.
"I've really enjoyed my time at Harlow College. It's really flown by and I want to thank all my tutors for their amazing support."
**************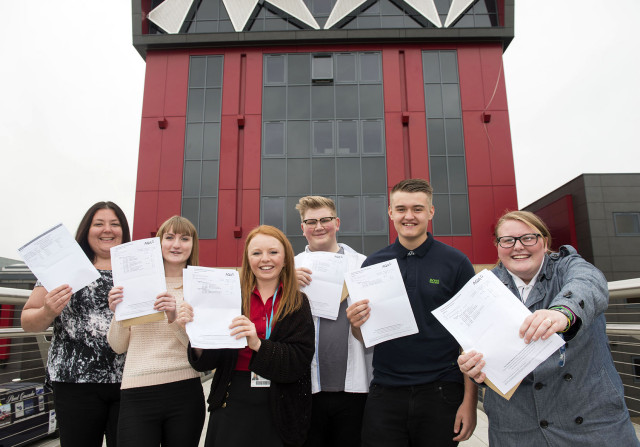 West Nottinghamshire College students, from left: Joanna Brocklehurst-Smith, 33, Lindsay Hill,  Charlotte Swindells, both 18,  Ollie Smith, 20, Callum Lack and Jemma Ratcliffe, both 18, celebrate their A-level results.
Mother-of-two Joanna combined college with raising five-year-old daughter Cassidy and son Andrew, 14 as well as coping with the tragic loss of her father last New Year's Eve.
Despite this, Joanna, from achieved passes in English literature and geography – and is now set to study geography and environmental hazards at the University of Derby.
She said: "It was a hard year with losing my father part-way through the course; so I guess these results are better than what I expected.
"Coming back to college as a mature learner and being almost twice the age of other students in my group was strange at first. I did my GCSE maths here at West Notts the previous year too. But everyone accepted me and supported me with losing my dad.
"College has pointed me in a new direction and I'm now really looking to university."
College principal and chief executive, Dame Asha Khemka, said: "I'm delighted we have once again delivered an excellent set of A-Level results which confirm the college's position as one of the region's top-performers for academic, as well as vocational, achievement.
"This doesn't just happen; it comes from all the hard work and effort that our students put in to achieving success, supported by their caring and dedicated tutors.
"It is incredibly rewarding to see students gain the grades they need to get into their chosen universities or progress to studying a Higher Education qualification right here at college.
"It's particularly pleasing that many more students are achieving A*-B high grades and are successfully completing the Extended Project Qualification, which will take them on to some of the best universities in the country.
"Huge congratulations to all our students on this important landmark as they now prepare to take their next step towards fulfilling their career ambitions."
***********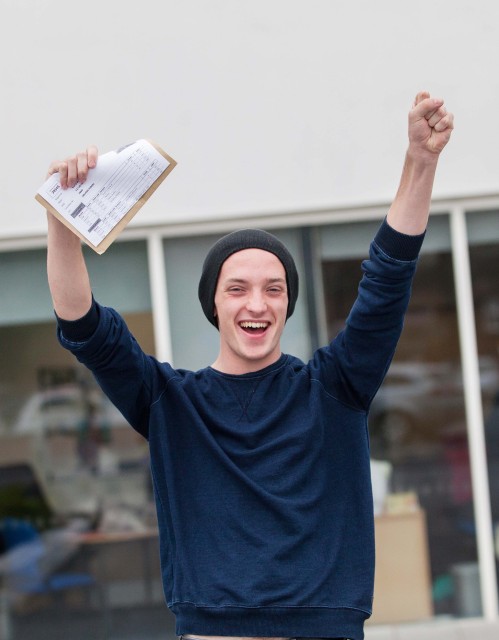 Stoke on Trent Sixth Form College and Staffordshire Poet Laureate Harry Shenton,18, is going to Kings College London to study English literature, having achieved A*s English Literature, media studies, religious studies and an A in history.
He said: "All the extra tutorials and induction days the college organised have helped me so much and I'm absolutely ecstatic with my results – they're way above my expectations and I can't wait to get started."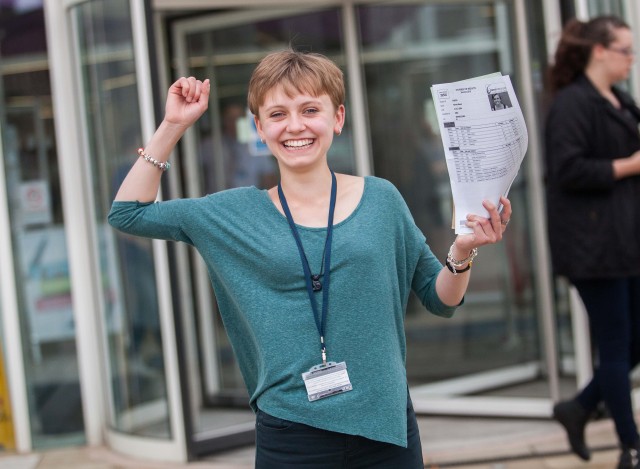 Fellow student Harriet Moore, 18,  earned a place at Oxford University to study chemistry, after achieveing  A*s in maths, chemistry and physics.
She said: "I'm so happy to be going to Oxford and I want to say a huge thank you to the college staff for being so enthusiastic about their subjects, as I'm certain that I wouldn't be in this position without them. They gave me lots of opportunities to improve my application to Oxford and even organised an overnight stay there which gave me a chance to see what life was like at Oxford."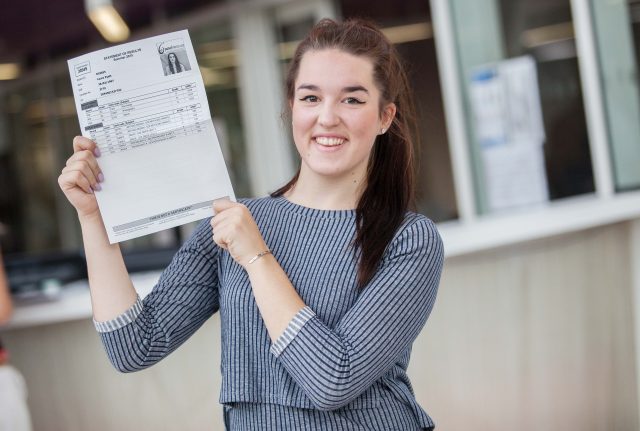 Laura Pyatt, 18, studied a mixture of BTEC qualifications and A-Levels and is now heading to Mountview Academy Of Theatre Arts, one of the UK's leading drama schools, having achieved As  psychology and dance A-Level, a B in A-Level photography, and  D*s in BTEC musical theatre and contemporary dance.
She said: "It's a dream come true to study at one of the UK's leading drama schools and it's more than I ever imagined, and I'm so grateful to the college for making me feel fully prepared for all of my auditions."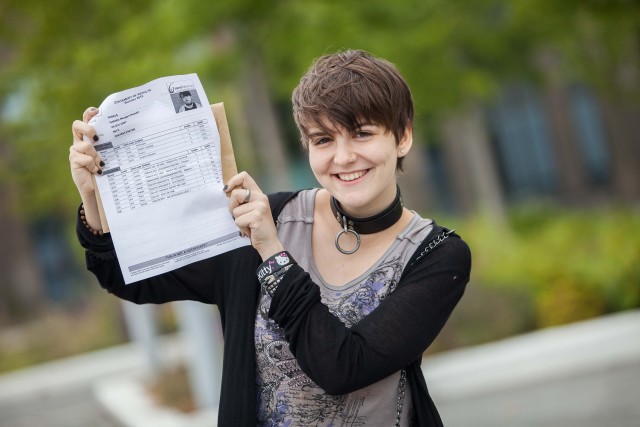 Isabella Morgan-Powell, 18, is planning to head to Nottingham University,  following a gap year having achieved As in English literature, English language and French, while helping her mother to care for her brother who has severe Asperger's.
She said: "All my teachers have been incredibly encouraging and I also have a diagnosis of Asperger's, so when I sat my exams they made sure I was able to sit separately at the back so I didn't feel overwhelmed. It's been a fantastic experience."
**************
Barnet and Southgate College students Siobhan McNicholas, 19, and Bilal Khan, 18, are both off to university after getting their degrees today.
Siobhan got A*s in sociology and psychology and a B in English language and literature (grade B) and has accepted a place at Nottingham University to study sociology with criminology.
Siobhan said: "I'm so pleased I managed to get two A stars today and a B.
"I've really enjoyed my time at College but I'm really looking forward to going to Nottingham University to study as I loved the campus there. But I also enjoyed my time at college, there are all sorts of people of all ages here, and you're supported by all the tutors in a mature way, so really it's much better preparation for university as it's a stepping stone to going onto higher education and life in general.
"The teaching has been outstanding but ultimately it's what you make of it that matters, if you work hard it will pay off."
Bilal got As in law, government and politics and economics.
Bilal said: "I've exceeded my own expectations with my results today, I'm over the moon and really glad all my hard work has actually paid off.
"I'm going to Queen Mary, University of London to study law and there I'm planning on getting my degree, then I hope to study for a Master's degree after which I hope to become a barrister.
"The teaching and support has been exceptional here and I'm gutted to be leaving, but I'm excited about going to university. I'm grateful to Barnet and Southgate College for helping me achieve what I set out to do. I'm looking forward to studying further in London and fulfilling my career aspirations."
*********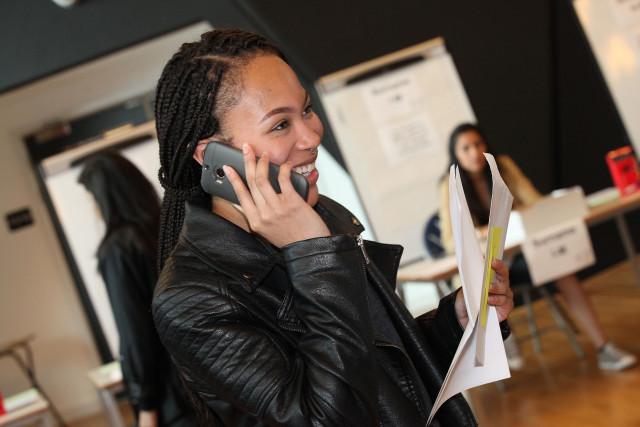 Sandwell College learner Keenia Dyer-Williams, 18, scored a hat-trick of As in English language and literature, art and design, and media studies.
She is now going to study English with creative writing at Birmingham University.
"I wasn't expecting anything like this and I didn't want to get my hopes up too much in case I failed," she said.
*******************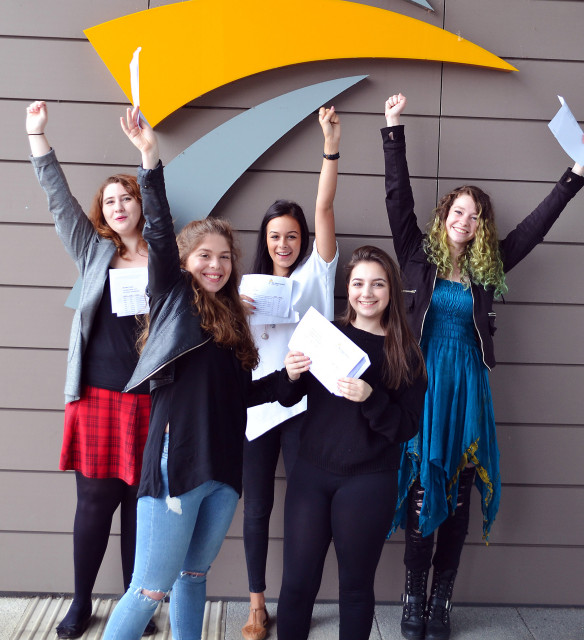 New College Stamford learners, from left: Michaela Tharby, 19, Nicola Jones, Sabrina Giordano, Federica Funiciello and Cloe Ringer, all 18.
Michaela got one A*, two As and a B and has accepted a place at York University to study politics, with hopes of working in the civil service – focusing on international development.
She said: "I feel brilliant. I was expecting an A, B, C, so am very happy with my results. I'm so glad I haven't disappointed my teachers. They have been so helpful – I couldn't have done it without their support. I've had an amazing time at this college."
Cloe got two As and a B and hopes to become a chiropractor after completing her degree at Bournemouth University.
She said: "My grades were on target, so I'm very happy. I will be going out for a meal to celebrate tonight. I have made some really special friends here – the people have been amazing."
*********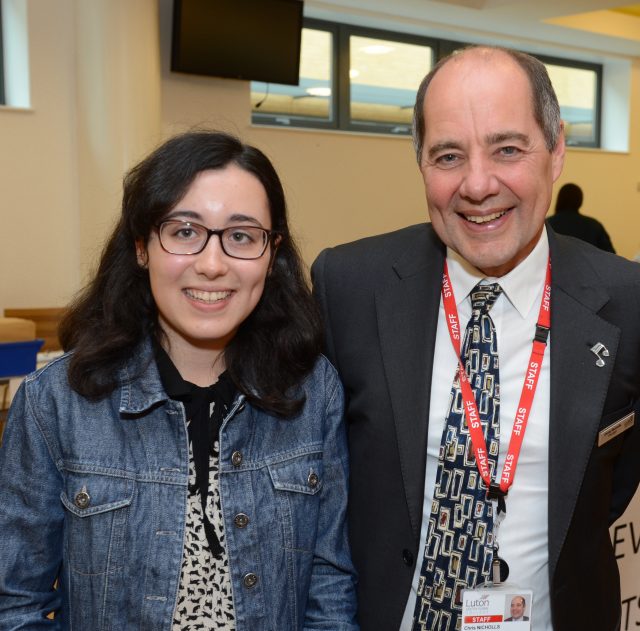 Luton Sixth Form learner Sophy Lelliott, 18, was one of five applicants to Oxbridge from her college – and all five made it in.
Sophy Lelliott will be heading to the University of Cambridge to read law, having gained A*s in history, geography, English literature and the Extended Project Qualification (EPQ), and an A in government and politics.
"I needed just one A* and two As, and I was so scared this morning about what I'd have done if I missed out," Sophy said.
"I had also said to my parents how much I wanted to go to Cambridge so that added a bit of pressure. But now I'm really excited about going there and starting uni. I've got that as my future now and so much to look forward to."
Luton principal Chris Nicholls (pictured above) said: "We are delighted with our very high pass rates at A level and BTec. It has been wonderful to be able to celebrate all of the hard work that our students and their teachers have put in to enable them to achieve these excellent results."
Also Cambridge-bound is Ryan Riordan, 18 (below). He also notched up four A*s, in chemistry, biology, maths and the EPQ, and an A in Spanish.
Ryan, who will be reading medicine, said: "I'm really happy, I've worked very hard for this."
Asked what advice he'd give to younger students wanting to achieve the top grades, he added: "Definitely revise as you go along and don't leave it until the last minute. And hope you get the right questions in the exams, too!"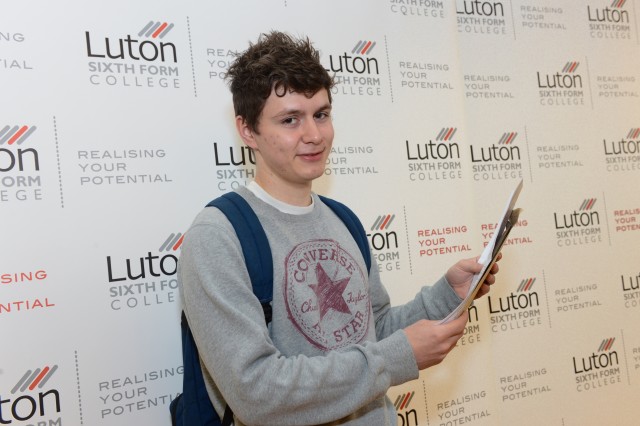 **************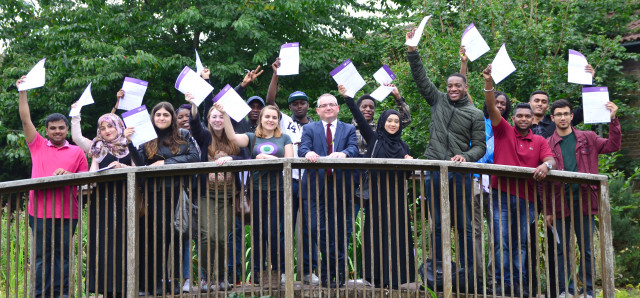 Newham Sixth Form College (NewVIc) learners and principal Eddie Playfair celebrating the results.
Mr Playfair said: "NewVIc continues to improve year on year and these results mean that many hundreds of young east Londoners will be able to realise their ambitions and progress to the university degree course of their choice.
"I am particularly pleased that we achieve such excellence while remaining a comprehensive college for everyone. Everyone has worked extremely hard for these results and this success is a result of the commitment and dedication of our great staff team and our wonderful students. It shows that we are truly a successful learning community."
Zakir Hassan, 18, achieved A* in economics, and As in history and government and politics and will now be progressing to study history at Queen Mary University of London.
Zakir said: "I am really pleased. My teachers have helped me a lot inside and outside of class by pushing me to work harder. After studying history I would like to do a GDL (Graduate Diploma in Law) and then an LPC (Legal Practice Course) in order to become a lawyer."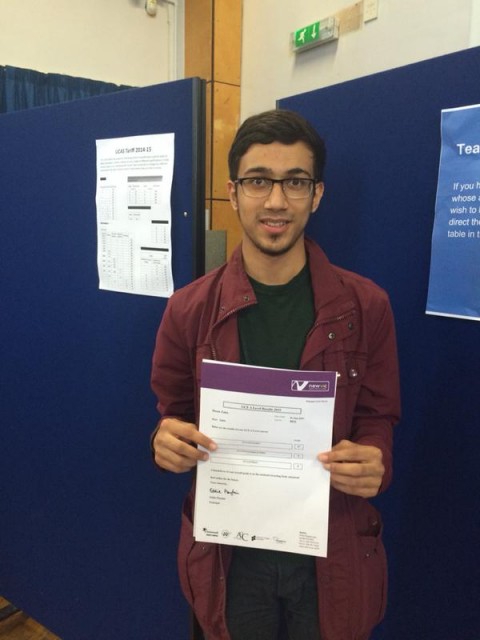 ****************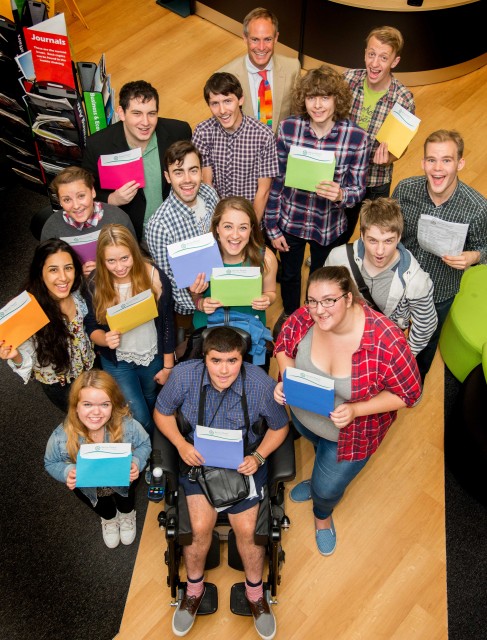 Barton Peveril College students celebrate their A Level success with College Principal Jonathan Prest (picture Andy Brooks).
Mr Prest, said:  "This year's results underline the consistently high achievements of students leaving Barton Peveril.  Congratulations to them all.
"These young people go out into the worlds of higher education, apprenticeships and employment with strong academic profiles but also the broader knowledge and confidence that will enable them to succeed in their chosen careers.
"Families have a huge role to play in the success of young people in further education and results day not only provides us with an opportunity to applaud our amazing students but also their teachers and all those  who have given valuable support and guidance."
Barton Perveril learner Sam Waddington, 18, is off to study journalism at the University of Winchester after getting an A in communication and culture, B in psychology, C in English language and an A* in the extended project.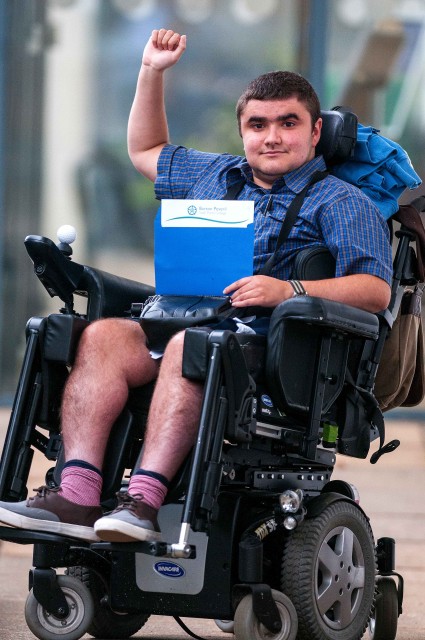 Below, from left: Stuart Hayward, 18, is off to study law at the University of Southampton after getting A*s in law and geography and As in French and extended project, Beth Cooper, 18, is going to study film and drama at the University of Kent with a D* in performing arts (musical theatre) an A* in film studies, an A in drama A and B in English literature and Becky Park, 18, is off to complete a PwC  accountancy higher apprenticeship programme after gaining a C in maths, a B in accounting and a D* in vocational IT.
A Level Maths C, Accounting B, vocational  IT Distinction-star
************