Lewisham Southwark College has been given the ignominious honour of becoming the first FE and skills provider to be branded inadequate by Ofsted twice in a row.
In a report on an inspection in February, which was released today (pictured above), the college was mauled by the education watchdog over the pace of improvement and a failure to raise standards after it was first given a grade four rating in January last year following a visit by inspectors in November 2013.
The 17,943-learner general FE college, which has a current Skills Funding Agency (SFA) allocation of almost £24m, actually got an even worse result than last time with grade fours across the headline fields as opposed to two fours and two threes last time (see below).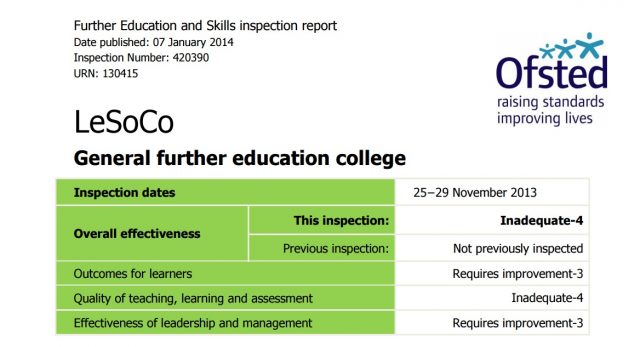 It is believed to be the first to receive two inadequate ratings overall in a row under the current common inspection framework.
In its report, Ofsted warned that governors, senior leaders and college staff had "not made enough progress in improving key weaknesses identified at the previous inspection", including poor provision in both English and maths.
It added that teaching, learning and assessment were improving too slowly, with too few learners experiencing good teaching, and described attendance and punctuality as poor.
It said: "Since the creation of the college in 2012, leaders and governors have failed to raise standards and expectations of both teachers and learners.
"The college's curriculum does not currently meet the skills needs of local employers, and progress to resolve this weakness has been far too slow."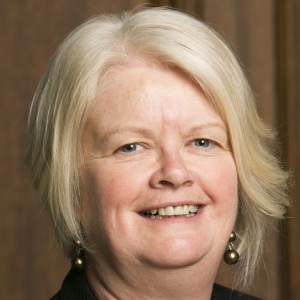 Carole Kitching (pictured), who is due to take over as principal and chief executive of the college in the summer from interim principal Jo Lomax, said she was disappointed with the outcome.
She said: "Clearly the outcome of the Ofsted re-inspection is a disappointment to everyone but the report makes many references to recent improvements and 'green shoots'.
"Over the next few months I will be working with the interim team to drive forward the pace of change and to ensure the hard work of everyone who works at the college bears fruit for all our students."
The report also raised concerns about the college's "precarious" financial position, which Ofsted said limited its ability to improve provision "swiftly", in contrast with Ofsted's first full report last January which made no mention of the financial position.
The rating comes after four Ofsted monitoring inspections since the first inadequate rating, and three visits by FE commissioner Dr David Collins, who identified some weaknesses in the governance and leadership of the college following a visit last January.
After a second visit in July, following the departure of former principal Maxine Room and the appointment of ex-Warwickshire College principal and former 157 Group chair Ioan Morgan to the position of interim principal, Dr Collins praised the progress of new leadership. He also visited in January this year. His follow-up findings have not been made public.
Lewisham Southwark College, previously named Lesoco, was formed in 2012 when Lewisham College, which had been outstanding in 2006, merged with Southwark College, which was branded inadequate in 2011.
The Department for Business, Innovation and Skills and SFA are yet to comment on whether further intervention, including a revisit from Dr Collins, would take place.