Less than half of the university technical colleges visited by Ofsted have received 'good' or 'outstanding' grades, exclusive FE Week analysis has revealed, in another blow to the ailing project.
The education watchdog has now visited a total of 20 UTCs, but only nine of these, or 45 per cent, were judged to be good enough for higher grades.
In fact, just one – UTC Reading – was actually rated 'outstanding' during an inspection in May 2015.
This drags the Ofsted results of UTCs well below those of sixth form colleges, general FE colleges and independent training providers – even though the previous chief inspector Sir Michael Wilshaw warned UTCs last July that they needed to be doing "significantly better".
At the annual conference of the Baker Dearing Trust, the organisation founded by the former education secretary Lord Baker to facilitate the growth of UTCs, Sir Michael said: "If the UTC movement is to survive and prosper, then radical improvement is necessary.
"If this doesn't happen, politicians will come to the conclusion that the model is flawed."
If this doesn't happen, politicians will come to the conclusion that the model is flawed
The Ofsted annual report for 2015/16 was also unsympathetic.
"Inspection outcomes to date have not been strong and the potential of these institutions has not yet been realised," it found.
SFCs have fared best in Ofsted's books, with 77 out of 89 (87 per cent) rated 'good' or 'outstanding' according to data for all open and funded providers up to February 28, 2017.
286 out of 346 (83 per cent) ITPs achieved a grade one or two, while for FE colleges the figure is 140 out of 206 (68 per cent).
The most recent Ofsted report into a UTC, the engineering-focused UTC Swindon, produced an overall 'inadequate' rating last month. It received grade fours for effectiveness of leadership and management, quality of teaching, learning and assessment, outcomes for pupils, and 16-to-19 study programmes.
It will now join the FE-backed Activate Learning Education Trust, with backers including Banbury and Bicester College, City of Oxford College, and Reading College.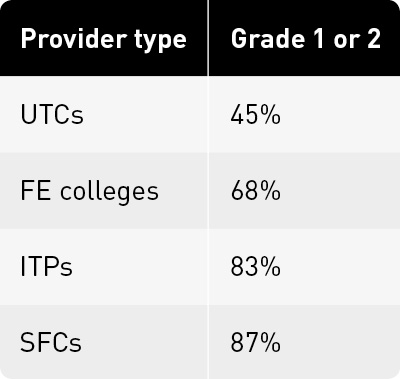 Energy Coast UTC, which is based in Cumbria and specialises in construction and engineering in the energy sector, was also rated in February, receiving 'requires improvement' across the board.
And in September 2016, UTC Cambridge, which focuses on biomedical and environmental science and technology, was also branded 'inadequate' overall.
These new figures seem to suggest UTC performance is dipping; at the end of 2015/16, 15 UTCs had been inspected, of which eight, or 53 per cent, had received grades one or two.
During 2015/16, just one grade four overall rating was given, to UTC Plymouth, with grade threes going to Buckinghamshire UTC and UTC Lancashire.
And of the 48 UTCs currently open, 32 still have yet to receive a visit from Ofsted at all.
FE Week put its findings to the Baker Dearing Educational Trust.
Charles Parker, the trust's CEO, conceded: "The Ofsted inspection grade is a key performance indicator for a UTC as with every other school.
No one should underestimate the challenges for our principals and their staff of starting up much-needed technical schools
"So far, we have not done as well as we should have liked, but no one should underestimate the challenges for our principals and their staff of starting up much-needed technical schools for 14- to 19-year-olds in the current English education system.
"In all cases, where we have been judged less than good, necessary changes have been made and rapid progress is evident."
There has been more bad news for UTCs however, with the announcement this week that plans for a new one in Guildford have been abandoned.
A post on the UTC's website from its trustees said: "It is with regret that we post this message to inform you of the cancellation.
"Unfortunately the Department for Education is no longer supportive of the project."
Burton and South Derbyshire UTC failed to open in September 2016, after government approval for the project was withdrawn "following low pupil recruitment numbers".
Two more UTCs are scheduled to close in August this year: Daventry UTC, following a financial notice to improve from the Education Funding Agency in April, and the Greater Manchester UTC, as a result of recruitment problems.
These closures follow four that have already shut: Black Country UTC, Hackney UTC, UTC Lancashire, UTC Central Bedfordshire.
Royal Greenwich UTC and Tottenham UTC are both converting to schools, starting in September.
Latest grade four
UTC Swindon was the latest to receive a damning grade four Ofsted verdict, after inspectors visited in January this year.
Criticisms included the "inadequate achievement" and "weak progress" of pupils in years 10 and 11 in maths, science and engineering, partly due to poor feedback that did not explain how to improve work.
Leaders were said to be making "insufficient use of the wide range of engineering-based industrial partners", and failing to deal with "significant weaknesses in the quality of teaching, learning and assessment in order to raise pupils' achievement".
The governors were said to be "supportive" of school leaders, but were not challenging them "robustly enough to improve the quality of teaching and raise pupils' achievement".