New College Nottingham students spent a fortnight shadowing doctors and nurses at a hospital in India. They were shocked to see a mother reject her baby because it was a girl, but came home elated after watching patients' lives being saved or transformed by surgery, writes Patrick Widdess.
India is situated in a different continent to Britain, and students who spent a fortnight at a hospital there felt like they were in a different world.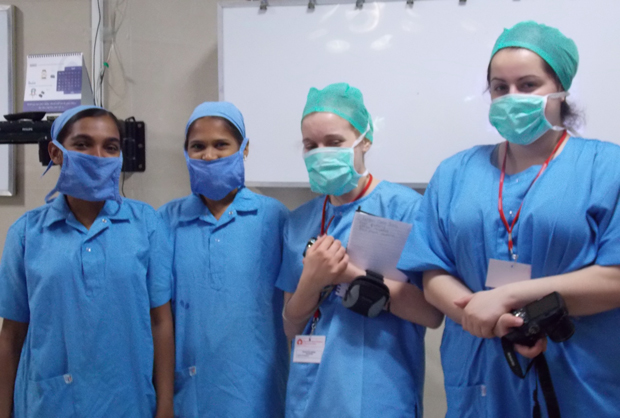 The dozen BTec extended diploma health sciences learners, aged between 16 and 21, accompanied doctors and nurses in wards and operating theatres throughout Meenakshi Mission Hospital Research Centre, in Madurai.
Caroline Houldsworth, head of science, technology, engineering and maths at New College Nottingham, said they were shocked to see a mother initially reject her newborn baby girl in the maternity ward.
"The students saw first-hand that there is a cultural preference for the first baby to be a boy and the mother was distressed when she saw it was a girl," said Ms Houldsworth.
"She refused to handle the baby immediately after the birth, but later on in the day they encouraged her to try and feed the child."
Ms Houldsworth added the woman eventually breast-fed the baby.
Hospital staff thought was an "encouraging sign" that the family would accept the child and it would not be one of many first-born daughters still abandoned in the vast country.
The highlight for student Neha Mahato, aged 21, was watching cleft pallet surgery on children who were subsequently able to smile confidently for the first time.
She said: "The children who had the surgery were mostly very young.
"It was really good to see them smiling [after the operations] and their parents too."
Neha, who plans to study nursing after graduating from college, said staff at the hospital taught students the importance of remaining objective so they could keep a clear mind when considering treatment.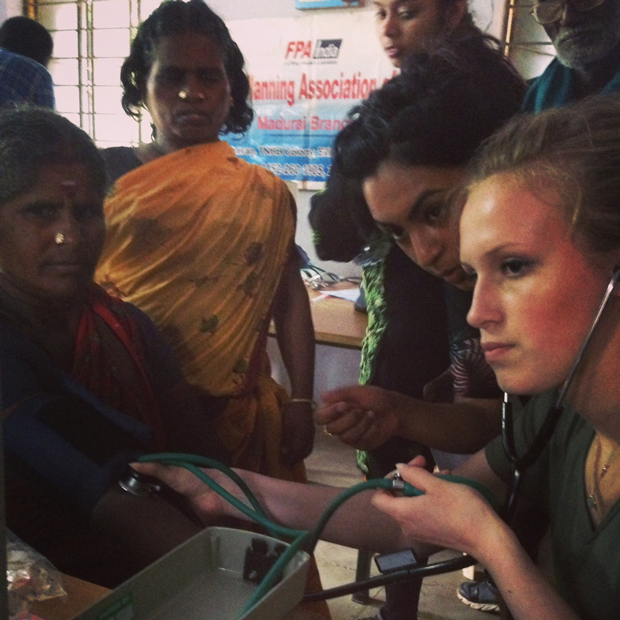 She said: "I learned that when you see a patient you feel sympathy for their pain.
"But as a professional you have to think about how to cure them, not the pain."
She also recalled how students overcame the language barrier to communicate with patients.
"We had to do it through speaking slowly and using common gestures," said Neha.
Neha was joined by fellow learners Lauren Walker, Abigail Walker, both 16, Emilia Hope, Pippa Carr, both 17, Sidra Asif, Katie Alexander, Victoria Gale, Summun Ahmed, all four 18, Charlotte Turner and Sonja Radosinovic, both 19.
The students, who returned from the trip last month, had previously spent 18 months raising £2,000 per person to fund the trip, through activities including cake sales and packing shoppers' bags at supermarkets.
Neha raised £1,000 in a single night through a Bollywood-themed event for her friends and family.
The event took place at an Indian restaurant where she has worked for three years, called 4,550 Miles from Delhi.
As well as their experiences in the hospital, the trip also involved a weekend trip to the Gavi national park, in Kerala, where they camped, went trekking in the jungle and saw wild dogs and black deer.
They also visited the Gandhi Museum and bought colourful saris from the local market.
Neha said: "It was not only educational.
"We developed as individuals and really got to know each other well.
"It was an extraordinary experience."
Main picture: Back from left: Students Emilia Hope, Abigail Walker, Katie Alexander, Lauren Walker, Victoria Gale, Sonja Radosinovic,  Sidra Asif, and college head of science, technology, engineering and maths Caroline Houldsworth. Front from left: Students Summun Ahmed, Neha Mahato, Pippa Carr and Charlotte Turner
Inset right: From left: Two Indian hospital medics with Charlotte Turner and Sonja Radosinovic
Inset left: Charlotte Turner learns how to take the pulse of a patient