Meet 17-year-old Sunil Bhatoy — you may have already seen him on the BBC discussing Uxbridge College's new brand games, animation and VFX skills course.
The footage, which was featured in two primetime slots on BBC London News, was shot in the Hillingdon college's IT and Media Centre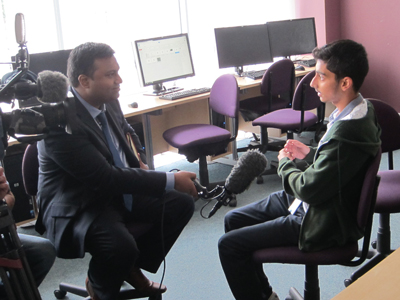 And Sunil, who was interviewed by reporter Mahfuz Sadique, is well qualified to study the course — a level three extended diploma designed to address creative industry shortages — as he is one of its first cohort.
"The industry's a lot different to other industries, because I find that it's a lot freer and you can be a lot more expressive with your ideas," he said.
"You can literally come up with something brand new that the world hasn't seen."
Main: Uxbridge College learner Sunil Bhatoy appears on BBC London News