A North East Surrey College of Technology (Nescot) lie-in pilot has won longer-term approval after bosses saw a rise in 16 to 18 attendance rates.
The Epsom college scrapped 9am starts for learners last September, as revealed by FE Week in May last year, in a trial responding to research by the National Sleep Foundation and the University of Minnesota.
The researchers claimed that exam results would improve if providers respected learners' "circadian rhythms" by starting later in the day.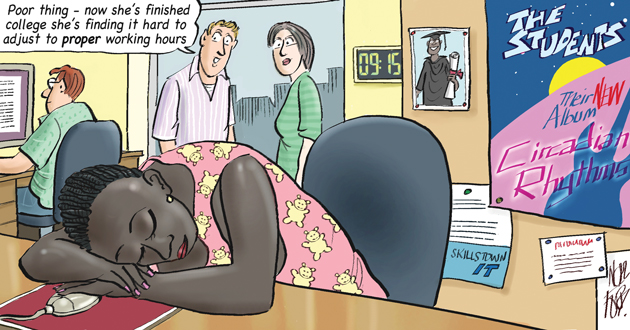 A spokesperson has confirmed to FE Week that Nescot, which had around 8,800 learners last academic year, will be broadly keeping the 10am starts for 2015/16, as "early indications" showed that "it has been a success."
She said the experiment had worked because attendance rates for 16 to 18-year-olds improved from 88 per cent in 2013/14 to 89 per cent last academic year.
The learner retention rate for the same age group also increased from 90 per cent in 2013/14 to 91 per cent in 2014/15, she added.
She said that while later starts were continuing for most lessons, staff "have the flexibility to start earlier if they feel it would benefit their students".
"The timetable also gives students the flexibility and responsibility to use the 9am to 10am slot in a way that benefits them, whether that's studying in the Learning Resources Centre, or getting extra support from teaching and learning staff," she added.
The spokesperson said that "teaching and support staff are in at 9am" and can carry out development training, team meetings and cross-college briefings before most lessons start an hour later.
A source at the college last year had raised concern at the time that the later starts could undermine learner motivation and was "not overly popular with the staff, particularly as it's a vocational college and there's the idea of being self-motivated".
Has your college adopted a 10am earliest starts policy, or maybe even later? If so, email paul.offord@feweek.co.uk with your experiences.