Whether WorldSkills Sao Paulo results in a medal or not for Matthew Beesley, one thing he will be taking away is the knowledge of just how important his mum and dad have been to his competition journey.
The 21-year-old (pictured above, right) TeamUK landscape gardener, from Cheshire's Reaseheath College, said while all the attention focused on him in Brazil, much of the credit for his success in making it to the competition lies with David and Wendy Beesley.
Matthew actually employs his dad part-time "in the backroom" of his Beesley's Landscapes business, with David having semi-retired as an engineer five years ago.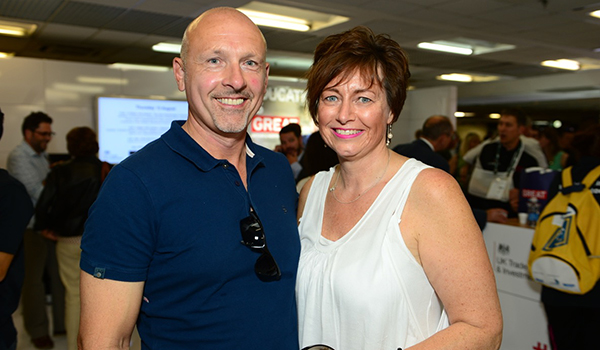 The help allowed Matthew to remain a success both in business and in competition.
"My mum and dad don't half dig out for me," said Matthew, who is competing with Jonathan Gill (pictured above, left), from Northern Ireland's College of Agriculture, Food and Rural Enterprise (Cafre).
"They work so hard behind the scenes. They don't really get recognised for what they do.
"I tend to get all the limelight, but behind the scenes they are working so hard to keep the business running while I'm off here, there and everywhere trying to compete for this competition, so credit where it's due — to them."
It's an arrangement that allows David's experience and approach to complement that of his son's.
"Matthew is a 120mph kid — he wants to do things today," he said.
"WorldSkills has tempered that in one respect and taught him the skills to go at that sort of pace.
"Where Matthew is a blue sky thinker, I'm a bit more reserved and between us we complement each other.
"But WorldSkills has definitely taught Matthew the finer side of his skills and the trade. He's a much better person at it. He's developed as a good all-rounder.
"He's only 21, but he already wants to set up his own academy so he can rain people in landscaping and they can get a recognised qualification — that's what his dream is."
Matthew first got involved in WorldSkills four years ago and admits to having gone through big changes personally.
"My approach when I first got involved with WorldSkills when I was 17 was arrogant — I thought I knew it all and no one could tell me anything," he said.
"But since then I've learned to appreciate that when someone tells you something, you've got to just sit back and think they might have done it a lot longer than you have. They are just trying to make you better as a person and it's started to pay off."
He added: "The biggest thing that I've learned is that you never stop learning. There's always stuff to learn — always stuff to improve on."
Mum Wendy has noticed the change too.
"He's developed himself — he doesn't get fazed," she said.
"He's not worried about any of this at all. We printed out the diagrams for this competition and David and I just looked at them confused, but Matthew just said: 'Yeah, that's fine'."
But Matthew was also keen to pay tribute to the work of his training manager, Colin McKnight (pictured above main, centre), from Cafre.
"I've known him for four years so we get on more like friend — he can say something to me and I can say something to him and we won't be offended. It's water off a duck's back.
"We know each other really well and have grown to be quite fond of each other."