A more joined-up approach to opposition FE policy was signalled at the Labour Party conference as Angela Eagle and Lucy Powell both pledged to fight cuts to the sector.
The Shadow Business Secretary and Shadow Education Secretary both named FE as a key battleground in their speeches in Brighton as they criticised cuts to post-16 funding.
Their shared concern about the area of policy is another signal that Labour plans to pursue a more joined-up approach to its opposition on the issue, with Gordon Marsden's re-appointment to a Skills Minister post that now straddles both departments.
Young people deserve more than this ideologicallly-driven recipe of cuts
In her speech, Ms Eagle (pictured above) warned the government was presiding over a "skills emergency", which she said threatened economic growth.
She said: "Success in the 21st Century means partnering with business to make the most of all of our talent. Yet more than two thirds of businesses now need more high-skilled staff. In construction, manufacturing, science, engineering and technology the skills shortage is at its worst.
"So what is the government's answer to this challenge? They've cut FE budgets. They're failing young people on vocational qualifications. And they're dumbing down apprenticeships.
"Conference, our young people deserve more than this ideologically driven recipe of cuts and neglect."
Turning her criticism to Sajid Javid, Ms Eagle said the business secretary had "recently boasted" that he was looking for 40 per cent cuts to his department ahead of "the Chancellor's looming, ideologically driven Whitehall cuts".
She added: "Perhaps he should concentrate more on the day job and less on his ambitions to be the next right wing Prime Minister.
"This Tory ideological obsession with a small state is getting in the way of our national interest and leaving our economy vulnerable.
"And if this failure to support strategic industries was not enough, this Tory government is presiding over a productivity crisis."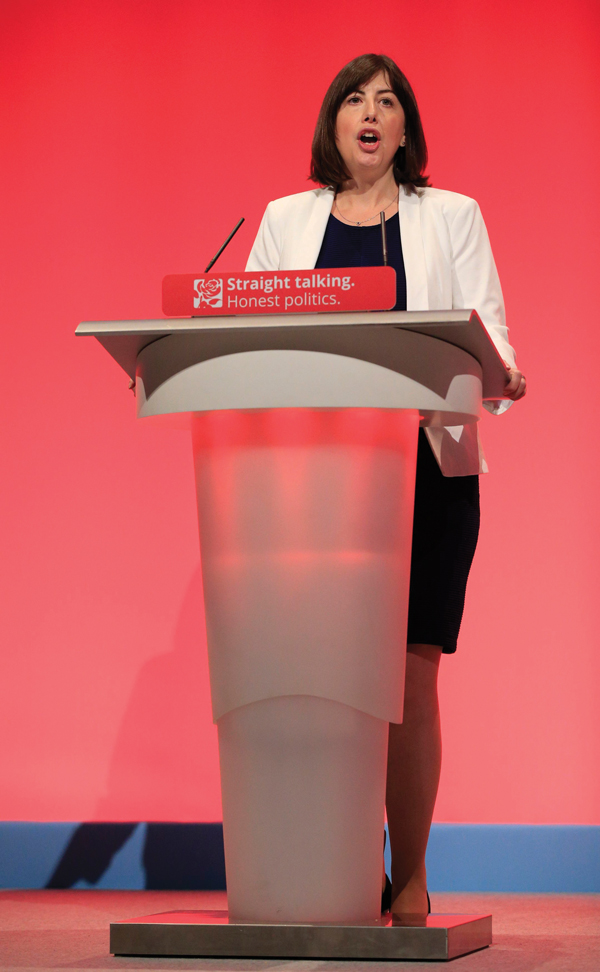 Ms Powell warned delegates about what she described as the "deepest, most severe cuts to post-16 education that we'll have ever seen".
She added: "Investment in, and focus on, post-16 education is vital for young people getting decent jobs and for creating a productive economy.
"It's perverse that under this government we are likely to see up to 40 per cent cuts in post-16 provision, leading to the closure of many good sixth form colleges and colleges.
"I don't intend to sit on the sidelines. We will make a difference.
"On free schools meals we've already won a small victory this week. But let's be clear this puts further pressures on early years and post-16 education."
FE sector organisations have welcomed signs of a more joined-up approach and a stronger challenge to funding cuts.
Chris Walden, director of communications and public affairs at the Association of Colleges (AoC), said: "We are pleased that the Labour Party has recognised the seriousness of the cuts and how they are affecting colleges."
Stewart Segal, chief executive of the Association of Employment and Learning Providers (AELP), said: "We are delighted that Gordon Marsden has returned to his former post, especially as his responsibilities now mirror those of [Skills Minister] Nick Boles.
"We look forward to picking up with Gordon on Labour's apprenticeship policies and we're be hoping to discuss how the party's skills policies might link up with employment programmes."
The Department for Business, Innovation and Skills declined to comment.
---
Apprenticeship problems 'germinated' under New Labour
Some of the "problems" facing apprenticeships policy were "germinated" in the New Labour period, a former adviser to David Blunkett and Gordon Brown has warned.
Nick Pearce, who worked for Mr Blunkett when he was education and employment secretary in the late-1990s and later headed up Mr Brown's policy unit, told the Association of Colleges Labour conference fringe that Labour had "got some things wrong" as it tried to expand apprenticeships.
Mr Pearce, now director of the left-leaning Institute for Public Policy Research (IPPR) think tank, said Labour expanded apprenticeships to coincide with Tony Blair's 50 per cent in higher education policy and again a decade later under Mr Brown's premiership.
But he warned that policy problems could not be solved by numerical targets, and admitted expansions of apprenticeships became too numbers-focused.
He said the National Apprenticeship Service was established because the government "thought the problem was that we didn't have enough of a delivery state" and set targets.
He added: "If you're then to do that you do set in train processes which allow people to say '3m apprenticeships, doesn't matter what level, doesn't matter what the quality is like, doesn't matter if people are already in work'.
"We have to get away from thinking our policy problems are solved by setting a big number and then saying the state will deliver that."
Mr Pearce also criticised the apprentice minimum wage, branding it "a complete disgrace".
He said: "The use of apprenticeships to lower wages, to effectively circumvent the national minimum wage is a real problem.
"When the new so-called national living wage comes in, because it's for over-25s, there will be even greater incentive for companies to employ young people on apprenticeships to keep their wage costs down."
For more coverage of Labour 2015, see our supplement, free with edition 150 of FE Week.