John Woodcock, the Labour MP for Cumbria's Barrow and Furness, was appointed Shadow Education Minister for Young People last month.
It's a post that has seen a fair amount of change, with Mr Woodcock taking over from Yvonne Fovargue after she became Shadow Veterans Minister having had the education role for just seven months. She had gained the brief from Rushanara Ali after her tenure of a year.
Mr Woodcock takes on responsibility for 14 to 19 apprenticeships, vocational education, youth services and careers advice in Shadow Education Secretary Tristram Hunt's team, with Liam Byrne having retained the Shadow Skills Minister brief in Shadow Business Secretary Chuka Umunna's team.
The Labour shadow ministerial duo will be taking on Skills Minister Nick Boles, whose brief straddles both the Department for Education and the Department for Business, Innovation and Skills.
And with a few weeks of the job under his belt, FE Week caught up with Mr Woodcock to find out what his impression of the FE sector was and what he made of his new brief.
What qualifies you for the post and why do you think you got it?
I'm delighted to get the chance to serve in this capacity.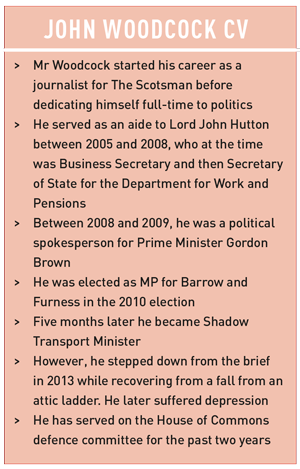 My experience as a constituency MP has been representing an area which has some of the country's finest apprenticeships in BAE, and GSK and others, an FE college — Furness College, which has been rated good again by Ofsted — as well as the sixth form college which is turning around.
FE and apprenticeships have long been recognised as fundamentally important to the community and the success of the local economy that I represent and I'm looking forward to getting to grips with the challenge nationally and hopefully helping to make this debate go from one which is too often on periphery of the ways in which government can help people and businesses to get on, and be absolutely part of the mainstream conversation.
Have you ever been to/visited a FE college? What did you think?
I was privileged to put a ceremonial golden bolt into Furness College's new building which has now been up and running for two years and is doing great stuff.
I started a summer school for 10-year-olds which took place in the college last year, and that was a great location — whenever you take young people into FE institutions that are doing well and have been able to invest in their facilities, it really does inspire those young people to want to achieve, but it can also help open their eyes to see there are many routes to the kind of success that they've just started thinking about, rather than simply the traditional school, sixth form, then university.
Have you ever visited an independent learning provider? What did you think?
That's one of the things I'm looking forward to — getting out and seeing some of the best examples of how those institutions work.
What is your experience of careers guidance?
Oh it's awful, awful, awful — this is one of the things where we have just got to get better.
I am not suggesting the system was right under the last Labour government, clearly it had real issues, but we have undoubtedly as a country gone backwards by placing responsibility on each individual school with everything else they are doing.
Too many schools do not have the capacity to reach outwards and bring people in from the world of work and it's something no one person as a guidance counsellor could ever manage — to give the breadth of opportunities that are out there.
One school working in isolation will always find it incredibly difficult, even if it has a laser-like focus on this will always struggle to deliver, so it's a service which I think cries out for partnership and collaboration, which has been made more difficult over the last five years, and I think we need to be rethinking our whole approach to this.
What are the top things in your shadow ministerial intray?
The difference between being a minister and shadow minister is so biting — not being able to effect change immediately in government.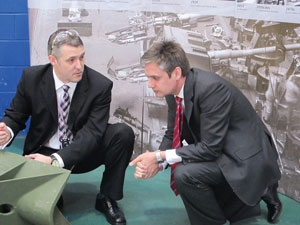 I'm not going to pretend that I come in here as an expert with all of these answers and I think if I did I'd get pretty short shrift from the men and women who've been working in this field to do their best for students for many years.
So number one is getting out, listening and understanding what is happening in the range of areas across my responsibility. I am clear that we need to understand both the strengths of apprenticeships but also where we need to improve the system.
Apprenticeships have become a buzzword in Westminster of unalloyed good, and but I want to hear from the small firms who are concerned about the risk and the investment — I want to understand why that is and what governments can do to change the balance so those firms do feel it's in their interest to take students on. I want to really get into the guts of the FE sector, to understand exactly how it adds value at the moment both for young people coming up and for lifelong learning, and what the best role of government is to aid that process.
If you could have any role on front bench in future what would you want it to be?
A few weeks into being made Shadow Education Minister for Young People is not the time when I tell you what other jobs I want to do. I'm really happy to have been appointed to a subject which is close to my heart and is enormously important for the future of our country.
What do you think are the biggest challenges for those educating and training young people today?
I recognise that the funding situation has been disrupted over the years — they don't always feel that they've had a government that fully understands and values what they've given and is prepared to create an incentives system that rewards them in the right way for the work that they put in and the huge difference that they can make to people's lives. I want to hear more from them about how things are on the ground and what we ought to be doing differently.
Do you have any message for the sector?
What you do is critically important, you don't always get the credit for what you do and too often you've been in recent years struggling against the tide where people should have been making it easier for you. I want spend time listening to what you say before Labour comes up with any grand new announcement of how things should be.
Are you staying away from ladders (he escaped serious injury, but called himself an "eejit" on Twitter in 2012 after spending a night in hospital in 2012 having falling from a ladder while putting his wife's belongings in his attic)?
I've realised anything practical is not for me. I've been banned from doing any kind of DIY in the house. But I'm very glad to be back.
An interview with new Business Secretary Sajid Javid was requested by FE Week following his appointment, but he was yet to respond by the time of going to press.