Three IT students travelled to China with their lecturer to represent the UK in an international coding competition. Samantha King reports.
The trio from Central Bedfordshire College were one of 103 teams in the 2017 China International Vocational Skills Competition, with 100 of the teams hailing from various locations across China, and the other two from Thailand and Germany.
The four-hour competition tested students from college to university level on their abilities in four key Android application coding areas: debugging, programming, usability and user interface.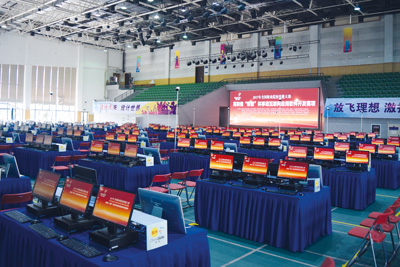 The college was the only UK institution to be invited to enter the annual competition, hosted at the Nanjing Institute of Industry Technology, which opened up to international entrants for the first time this year.
The invitation to take part came from contacts of the college's HE and international development manager, Dr Richard Harrison, who visited NIIT during a two-week leadership development programme in 2016, organised by the British Council in China in partnership with the Association of Colleges.
Accompanying the students on the trip was IT lecturer Adam Godfrey. He said "I gave the students some videos to watch on the plane to revise, but the night we were actually going to do all the revision, we were really hit by jetlag. We were just like, let's just go to bed and be awake for tomorrow.
"The actual competition looked like an airport security gate. Students were searched before going in, and there were two people watching the teams with a security camera pointed at their desk. It was as much security as you could possibly get."
Team members James Green, Ricky Lanouette and Jason Morsley placed 24th and were presented with a certificate by the principal of NIIT, with the winners of the overall contest – three Chinese teams – offered jobs at tech giant Lenovo, the competition sponsors.
Following their success at the event, A-level student Jason Morsley hopes to spend a year studying Mandarin at NIIT before returning to the UK to take up a university place.
"I got all five of my university places, but it was a life-changing trip and I'm very, very, tempted – and am most likely going – to study Mandarin at NIIT for a year," he said.
Ali Hadawi, principal of the Central Bedfordshire College, added: "It is great to see the skills of our level 3 students being put to the test in such a high-profile industry-led international competition and to achieve so well. It goes to show that the skills of UK FE are amongst the best in the world."