Outgoing NUS president Shakira Martin talks Fraser Whieldon through her tumultuous two-year incumbency.
The president of the National Union of Students has promised to continue to champion further education as she prepares to leave office.
In a wide-ranging interview with FE Week, Shakira Martin said she didn't regret telling opponents to "f**k off", and has also left the door open to running for parliament and returning to her old college as its principal.
Martin is preparing to leave the role on Sunday after serving the maximum two, one-year terms in the role – something that has given her great jubilation.
"I made it throuuuuuuuuuuuuuuuuugh," she said.
She added that she was happy to leave the role, but that leaving was bittersweet, and she stressed the importance of having "fresh blood" in the role.
"Two years is enough. I'm really happy to be moving on. I'm a totally different person to the Shakira that started many years ago.
"When I say different, I'm still the exact same funny, raw, challenging person, but different in terms of understanding the world a bit more; being able to navigate through these complex policies and procedures, and being a better mother to my two daughters."
She is looking forward to spending more time with the two, completing school runs and attending sports days, and said her next job was likely to be somewhere in the education sector.
She is also considering running for parliament.
However, she says she has too much "sauce" – meaning style, confidence and swagger – for the House of Commons at the moment.
"Politics is a mess at the moment and it doesn't even deserve me right now. I'll give it a couple of years. Let's see what happens."
Another of her career aspirations is to be the principal of an FE college, preferably her old college, Lewisham Southwark.
A former president of the college's union, Martin was elected president of NUS in 2017 and became only the second NUS president not to have gone to university, having instead completed a diploma at Lewisham Southwark College.
I don't regret telling people to 'F**k off'
The former NUS vice-president of FE defeated the controversial president of the time, Malia Bouattia, by 402 votes to 272.
What followed was arguably a controversial tenure – though she preferred to call it "character-building" – during which Martin faced allegations of bullying from the then-NUS women's officer, Hareem Ghani.
"That has been awful," Martin said.
"That is something I will never personally get over because the people who put in those allegations were the very same people who talk about social mobility, getting black women and working-class people into leadership.
"And it's just really awful our political environment has become so hostile and unhealthy on social media and [to] not think it's going to have detrimental implications for people's lives. That article is on the internet for the rest of my life.
"I am a strong, articulate, challenging woman and unapologetically so, but now I feel like I have to almost mitigate those accusations to prove I'm not that."
She denied that her tenure has been controversial, instead saying: "Look, I wasn't built for NUS, and NUS politics wasn't built for people like me."
Asked if she had any regrets, she said: "I don't regret telling people to f**k off. I regret doing it on social media. I did mean it, but I didn't mean for it to end up in a newspaper."
The expletive was posted by Martin on Facebook after the NUS Trans Conference and socialist groups attempted to launch a motion of no confidence in her.
Her comments were picked up by The Independent, Daily Mail and The Sun.
Martin said she had learned that the political environment is "hostile" and people are very "loose-tongued", but rebuffed accusations of bullying, saying that she is instead a "bullyhater" who fights against bullies.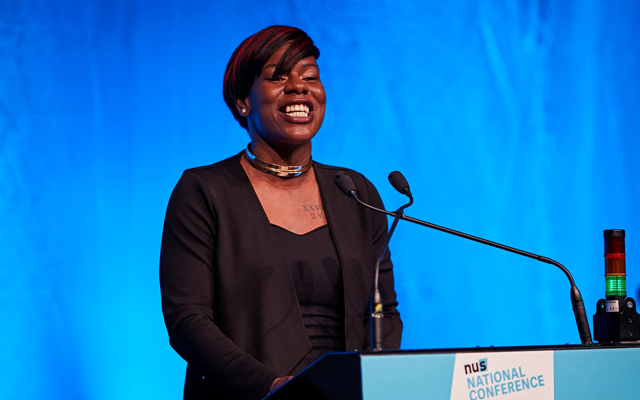 Martin also regretted allowing people to get to her, which made her less productive for a couple of days.
As her job involves reacting to events, those couple of days could have been crucial – such as when the NUS faced bankruptcy in connection with a £3 million deficit in 2018.
The union had to suspend elections and make staff redundant but avoided collapsing altogether.
Though Martin warns that the NUS is not out of the woods yet, she said "the NUS doors could have closed in March" and the organisation has a good foundation upon which to build in the future.
Elsewhere, she has focused on improving student voice on campuses, and has said that every college campus needs its own sabbatical officer and that students ought to be on college boards with the proper support and training to serve effectively.
"FE needs to be recognised for the true value of what it does for our community and individuals. When we talk about improving social justice and mobility, FE does that in one."
She has also argued in the past for the re-implementation of student maintenance grants, a goal that was also included in the Augar Review.
On whether she expected the government to U-turn on its 2015 decision to scrap the grants, Martin said: "If the government wants some legacy other than Brexit, they need to do something around education.
"I think personally that student maintenance needs to be brought back immediately, it needs to be in line with current inflation and needs to be fit for purpose.
"And it needs to be supporting students to be able actually focus on their studies and not have to work two or three jobs and do their coursework at 3am in the morning because they don't have the finances."
Student maintenance needs to be brought back immediately
Her advice to the incoming NUS president, Zamzam Ibrahim, is "Be true to yourself" and remember: "It's bigger than NUS national conference. This is about the students that don't even make it into the college doorstep.
"But enjoy it because it goes by very quickly. And I'll be here for you, because we're part of a family."
She pledged to continue to champion further education wherever she goes, and thanked FE Week for having her back during her time as president.