Students from Hartpury College got embroiled in the world of competitive dog agility last weekend, as the campus played host to a national dog show, reports Samantha King
Competitors and their dogs from across the UK gathered in Gloucester for the Hartpury UKA show, an event for people who are serious about dog agility to chance their arm in a range of categories.
Attendees and their dogs could compete in agility, jumping, steeplechase and casual events, at levels ranging from beginner and novice, to senior and champion.
A total of 16 student volunteers from courses including animal care, veterinary nursing and equine ran the two-day event, setting up the courses across four different rings, logging scores, managing queues and checking in competitors.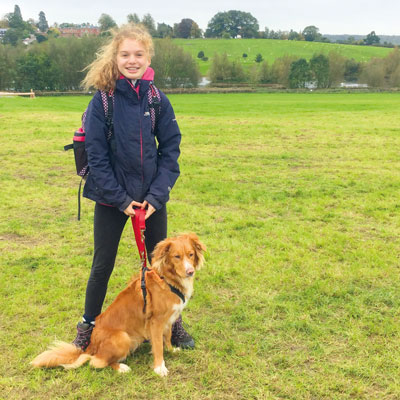 The courses had been previously designed by competition judges, so students had to build the course to their exact specifications, and adjust the height of equipment to cater for different types of dog.
"Out of the students who volunteered, only one was actually ever involved with dog agility previously," explained the college's animal collection manager, Aleksandra Lipinski, who helped set up the event. "Most of them had no idea what to expect or what a dog agility show looked like. They went in blind, and managed to do a really amazing job."
Two of Hartpury's own students took part in the event, and Julia Shimwell, a student taking the level three extended diploma in animal management, even competed with her dog Dizzy for the first time. Jess Radnor, another student and an experienced competitor took a top prize.
Ms Lipinski decided to set up the agility show after noticing how many horse shows there were at the college, and not so many events featuring smaller animals.
"We have a lot of equine events and some sports events, but we don't really have much from the animal department. I know a horse is an animal, but it's a separate department," she said.
"I go to all these dog shows and they say they're always looking for new venues and things, so I thought, ah, that might be good – so we started setting up something that students could run."
Open to competitors registered with competitive dog agility group, UK Agility, the event cost the college a total of £1,500 to run, with spectator ticket sales and competitor fees covering the cost.
The event attracted almost 200 competitors, with a grand total of 920 dog runs – including those competing with more than one dog, or the same dog running in different events.