With traineeships looming on the horizon, OCR and the Kent Association of Training Providers (Kato) have given themselves a head start by launching a similarly-themed pilot scheme. Rebecca Cooney went along to find out more
The 15-week Step2Work programme began in May and, like traineeships, includes work experience alongside basic maths, English and employability training provided by SET Training, in Dartford, and Profile, in Broadstairs, East Kent.
"The idea of the pilot is to see what works and what doesn't work, and to get feedback from the employers, providers and learners," said Lindsay Jardine, Kato director of operations.
The 35 trainees are working in placements ranging from insurance claim handling to frozen yoghurt making.
At Levicks Chartered Accounts, in Broadstairs, I met firm partner Michael Collier and Alexander Foster, 19, who has been training two days a week for around a month.
Alexander has been unable to find employment since completing his level three ICT qualification — and a key problem has been his lack of work experience.
"I'm sick and tired of sitting at home," he said.
"Since I started the course I've had something to do in the week — it's constructive… I've learned a lot in just eight days and enjoyed meeting knew people."
We always get them doing real work, relevant to the rest of the business, not just tea making"
The firm has a history of providing work experience.
"For young people who don't have much work experience, I think it's good to come into an office environment," said Michael.
"We always get them doing real work, relevant to the rest of the business, not just tea making, which is beneficial to them and to us in the long run."
Steve Revell, managing director of freight insurance company The International Claims Agency, has also seen benefits from taking on a trainee.
"We've had issues with employing school leavers in the past," he said.
"We've had people leave after the first morning, or they've been out the night before and we find them asleep in the toilets… and some have terrible grammar and write in text speak."
He added: "If they're learning English and maths as they're applying it, I think people see a point to it."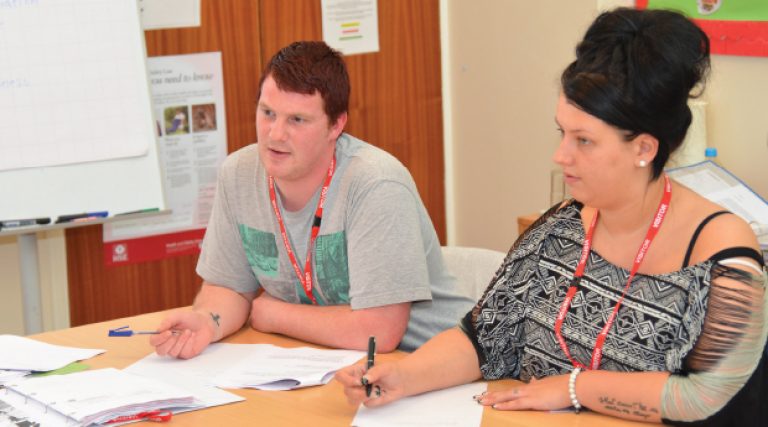 Scott Denham, 23, and Terri Ann Blyth, 19
His biggest problem with the scheme is that he can only take trainee Claire Moore, 22, on for two days a week without affecting her benefits.
"She has potential but she's got some growing to do," said Mr Revell. "It would be great to have her in for three days to get her learning more. It needs to be more flexible."
The Broadstairs employability class is eagerly planning an impressive family fun day in aid of CRY, Cardiac Risk in the Young —they've even added to their £50 budget with sponsorship from local companies.
Yazmin Muir, 19, a trainee at a Broadstairs seafront café, was enthusiastic about the scheme.
"It feels endless, looking for jobs and being told you don't have enough experience," she said. "I'm not going to stay stuck in this cycle."
In the Dartford employability class, students role play job interviews.
Tutor Bev Neave said: "It's a different style of teaching — some students have become disengaged since they left school so it's about building self-esteem.
"They may not have been exposed to a work environment before… they're bringing what they're learning on placement into the class."
Harry Cuthbertson, 18 
And the scheme has already had some successes.
Harry Cuthbertson, 18, has been offered an apprenticeship at Joov, a frozen yoghurt shop in Bluewater shopping centre, when his traineeship there finishes.
"It's really helped me a lot," he said.
"I have so much more confidence that I can go in and know what I'm talking about."
Profile tutor Nicki Kelly said the response from employers has been positive.
"I think employers have an image of what a young, unemployed person is, because many said they weren't interested but now word's got around people are asking if they can get involved," she said.
"Hopefully, what these guys are doing will change that image."