Colleges up and down the country got into the Halloween spirit this year with a host of spooky activities.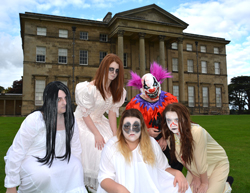 Among them were Stoke on Trent College theatrical make-up students challenging two local DJs to create a monstrous makeover.
Andy Cook and Louise Stones, from the Signal 1 Breakfast Show, got to grips with a number of industry techniques, including a crash course in creating 3D cuts and blood and gore.
Meanwhile, zombies, ghosts and ghouls possessed the bodies of Shrewsbury College learners for a night-time scare-fest.
Performing arts and media students took up residence at Attingham Park, an 18th Century mansion, to spook visitors.
Main pic: From left: Stoke on Trent College level three theatrical media-make-up students Stephanie Spruce, aged 17, and Kelly Deakes, 22, with DJ's Louise Stones and Andy Cook