A Greater Manchester council has the honour of being FE's first community learning and skills provider to be judged outstanding by Ofsted under its new common inspection framework (Cif).
Oldham Metropolitan Borough Council, currently allocated £2.8m by the Skills Funding Agency, was visited last month and, in a repeat of its last inspection in 2009, inspectors yesterday delivered grade one (outstanding) verdicts in every headline field.
The local authority's Lifelong Learning Service provides part-time courses for adults aged 19+, across local venues such as schools, children's centres, libraries and other community facilities. At the time of inspection, it had 2,689 learners at level one or below, 369 at level two, and 80 at level three.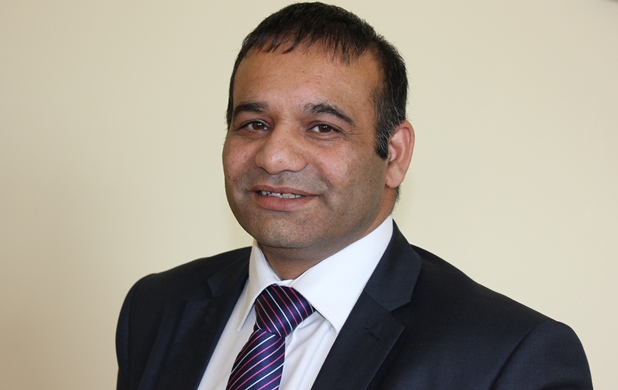 Councillor Shoab Akhtar (pictured right), Oldham's cabinet member for education and skills, said: "A key part of our success is that we regularly consult learners, communities and partners to ensure services respond to local demands while also continuously improving what is on offer.
"This outstanding result demonstrates our strong commitment to widening access to learning opportunities and reducing the barriers that can sometimes prevent adults from studying and enhancing their prospects."
Oldham's report comes with Ofsted yet to find an outstanding provider among general FE colleges, sixth form colleges or independent learning providers under the new Cif, introduced in September this year. The first FE and skills 'outstanding' result came from a dance and drama inspection report on Manchester provider the Northern Ballet School.
Hackney Community College was the first to be rated under new Ofsted framework in late October, gaining a 'good' result.
Ofsted's three-day inspection at Oldham, which was carried out from November 17, resulted in special commendation to the service for working with disadvantaged communities, stating that it "delivers programmes to successfully engage those who are least likely to participate in learning".
The delivery of English and maths was also deemed very successful, with learners developing "excellent literacy and numeracy skills". The report found that "the vast majority of learners studying functional skills pass at their first attempt", and success rates were consistently much higher than the respective national rates.
The provider's leaders and managers were said to "set and achieve extremely ambitious objectives for the service", and governance was also found to "promote a very good level of informed and intelligent challenge regarding the quality, success and continued financial viability of the provision".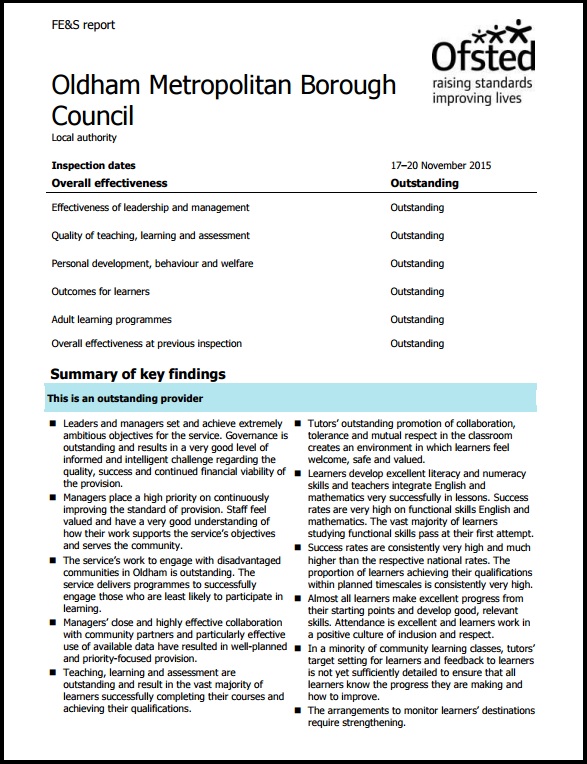 Use of data and collaboration with community partners was "highly effective" and contributed to "well-planned and priority-focused provision", while attendance was "excellent".
Suggestions made for improvement included stronger arrangements for monitoring and celebrating learners' destinations, and more detailed target-setting and feedback for learners in a minority of community learning classes.
Coun Akhtar said: "This report is a great endorsement of our Lifelong Learning Service. To have Ofsted confirm that as a local authority we are delivering a hugely popular and effective service, in all areas, is great news and is a source of great pride for all involved."
He added: "This achievement is even more remarkable when you consider that we are one of the largest providers of adult education in Greater Manchester.
"The service also works alongside our campaign to Get Oldham Working as we are committed to providing people of all ages with the skills so they can be a success in their chosen career.
"I'd like to congratulate our staff, and all our learners, for their part in achieving this amazing 'outstanding' result."