The motion: This house believes the T-level reform implementation timeframe is ambitious but not reckless
More than 200 figures from across the FE and skills sector gathered at the Houses of Parliament on Monday, September 10 for FE Week and Pearson's second great debate, this time on the implementation of T-levels.
Just a week after the launch of the controversial invitation to tender to find a single awarding organisation for three T-level pathways, the debate focused on whether the government's timetable for offering T-levels by 2020 was ambitious or reckless.
It was hosted by Robert Halfon, chair of the education select committee and facilitated by Shane Mann, managing director of FE Week's publisher LSECT.
Speaking for the motion was Catherine Sezen, the Association of Colleges senior policy manager for 14 to 19 and curriculum, while FE Week editor Nick Linford argued against it.
The panel also featured Susan Lovelock, deputy director of the technical education implementation division at the Department for Education, and Rod Bristow, Pearson's UK and core countries president.
Ms Sezen faced an uphill struggle in the debate, with only Ms Lovelock voting in favour of the motion at the start. Nonetheless, she managed to win over one audience member by the end, as did Nick Linford.
The rest of the audience remained as they had been, the majority against and some undecided.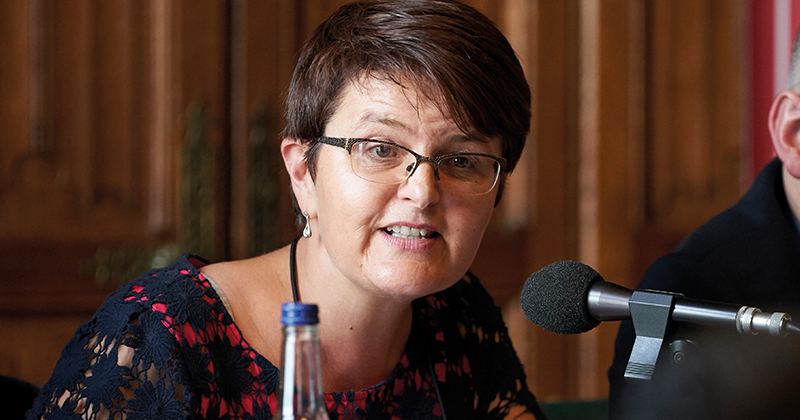 For the motion
The Department for Education's timetable for introducing the first T-levels in 2020 is ambitious – but it has to be, argued Ms Sezen.
"We need to be ambitious for our young people, for our economy and for our future," she urged as she set out her case as a champion for the government's approach.
"You could argue that it's reckless to keep the status quo," she said.
This was the central theme of Ms Sezen's arguments, as she focused on the need for everyone involved – providers, employers, assessment organisations and government – to unite behind the DfE's timetable.
Nowhere was this more the case than with industry placements, which have so far proved to be the most contentious element of the new qualifications.
In the face of many concerns about employers' ability to offer enough placements to meet demand, Ms Sezen struck a more aspirational note.
"Think how attractive it is for young people to experience the workplace, be part of a team and involved in a project," she said.
"It is incumbent on all of us to make that work. We all need to make sure we're offering opportunities for those placements."
There is "no doubt" that meeting demand will call for "thinking outside the box", she said.
"Colleges are currently embracing this challenge, and so must we all."
Colleges are currently embracing this challenge, and so must we all
The government is taking a "measured approach" to the overall implementation of T-levels, Ms Sezen told the audience.
"It is being managed to allow for gradual implementation," she said.
"There are just 54 providers, all of which are outstanding or good, who will be delivering in 2020."
And while the timeframe for implementation is undeniably tight, "currently the timelines that were published in May are being kept to", Ms Sezen pointed out.
"I don't doubt there will be challenges as we go forward," she admitted, but "all our energies should be centred on getting it right".
Speaking on behalf of the government, Ms Lovelock insisted it was "making very strong progress" against its "undoubtedly ambitious" timetable, and was "monitoring delivery and managing risks at every stage".
She acknowledged that industry placements were the "part of the programme that's going to test and challenge the most".
But, she said, "we've got a comprehensive programme of work in place to support" their delivery, including "research and evaluation and analysis, lots of new guidance and support material that's available for employers and providers, and a pilot programme that we ran last year".
"I think this is an area where we are genuinely investing years ahead of delivery," she said.
"We're investing in capacity this year so that we can really test out and start to work through some of the challenges."
The department was working closely with the first 54 providers to "really get into the detail of implementation" and to "use their experience with the planning," Ms Lovelock said.
"We're learning at every step of the way from what they do at a local level to see how we can support providers at a national level," she added.
The DfE's requirement for those first providers to have "existing provision in those subjects" they'll be delivering in 2020 will "really make sure we've got the right workforce and the right facilities in place to teach T-levels in a high-quality way".
Ms Lovelock acknowledged that there may be challenges in recruiting skilled people to teach the new courses – particularly in digital and construction – but insisted that the government was "investing in those areas" to encourage more people to get into FE.
"If we are setting off on a big reform programme it clearly makes sense to do that in those subjects where we know there are skills gaps and we want to plug those gaps," she said.
In his opening speech as host of the debate, Mr Halfon also appeared to back the government's approach – although he recognised that there were problems that needed to be ironed out.
"I am keen to get them introduced sooner rather than later because I believe that we're so far behind many other countries in terms of skills that I don't think we can delay introducing T-levels," he said.
Against the motion
The government's timetable for introducing the first T-levels is "reckless", according to FE Week editor Nick Linford, because a rushed process raises the risk that "bad decisions are made".
Furthermore, he said, it was reckless because the government is "not being honest with you about the systems they are designing".
Following on from education secretary Damian Hinds' decision in May to overrule his most senior civil servant's request to delay the introduction of T-levels by a year, there had been a number of "speedy consultations" with "unheard of" short deadlines, Mr Linford said.
"The consequence of that, and the reason why I think reckless is an appropriate word here, is that bad decisions are made. Ill-informed," he said.
"You in this room, you are the experts. Yes, we have employer groups, but they are not the experts on assessments. They are not the experts on teaching 16-year-olds in classrooms."
There is still so much to do before September 2020, Mr Linford added.
This included the seven-and-a-half week tendering process for the single awarding organisation that will deliver each T-level, which requires awarding organisations to plough through "over 500 pages of legal documents".
Reckless is an appropriate word here, because bad decisions are made
"That's before you start responding by putting in what I hope are going to be extremely high quality bids, because it's then down to the officials to make sure that they choose wisely," he said.
Once the awarding organisations have been chosen, they'll have a year to design the qualifications – leaving providers just three and a half months to get up to speed with the content before delivery begins.
"I accept they're being briefed, but they don't have the content yet, they don't have the awarding organisations – they don't even know who they are yet, they're still to be picked," he said.
All of this raises the chances that the first T-levels will be "not the best qualification", delivered by an "under-developed, unprepared workforce" in September 2020.
As a result, "rather than being gold standard in the first few years, we actually let down our young people".
The damage to the T-level brand would be "immediate", and "there's no going back from that sort of damage", he said.
Points made by members of the audience, around bridging, progression and switching between T-levels and other courses, showed just how much uncertainty still surrounds the reforms.
Many of these same questions were first raised in the skills plan that set T-levels in motion back in 2016.
"All of these the government is very familiar with, but we haven't moved on. We're asking the same questions, with not even a clue as to what are those answers," Mr Linford said.
"My fear is because of the speed we now need, all energy will be on September 2020" and there will "no energy" left over for these other challenges.
One final reason why the timetable was reckless, Mr Linford argued, was because the DfE was not being honest about its design – which, he said, was "to only have T-levels where in that locality there is progression to skilled employment where there are currently gaps".
In some areas of the country there is "no one to sell the work placement concept to".
"Now, if the department were being honest with you, that is the design," he added.
"One of the things the department needs to decide very quickly is whether the industry placement needs to have been determined at the start of the course" otherwise there was a risk that providers will "recruit young people with the best intentions and never find an employer – because they're not there".
Panel member Mr Bristow expressed his concern about the DfE's decision to grant exclusive licences to awarding organisations to develop T-levels, warning that the approach risked stifling innovation.
"We've got a lot of people in this room, all of whom have a lot of expertise, and make a big contribution to the success of T-levels and technical education, and it's vital that we use that expertise and we build on the capacity in the system that we've got, because we need all the help we can get to make this work," he said.
Audience comments
We are facing a serious ultimate problem with workforce capacity. If you look at the kind of salaries that people with the skills and industry experience that T-levels are looking for could demand in industry, and then you look at some of the salaries in the FE sector, then it's quite difficult to see how some of those initiatives are going to work in practice.
Simon Martin, executive consultant, Academy Transformation Trust Further Education
In many sectors a classroom-based programme with very little on-the-job training will not lead to progression onto level 4. It will be back to level 3 again, on an apprenticeship with everyone else, and that seems wrong. I don't think there's been enough debate about progression, particularly into work, and I think that could undermine the whole programme.
Mark Dawe, chief executive, Association of Employment and Learning Providers
We have been involved in some of the pilots for industry placements, and the feedback from the young people and the employers has been really poor – so it is a huge concern for us. In an NHS hospital we're all massively understaffed. How are we going to support these placements at the volumes that we're being asked to do?
Lucy Hunte, national programme manager for apprenticeships, Health Education England
I just wanted to make some comments on the bridging provision for the young people moving from level 2 to level 3, given that 99,000 out of 137,000 people who had to retake their GCSE English failed. Just how prepared are we in the bridging provision, moving somebody from those level 2 qualifications to level 3?
Alan Woods, chief executive, VTCT