The motion: This house believes the fall in apprenticeship starts since last May and the unspent levy proves urgent policy changes are needed
The first in a series of FE Week and Pearson Great Debates was held in parliament this week, with nearly 300 sector leaders arguing over whether further reforms are needed to the apprenticeships system.
It was chaired by Shane Mann, managing director of FE Week publisher LSECT. Leading the call for action was Sue Pittock, chief executive of Remit Training, while FE Week editor Nick Linford was against.
They were joined by skills minister Anne Milton, who listened in, and chair of the education select committee Robert Halfon, who delivered an impassioned speech.
The debate focused on the impact of the apprenticeship reforms one year in. Hotly discussed were the reasons starts were down 52 per cent in March compared with the same period in 2017, and why employers have used just 10 per cent of their levy funds in the first 12 months since the levy was introduced.
The vast majority of the audience voted for change at the start of the debate, but Mr Linford managed to win over two individuals by the end. Here's our summary of what happened:
For the motion
"Enhancements not wholesale changes" in three main policies are urgently needed to address the fall in apprenticeship starts and the unspent levy, argued Sue Pittock.
The chief executive of Remit Training, a private provider that delivers apprenticeships in a range of industries from automotive to hospitality, called for "flexibility" on the 20 per cent off-the-job training requirement.
She also backed dropping the 10 per cent co-contribution, and wanted "some consistency" in end-point assessment.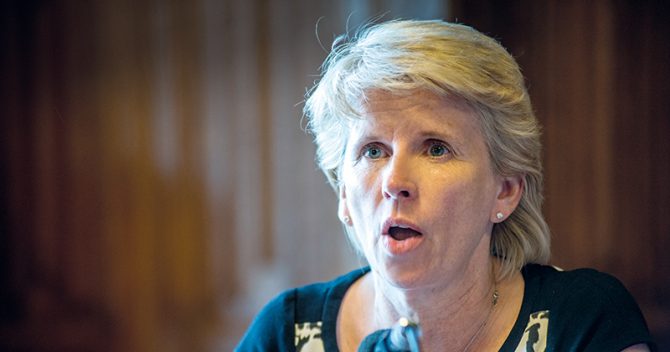 She said these shifts are needed because small businesses are "dropping fast and disengaging" with apprenticeships, noting that two years ago her business had 90 per cent penetration among small and medium enterprises, but it has dropped to 40 per cent, with the rest being levy clients.
The 20 per cent off-the-job training requirement is one of the main causes of the drop, according to Ms Pittock, who called it a "huge commitment" not only for smaller employers, but for larger ones too.
"We need flexibility around how much is delivered in paid time and how much of a commitment the apprentice puts in," she told the audience.
"An employer puts their skin in the game by giving people the opportunity to do an apprenticeship and that chance of training."
She added that apprentices should also have some skin in the game by being allowed to have self-study time count towards the 20 per cent.
In terms of the 10 per cent fee that small businesses must pay when taking on apprentices, Ms Pittock wants it scrapped for level two apprenticeships for 16- to 24-year-olds.
"We are seeing level twos at 16- to- 18 really suffer, so our social mobility is really taking a hit," she said.
"We are seeing a 500 per cent increase in management programmes. Do we want a society that ends up delivering management programmes as opposed to giving our young people coming out of the schools system a foot on the ladder to do a level two programme?"
And lastly, on end-point assessment, Ms Pittock called for consistency.
"I have one employer group that has a six-day EPA for a level two programme," she said.
"You could be 17, get in a car and pass your driving test in one afternoon; potentially if you were the wrong person and not competent, you could kill somebody. But we are going to take six days to assess somebody on a level two programme.
"There needs to be consistency, and the IfA needs to provide that framework so we don't end up with massive EPAs that disadvantages learners."
Also calling for change was Karen Bailey, head of competence development at Volvo Group UK.
There is a level of bureaucracy that colleges and private providers are used to working with, but large employers aren't
She said she doesn't know many employers that can cope with the complexity of FE-level funding rules and regulations on apprenticeships.
"It is exceptionally difficult, it is exceptionally time-consuming, and I would argue that a lot of employers do not see it as good value and would rather not bother with apprenticeships," she claimed.
"We currently have over 400 apprentices and five different ways they can be funded. The complexity is absolutely ridiculous."
Ms Bailey also thinks that having a levy pot is encouraging employers to behave "exceptionally badly".
"I've heard a lot about employers who have removed their training budgets and have instead put in an apprentice levy pot manager whose only job is to spend that levy," she said.
"To me that is not the idea. People are seeing it as their pot; it's not their pot. It's not your money, it is a tax and we need to treat it as a tax and look at it for the good of our economy."
Final speaker for the motion on the panel was Cindy Rampersaud, senior vice-president for BTEC and apprenticeship at Pearson.
She agreed with Ms Pittock that although no "wholesale change" is needed, some refinement is, particularly where the levy is concerned.
"I spent 20 years working in industry, and I look at the levy and think if I was back in one of my older roles in the media, how easy would this be as an employer to implement?" she said.
"There is a level of bureaucracy that colleges and private providers are used to working with, but large employers aren't."
Against the motion
Nick Linford called for a much-needed period of stability.
Wearing his "author of an apprenticeships book hat", he urged Ms Milton to stand firm on the reforms already introduced, mainly because there is not yet enough evidence on the causes of the drop in starts.
"Many of you in the room continue to complain about change and you want the S word; you want stability," he said.
"It is interesting to hear Sue [see page 8] suggest that nobody wants wholesale change. I'm not sure that is true.
"We just heard from Karen saying she wants a complete rethink from an employer's perspective of this tax in terms of the levy pot.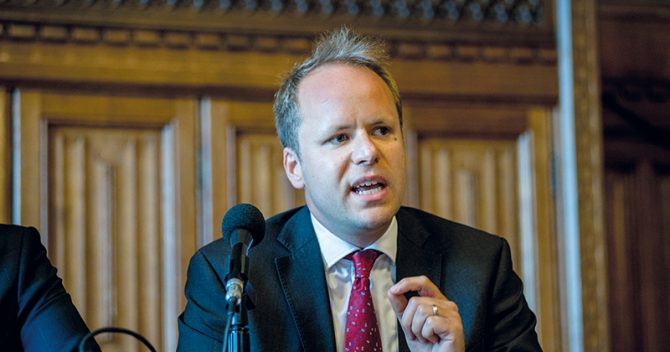 "We have a long list from organisations such as the AELP that want to scrap co-investment for 16- to 24-year-olds at level two and three, or to increase framework rates at level two where there is no alternative standard.
"They want a ring-fenced budget for non-levy, they want to increase functional skills funding to be double where it is now, plus sector-by-sector 20 per cent off-the-job changes."
However, there are many other organisations saying they want opposite changes, Mr Linford continued.
"The AoC for example says scrap the three million target.
"Then we have employer body groups such as the CBI pushing for much of the apprenticeship levy funding to be spent on things that aren't apprenticeships, which sounds like wholesale change to me.
"Then the Federation of Small Businesses want a more generous employer incentive, and then the metro mayors are saying 'unspent levy – give that to us; we'll spend that on other things'.
"Talking about more wholesale change, the Lords economic affairs committee have come out and said, scrap the Institute for Apprenticeships."
On top of this, the Department for Education is demanding that the Institute for Apprenticeships review and change 30 of the most popular standards because funding for those standards is said to be too high.
"My argument boils down to this: there is a huge amount of pressure on the minister at the moment from all corners, but I think more time is needed," he said.
"Possibly the most important message is that if you change things you lose the confidence of the employers. You lose the confidence of the training providers."
He added that there is only 11 months' worth of evidence since reforms were introduced last May, and in that time there has been 309,000 starts, an average of nearly 30,000 a month.
"I would argue relative to 10 years ago, this is an incredibly buoyant programme," Mr Linford said.
For me stability and investment is what is needed
"For me stability and investment is what is needed."
Sean Williams, chief executive of Corndel, backed Mr Linford's argument.
"We need to look back at why the changes were made in the first place," he said.
"It was first and foremost to make apprenticeships employer-led.
"The market has changed. I hear a lot in this room about providers who haven't noticed that the market has changed.
"I think we need stability in order for the market to move to those high quality employer-led apprenticeships which really deliver. I plead for stability because it is only stability that will give us time to move forward."
Fiona Aldridge, assistant director for research and development at the Learning and Work Institute, also agreed with the need for stability.
"I am conscious that if we continue to change the system, we will have young people, parents and teacher who don't know what it is and therefore won't engage," she said.
"A Sutton Trust report said two thirds of young people are actually thinking about apprenticeships now, but only a third of teachers are promoting that opportunity. Lots of them say that is because they don't have the right information and don't know what the benefits are.
"My concern is that while we absolutely have to get the system right, constantly making big churning changes means people will not think this is worth speculating on for their children."
Halfon in the middle
Admitting he "sounds like a politician", Robert Halfon struck a note of compromise in his speech.
The former skills minister agreed there isn't enough evidence for major apprenticeship changes, but significant problems cannot be ignored.
"I think it is right to talk about the number of starts and right that perhaps after 11 months we don't have the whole picture about what is going on," the chair of the education select committee said.
"It is also right that we shouldn't change the levy into just a general skills pot because I think there would be huge gaming of the system."
However, Mr Halfon conceded that the "package does need some change", particularly where the levy is concerned.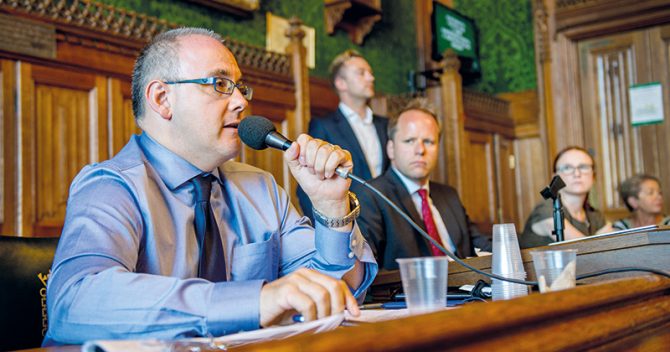 From next month large employers will be able to transfer up to 10 per cent of their unspent apprenticeship levy funds to multiple businesses. Mr Halfon wants this proportion drastically increased.
"I am sympathetic to the idea that you increase that to 50 per cent because I think it would benefit a lot of non-levy payers," he said.
Under current rules, levy payers must spend their levy pot within 24 months. Mr Halfon wants the government to also look at extending this "to possibly 36 or 48 months".
But overall he believes the levy was never going to transform apprenticeships in England alone, as there are many other "deep rooted" issues that need fixing alongside it.
"I think the apprentice levy should have been accompanied by much wider reforms in general," he told the audience.
"The problem is the levy is seen as the answer to everything when actually there are deep rooted problems in terms of having more disadvantaged apprentices, and there are deep rooted problems around careers advice in our country – it is not skills focused."
He also touched on issues with the government's three million starts target.
"In terms of the three million target, I always thought it was a good thing because I thought it concentrated the mind of the Treasury," he said.
"My one fear having thought about it a lot is that what it means is that it is a substitute for quantity over quality. I want to see a lot more quality and progression."
In conclusion, Mr Halfon said, the "apprentice ladder of opportunity only works if the levy is included in a whole load of things and not just seen as the answer to everything.
"I hope we make some changes to the levy but not to the foundations. If you imagine it was a house, I'd like to make changes to some of the rooms."