A college governor's tragic loss led colleagues to help raise nearly £10,000 for charity, writes Rebecca Cooney.
A charity cycle took on a personal significance for a college governor and his wife, as college staff helped raise almost £10,000 for a charity dedicated to the memory of their baby daughter.
A four-strong team, from MidKent College, took part in the gruelling Cyclothon UK relay race around the famous Brand's Hatch motor racing track, in Longfield, Kent.
Their aim was to raise money for governor David Ward's charity, Abigail's Footsteps, which campaigns for better support for parents coping with stillbirth and counts television weathergirl Sian Lloyd as a vice president.
David and his wife Jo were expecting their first child in 2009, but at 41 weeks doctors were unable to find a heartbeat and informed them the baby girl they'd named Abigail Rosie-Ann had died.
The couple's heart-wrenching experiences over the next few days inspired them to set up Abigail's Footsteps.
"We had a tough time in the hospital — they are geared up for delivering babies and getting mums out, they're not very good when one dies," said David.
"Some of the staff have never experienced it, some of them don't know how deal with it and a lot of hospitals don't have the facilities."
Since Abigail's death, David and Jo have gone on to have two children, Rueben and Bethany, but continue to campaign to prevent other families from having the experiences they did.
But memory of the ordeal is still raw for Jo and David, who recall how the hospital didn't have a dedicated space for families in their situation.
"We found out on the Sunday night. Jo was induced on the Monday morning after the final scan and delivered on the Wednesday morning," said David.
"So for three days we lived in the hospital, in among the delivery suites, hearing the newborn babies crying and the families celebrating, so it wasn't really a good place."
One of the charity's campaigns is for hospitals to have a dedicated bereavement suite.
Jo and David would also like to see information booklets supplied to parents explaining what their options are.
"Your child dies and you have no idea what you can do or what you can't," said David.
Such information, he said, should be available to parents, along with details of funeral options and birth and death registrations.
"Things have got to change really," he said.
Jo said:  "We hope that by raising money and awareness through Abigail's Footsteps we will spare other parents the trauma and devastating loss that we went through."
Of the 275 riders racing for different charities around a 2.6-mile course in the Cyclothon, 24 were racing for Abigail's footsteps, with the four MidKent College staff taking on a longer 12-hour solo challenge.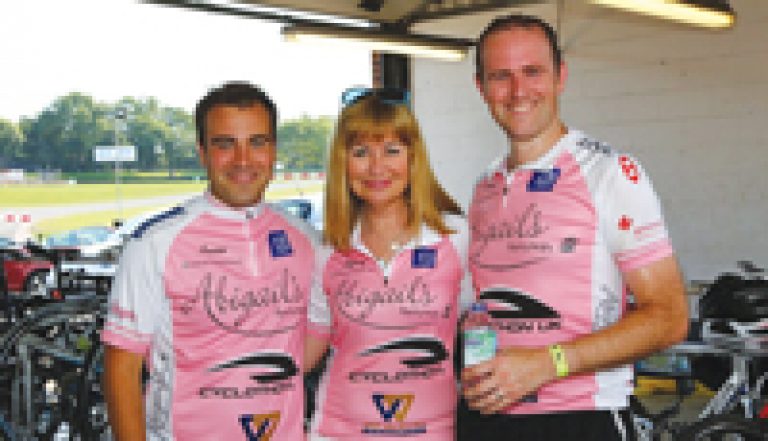 The college team consisted of caretaker Jason Payne, head of faculty for care and community services Graham Heath and sport lecturers Mark Lampard and William Lee.
Along with two non-college teammates, they finished in fourth place after completing 61 laps between them. The Abigail's Footsteps team efforts raised £9,552 in total.
David said: "It was a good day. Thanks so much to the college for their help and support."
Mark said: "An amazing day was had by all. It was a privilege to support such a fantastic charity and we are already planning to return next year."
The charity's next project is to raise awareness through a specially commissioned film, which follows how a mother deals with a stillbirth on her journey through hospital.
The film will premiere on December 9.
Visit www.abigailsfootsteps.co.uk to donate to Abigail's Footsteps, or find out more about the Rochester-based charity, founded in 2010.