Government plans to create 3m apprenticeship starts by 2020 are "largely unfunded," post-16 policy adviser Professor Lady Alison Wolf claimed today in a hard-hitting report that warns FE could "vanish into history" to foot the bill.
The King's College academic, who penned a 2011 government review of vocational education, said the push for apprenticeship numbers risked "major cuts" to the rest of the adult skills budget and branded post-19 funding as "unstable, inefficient, untenable and unjust".
In her latest report, entitled Heading for the precipice: can further and higher education funding policies be sustained?, Professor Wolf challenged the government on its apprenticeships pledge, saying: "The government has made commitments to apprenticeship which appear to be largely unfunded.
"One obvious source of funds is the rest of the adult budget. This has been falling sharply in recent years, and is currently one of the few sizeable 'unprotected' budgets in Whitehall which can be adjusted easily.
"It seems extremely likely that additional, major cuts, will be made, further widening the resource gap demonstrated in this paper."
It comes just days after Skills Minister Nick Boles told the Association of Employment and Learning Providers conference how a study showing the return on public funding of apprenticeships outweighed that of classroom-based courses would "guide" decisions.
The report, supported by the Gatsby Foundation, also comes as the sector prepares to take its share of £900m of cuts facing the Department for Business, Innovation and Skills (BIS) and the Department for Education, while providers were told they would have to wait until after the July 8 budget for a decision on in-year apprenticeship funding growth requests.
Martin Doel (pictured below right), chief executive of the Association of Colleges (AoC), said: "Professor Wolf is right to say that unless its funding is protected adult education and training could disappear entirely.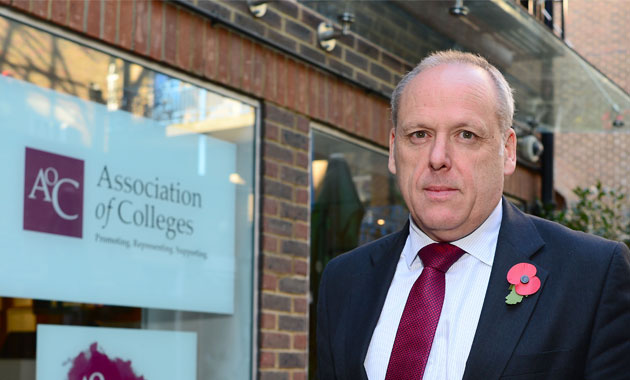 "If post-19 education starts to vanish so do the future prospects of the millions of people who may need to retrain as they continue to work beyond retirement age, as well as unemployed people who need support to train for a new role.
"Adult education and training in England is too important to be lost, to both individuals and the wider economy.
"Colleges are ambitious and work hard to make sure they're helping to produce a workforce with the right skills for the local job market but they cannot do this alone.
"The Government must look again at its funding of adult education and training and ensure that it is given the support it so rightly deserves.
"In 2011, Professor Wolf issued a landmark report which changed the face of post-16 education. Her latest report is equally as important."
Professor Wolf's 87-page report goes on to say that spending per head on the 20 to 60-year-old population has halved since 2010, while cuts in the early years of the Coalition meant the total skills budget fell below 2002 levels a decade later.
Professor Wolf warns that as the gulf between college and university funding continues to expand, student demand will move into the university sector, driving technical education out of the FE colleges — which are best placed and most suited to delivering it.
Her report says the result will be the destruction of the college-based part of the education system, crippling the country's ability to provide technical, employer-facing education. Further, it will place unsustainable demands on the higher education budget, potentially threatening quality.
"We should all be extremely concerned about our increasingly inefficient and inegalitarian system of funding post-19 education. Our future productivity and prosperity are at risk if we don't address the ongoing erosion of provision outside the universities," said Professor Wolf.
Nigel Thomas, director of education & skills at the Gatsby Foundation, said: "Professor Wolf's report lays bare the failures of the current system of FE and HE funding and how these threaten the provision of technician-level training. Technicians are critical to our economy but our skills system is not producing them in anywhere near sufficient numbers."
A BIS spokesperson said: "The government is committed to creating 3m apprenticeship starts by 2020 and will continue to work with colleges and business to ensure that happens.
"We will continue to focus investment in areas that have the most impact on increasing the skills of our  workforce and help increase productivity across the country."