The process for establishing new FE colleges could be out of date, the government has warned after reviewing the first general FE college incorporation in more than 20 years.
The Department for Business, Innovation and Skills (BIS) has published a report outlining how Essex-based independent learning provider Prospects Learning Foundation (PLF) became Prospects College of Advanced Technology (PROCAT), in August last year.
It was the first college incorporation since 1992 and FE Week exclusively revealed how the process was under way just over a year before it concluded.
Nevertheless, in the BIS report, which sets out the requirements the PLF had to meet in order to become a college, including a good or outstanding Ofsted judgement, a business plan and a satisfactory provider financial assurance audit review, BIS said the current system for incorporation, which dates back to the early 1990s, might not be "appropriate" for future projects.
The report said: "An important element of the project was to identify, address and learn lessons from the processes, recognising that the legislation and regulations under which they were being conducted were from a different time and were not designed to support the establishment of a new, specialist technical college within the FE sector.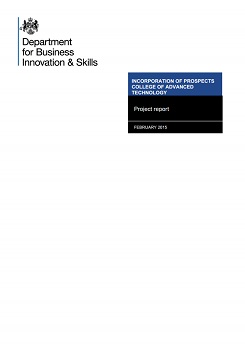 "This project was a first in the sector for over 20 years and so as the project developed we were clarifying legislation, regulations, policy and processes internally with PLF and in relation to obtaining ministerial approval.
"The project was also completed within a very short timescale (from the first Project Board meeting to incorporation was 10 months). The process has highlighted lessons learnt in two key areas: the process undertaken and the policy and legislation in place.
"The process currently in place for new incorporations and entrant funding may no longer be appropriate. This is being reviewed as part of a wider project assessing the longer term implications of government policy reform for the FE/skills provider market."
BIS said the report also served to clarify the criteria for applications for incorporations, and concluded that this project had succeeded due to a "shared commitment to achieving the project outcomes and overcoming obstacles" and said the policy and processes for a new college wanting to incorporate from scratch were now "much clearer".