Travellers using the facilities at a Shropshire train station could be forgiven for thinking they've taken a wrong turn, after its toilet was transformed to resemble an African savannah, reports Samantha King.
Station toilets generally don't have the best reputation, but thanks to students at Derwen College, the toilet at Gobowen train station has had a dramatic makeover – and won an award in the process.
Visitors can spend a penny on the African plains, surrounded by giraffes, zebras, elephants, an orangutan and a lion – all in mural form, of course.
The quirky project came about as part of celebrations for Gobowen station's 20th anniversary, which included the redecoration of the station's office and waiting room.
When it came to the toilet, however, Severn Dee Travel, which runs the station on behalf of travel company Arriva Trains, decided to draft in students from the neighbouring college to do something a little bit different.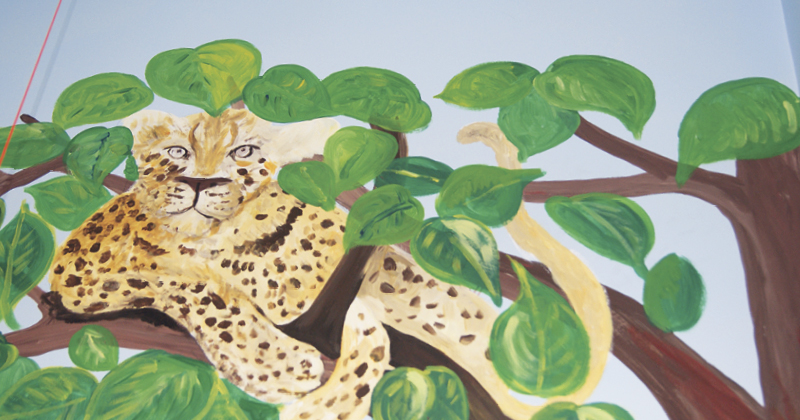 The college provides residential FE for students with learning difficulties and disabilities, and has run the station's café for the past four years, allowing students to practice real-life skills to prepare them for the world of work.
Creative arts teacher Jane Carrington oversaw the project and guided students with the mural. Explaining the process, she said: "There was just one group of four students working on the mural. We spent four weeks designing it in the classroom, and then for two hours a week over 10 weeks, we were actually in the station painting."
The somewhat unusual African savannah theme was suggested by a student, who was inspired by Jane's time as an arts teacher in Botswana.
Jane said: "We were even going to plumb music into the loo as well, like an African choir – so you're totally transported on this loo with a view. We wanted to buy a toilet seat with lions on it, and we talked about painting the floor – but we never got that far. Severn Dee were thrilled with any idea we'd come up with, it was just whether legally or health and safety-wise we could do it, really."
The project, aptly named the 'Loo with a View', clearly impressed, scooping second place for the 'community art project' category in the annual Community Rail Awards. The station's café was also recognised in the awards, taking first place in the 'involving diverse groups' section.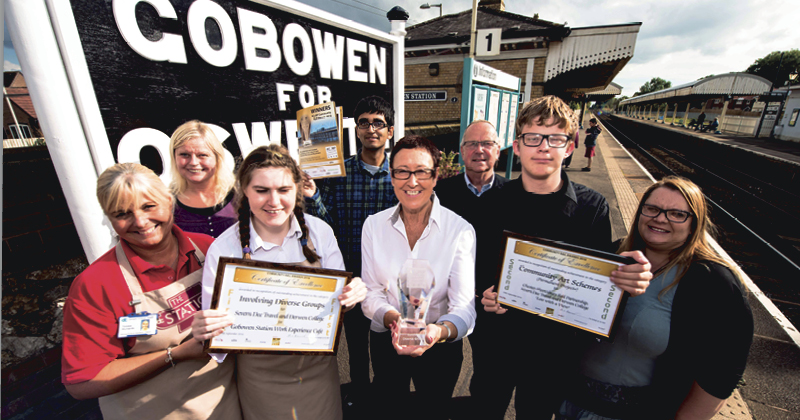 The Community Rail Awards, which began in 2005, aim to recognise the unsung heroes of the community rail world, and have their work and achievements recognised and rewarded. Awards on offer include everything from 'best floral displays' and 'small projects award' to 'most enhanced station buildings'.
Passengers have been quick to praise the new facilities at Gobowen station, with people who weren't even travelling going out of their way to take a peek at the impressive mural.
Martin Evans, finance director at Severn Dee Travel, said: "The toilet was basic. It was immaculately clean and well decorated, but we thought we'd do something different and see how we could improve it for our passengers.
"We thought it would be a good idea if we could involve the students from Derwen, and now passengers that use the loo think it's very impressive."