It was a close game, played in true WorldSkills good spirit, but in the end Team UK succumbed to the greater footballing prowess of their young German hosts.
The game, hastily organised by Team UK photographer Ellis O'Brien, ended 4-3 in favour of the children from Grundschule Am Rodelberg primary school, in Torgau, around 35 miles north east of Leipzig.
In goal for the visitors was Preston 25-year-old Sam Andrews (pictured above), a manufacturing coach and Team UK alumni.
"The game was great fun and the kids kept talking to me about Wayne Rooney," he said.
"I managed to make a few spectacular saves, but they were just too good for me in the end."
The visit was part of the WorldSkills One School, One Country programme where every competitor nation is teamed up with a primary school from the Saxony region of Germany.


And as part of the programme, the Torgau children learned all about the UK and gave their adopted team a huge celebrity welcome when they arrived.
The youngsters shrieked with excitement and waved Union Flags as the team stepped off the coach. The pupils then performed a medley of English songs, played Simon Says and rounded off the warm welcome with the Team UK anthem, Florence and The Machine hit Spectrum.
Jaine Bolton, National Apprenticeship Service chief operating officer and UK official delegate to WorldSkills 2013, addressed the children and teachers for Team UK.
"I'd like to say a massive 'thank you' to everyone who helped organise this welcome — you've all been bright, shiny stars for us," she said.
"We've got an amazing team from the UK — amazing like the children at this school. We've enjoyed this visit and meeting you all so much."
Team UK's Nehmaan Ahmed (pictured below, centre), 21 and from Luton, was swamped with youngsters as he took five minutes to speak to FE Week (before heading off to take part in Team UK's lunchtime kickabout with the children).
The IT network administration competitor, who has a foundation degree from the University of Bedfordshire and a qualification from IT giant Cisco, said: "I'm quite a shy person, so really appreciate the welcome we've had — there was no way I would have been up and dancing when I was their age."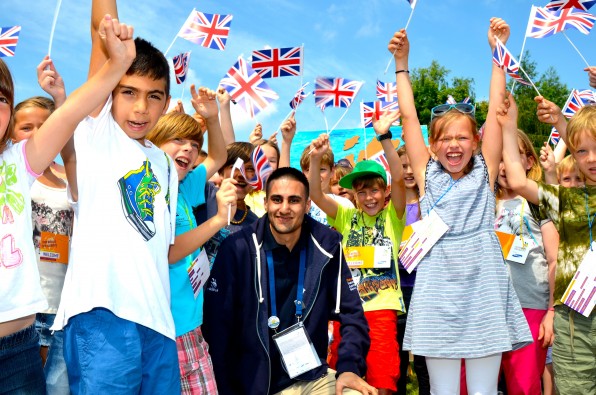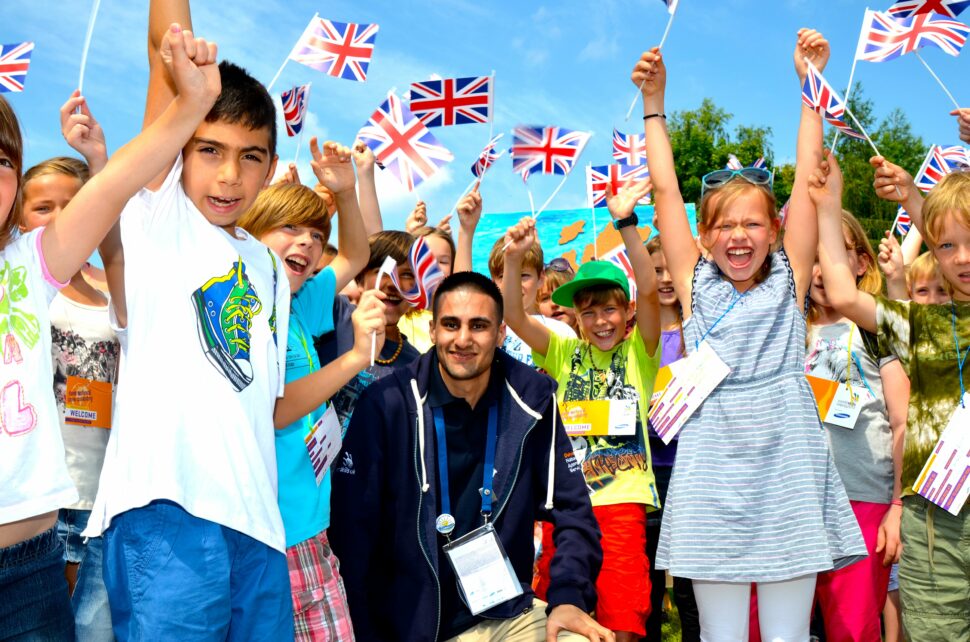 He added: "Coming to this school and seeing the children's reaction to us has really got me ready for the competition. And I'm also looking forward to seeing what other competitors are up to, like the mechanics and landscape gardeners — their skills and tasks are really interesting."
The visit, the day before competition begins back in Leipzig, was the culmination of several months' preparation by the children, organised by Year 1, 3 and 4 teacher Anne-Maria Rahnfeld (pictured below, left).
Head teacher Bettina Schwengber (pictured below) said: "The children researched the UK and some of them were very surprised about how the UK has school uniforms, which is something we don't have, and we had a really good classroom discussion about the pros and cons of uniforms.
"They were also shocked about how you drive on the left hand side of the road and found the things people in the UK eat very funny, like the breakfasts, the passion for fish and chips and how everyone drinks English tea all the time."