The Conservatives look set to continue with their skills agenda after Theresa May managed to secure a deal to form a new government after a disastrous election for her party.
As FE Week went to press at noon on Friday, the Conservatives had 318 seats while Labour had 261, meaning that neither party had an overall majority in the House of Commons.
The prime minister is expected to be given permission by the Queen to form a minority government with support from the Northern Irish Democratic Unionist Party, which won 10 seats yesterday, but there are still doubts over her future resulting from the disappointment and anger over the election results in her own party.
The deal means it is highly likely that the expansion of the apprenticeships programme and the introduction of new T-levels will remain key planks of the party's skills plan, not least because their implementation started before the election was called.
Shane Chowen, an FE Week columnist, said that he expected the Conservatives to continue with their proposals.
"There was very little that was actually new in the manifesto," he said. "None of it is so controversial that the Tories will be worried about the political capital they might have lost."
However, Mr Chowen did speculate that FE could slip down the new government's agenda as the focus increasingly turns to Britain's impending exit from the European Union.
"I don't think that is a good thing," he said, adding that FE and skills are "fundamental" to the success of a post-Brexit Britain.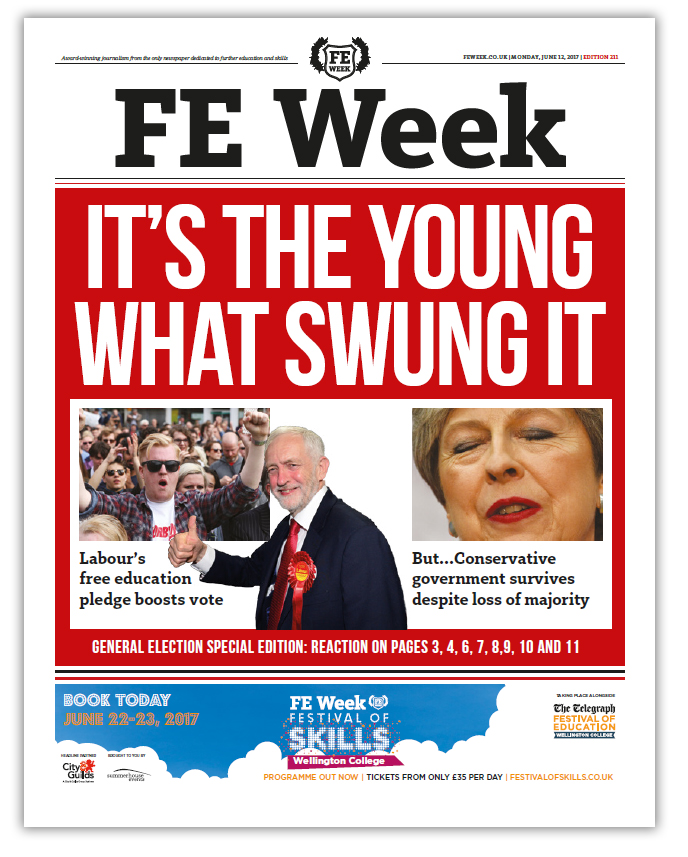 Despite its boost in the polls, Labour would only be given the opportunity to form a government – which would need the support of numerous other smaller parties – if May failed to make her deal with the DUP work, an outcome which now looks unlikely.
Many pundits are putting the unexpectedly large Labour vote share – bigger than that achieved by Tony Blair in 2005, Gordon Brown in 2010 and Ed Miliband in 2015 – down to high turnout among younger voters.
Education and skills were also central to Jeremy Corbyn's manifesto: the Labour leader pledged a new "national education service", including proposals to scrap FE fees for adult leaders. A promise to scrap university tuition fees is likely to have played a part in attracting younger voters.
Sally Hunt, the general secretary of the University and College Union, said it looked like young people in particular "have been inspired to vote in greater numbers in this election with a number of seats in towns and cities with universities and colleges changing hands".
"This is really encouraging and a vindication of all those, including UCU, who worked so hard to encourage young people to register to vote, and to vote for the first time," she said.
Writing exclusively for FE Week, David Hughes, the chief executive of the Association of Colleges, said he was "proud" of the work that colleges across the country have done to "encourage voter registration as well as running hustings and debates to engage students in politics".
"It is one good example of the role colleges play in helping to build a more inclusive society. Who knows, we may even see voting from age 16 in the future?" he said.
The apparent high youth turnout has also been welcomed by the National Union of Students.
"Last night's reported turn out of young people in this election is a testament to the work of students' unions and a clear sign students and young people care about politics and care about the future of our society," Shakira Martin, the union's president-elect, told FE Week.