The Gazelle Colleges Group is on life support following a precipitous drop in membership, months of inactivity and the departure of its executive director.
At its peak, the group, formed in 2011 to promote enterprise in colleges, had 23 members – each of which paid many thousands of pounds in annual membership fees.
But FE Week investigations have found that just six members now remain – City College Norwich, Activate Learning, Barking and Dagenham College, Highbury College, Glasgow Kelvin College, and South West College.
Significantly, the group's former executive director Carolyn Chapman-Lees left the group in June – a fact which FE Week discovered when we attempted to email her, as the Gazelle website still lists her as its main contact.
The group, which is registered at Highbury College Portsmouth, was subject to an FE Week investigation in 2014.
This revealed that the five founding member colleges had each paid more than £530,000 to the group since it was launched.
This included a payment of £120,000 for the "purchase of educational concept" by Gateshead College.
Among Gazelle's activities was the Pantrepreneurship Challenge, run by the fair-trade underwear brand Pants to Poverty in partnership with the group.
However, the underwear company was dissolved in October, as reported in FE Week.
Despite heavy criticism about the waste of public money, no return-on-investment analysis was ever published.
FE Week this week asked Stella Mbubaegbu, the principal of Highbury College and one of Gazelle's two remaining directors, to justify the huge sums of public money paid to the group. She declined to comment.
However, Gazelle's other director, Alan Sherry, principal of Glasgow Kelvin College, said the group is now operating on a collective basis to "share best practice and skills across the member colleges" with no paid leader.
He added the group was not actively seeking new members and that its website, which has not been updated since April, should have been taken down. Its Twitter account has also been dormant since December 2015.
Policy expert Mick Fletcher, who voiced his skepticism about the group in FE Week as early as March 2012, said Gazelle was "not the first example of unwise investment by FE colleges and probably won't be the last".
He added: "Two things stand out: one is the scale of the sums gambled by the founding members, but perhaps even more significant is the sheer credulousness of a few leaders who built a business fantasy on the back of some interesting but unremarkable approaches to curriculum innovation."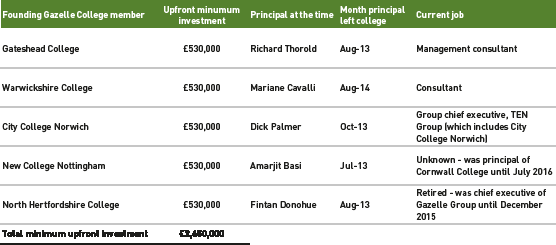 City College Norwich is the only founding member that is still be part of the group. Warwickshire College Group left last May, New College Nottingham quit in July 2015 and North Hertfordshire College pulled out in May 2015, while Gateshead College also left in 2015.
The current Gazelle Colleges Group company was formed in February 2016, following the liquidation of its predecessors, Gazelle Global and the Gazelle Foundation.
These had "ceased trading" by May last year, when Ms Chapman-Lees told FE Week Gazelle Colleges Group was the "new legal entity".
Ms Mbubaegbu and Mr Sherry are its only two directors, according to Companies House, after a third – Margaret Constantine – resigned in July.
Membership fees were initially £35,000 a year, but these were slashed to £15,000 in September 2015 following a membership review.
Former Gazelle executive chair Fintan Donohue retired at the end of 2015 after more than four years at the helm.