The UK FE and skills sector is represented in a four-day trade delegation to Singapore and Malaysia led by Prime Minister David Cameron.
The Association of Colleges (AoC), Newcastle-based Awarding organisation NCFE and provider Learning Curve have got representatives involved in the trip, organised by UK Trade & Investment North West (UKTI).
Business Secretary Sajid Javid is also part of the Northern Powerhouse delegation that includes 62 companies exploring business opportunities in South East Asia.
Mr Cameron said: "The government is committed to ensuring the UK's northern regions play their part in rebalancing our economy.
"With so much untapped potential, I'm delighted to be part of this first Northern Powerhouse trade mission – the first of what I hope will be many."
The Northern Powerhouse initiative supports sector-based trade and investment missions for companies across the North of England. And South East Asia has been identified as a region with strong opportunities for UK business.
The current mission focuses on infrastructure (sports), manufacturing, business and professional business services, education and value added sectors.
Martin Doel (pictured right), AoC chief executive, is on the trip, as is Gail Rochester, NCFE senior business development manager.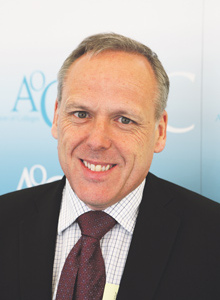 "It's been a privilege to have been a part of the Northern Powerhouse delegation with civic leaders including the interim Mayor of Greater Manchester and businesses of all sizes from the North," Mr Doel told FE Week.
"It has also been good to see Mr Javid in his role promoting British exports from the North of England in concert with the Prime Minister's visit to the region.
"As well as following up on contacts in the region with whom the AoC and colleges have been working, we have also been able to form stronger links with the Northern businesses, almost all of whom have relationships with their local colleges who deliver their apprenticeships and other training."
David Grailey, NCFE chief executive, said: "We are delighted to be part of this prestigious UKTI business mission, which is an important step in the ongoing work to help the North of England reach its potential as a driving force in the UK economy.
"Working with like-minded local companies to make a bigger impact on the economy is something we feel passionate about so we were very keen to get involved.
"Undertaking this type of overseas visit presents an exciting opportunity to experience a different business culture and build valuable relationships — especially in South East Asia which is such a vibrant and fast-growing region.
"As we are in the process of expanding our reach across a number of international markets, we're looking forward to hearing all about Gail's experiences in Singapore and Malaysia and most importantly, taking on board her insights and learnings from the mission to inform the work we're doing now and in the future."
The delegation includes receptions, networking sessions and events arranged by the British High Commission.
Justine Crozier, Learning Curve Group's international development director, is also on the trip and said: "It is incredibly important to us to be part of a trade mission that is opening doors for British business in South East Asia.
"We believe there is huge untapped potential for our UK market-leading training and education products and services in this part of the world, and this is the best possible opportunity for us to enjoy the highest level of support that will allow us to explore that.
"The support and presence of the Prime Minister and Business Secretary gives this trade mission an unparalleled profile and one that will help to open doors to the people and organisations with whom we want to meet and do business.
"The Northern Powerhouse mission is an invaluable initiative and one which can bring only positives to our business and those of other UK companies. I am delighted to be part of this exciting visit."
Pic: Dave Rose, Flickr