A lecturer who founded student-led, commercial games publishing studio Rizing Games, has been awarded a top title at the National Enterprise Educators Awards, reports Samantha King.
Michael Warburton, the head of computer games development at Cambridge Regional College, won the Enterprise Catalyst award last week for his work with Rizing Games, a company run by the college's level three UAL games development students.
During their two-year course – which has been designed to reflect the way a games company works – students develop business plans, and learn all aspects of game creation before commercially releasing their games under the Rizing Games brand.
The initiative has now been running for eight years and began after Mr Warburton, who taught himself to programme after a career as a music tech teacher, noticed an hour of free time in the students' timetables.
"When I started teaching on the games course I thought, hang on, they're all learning these different bits but they're not building computer games," he said. "I decided, if they're not doing anything in that hour, let's get them to make a company where they can bring their ideas together and release games."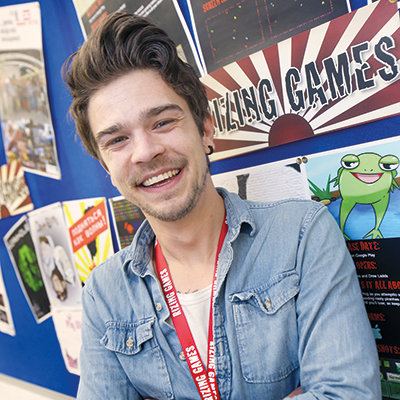 Mr Warburton was up against two university lecturers in the Enterprise Catalyst category, which looked for educators driving change inside or outside the curriculum through entrepreneurship.
"It was a surprise, if I'm honest," he said of his win. "The universities have set up amazing companies with degree-level and postgrad students that are turning over money.
"Rizing Games doesn't make a penny. It's not about the money.
"It's humbling to think people can recognise what I'm trying to do – it's not all about when you get to higher education. Yes, it's fantastic and you can specialise, but we've got to trust the younger learners. They can do it earlier if you give them the right tools and environment."
And since 2014, Mr Warburton has secured a spot for his students to exhibit the games they have made on their course at the world's largest international video game show, the E3 expo in Los Angeles – a highlight of the academic calendar.
"The second or third year of running Rizing Games, I said why don't we go to E3 and have a stall with the students. Everyone said don't be an idiot, so I went ahead and did it anyway," he said.
"Fundraising got us there, and a little bit of college support. We were standing there at E3 surrounded by the likes of Warner Bros and these massive games companies, and there was us this tiny little college from the UK. We were the only educational establishment in the whole world there."
During their first year at the expo, Warburton made connections with software company Unity and gaming giants Playstation, who both donated software and equipment to help the fledgling company get off the ground.
Mr Warburton is now keen to help schools, universities and fellow colleges set up similar initiatives, and is looking forward to continuing to grow Rizing Games.
"My dream goal would be to run apprenticeships for college and uni kids," he said. "There aren't apprenticeships within the games industry, so if I could get to the point where I could offer them an apprenticeship here, that would be really cool."