A global competition that challenges young people to make their own Formula 1 cars has launched a category for engineering apprentices to coincide with National Apprenticeship Week. Samantha King reports
Regarded as one of the largest ever global STEM initiatives, Formula 1 in Schools operates in over 40 countries, challenging young people aged 11 to 19 to work in teams and engineer their own small-scale cars.
Now for the first time, the challenge will open up to apprentices, with a brand new professional apprentice class for competitors in the UK. 
Our last four world champion teams have been managed by girls
Andrew Denford, founder and chairman of F1 in Schools, said: "Through F1 in schools we try to attract more students into engineering careers. Apprenticeships are desperately needed by the supply chain, not only in Formula 1, but in automotive businesses throughout the UK."
There are currently three classes in the competition: an entry class for beginners, a development class, and a professional class for more experienced students, alongside which the new apprenticeship category will sit.
The professional and apprentice class is likely to see 14- to 19-year-olds from schools and colleges pitted against each other, and Mr Denford suggested a strong female presence could work in favour of teams, despite the potential differences in experience.
"Our last four world champion teams have been managed by girls. If school and apprentice entrants can get some females on their teams it will really be a level playing field. I'm not sure who would win between them. 
"It's a brand new thing we're launching so we're not quite sure what will happen."
To enter, students must form teams of three to six, before developing business plans and using state-of-the-art technology to produce model cars powered by CO2 canisters, which form an integral part of the competition process.
Competitors are judged on the speed of their cars, scrutineering, marketing and how much sponsorship they secure, as well as teamwork ability – and are required to give presentations on the processes they go through.
With regional, national and global heats, rewards for successful teams include tickets to the British Grand Prix, tours of the McClaren factory and scholarships and bursaries to some of the UKs top engineering universities.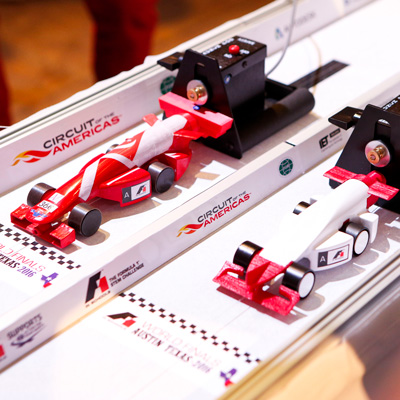 Denford explained "If you win the UK national competition [held at the Silverstone circuit], the team gets tickets for the British Grand Prix, a visit to the formula one team, and two half bursaries for UCL engineering.
"They've also got a chance to enter the Randstad Williams engineering academy who come and hand pick the best 10 from the
world finals."
David Hill, director of apprenticeships at the Department for Education, said "Formula 1 in Schools is a brilliant example of how apprenticeships can work across many sectors. 
"Apprenticeships are not just a unique way to progress in work and life but a fantastic way for employers to improve the skills base of their businesses, and I am delighted that F1 in Schools has embraced National Apprenticeship Week and apprenticeships in such an exciting way."
The new apprentice category will receive its official, national launch at the 2017 UK finals of F1 in Schools, held at the Silverstone Circuit on 29 and 30 March, ready for the 2017/18 season.
Main photo: The fast lane: 2016 national finalists at Silverstone