Bald hens at Reaseheath College are keeping warm with jumpers knitted for them by learners.
The 12 former battery hens had never been outside before and had poor feathering as a result, so animal behaviour students pulled together to knit the woolly outfits to keep them warm in the cold weather.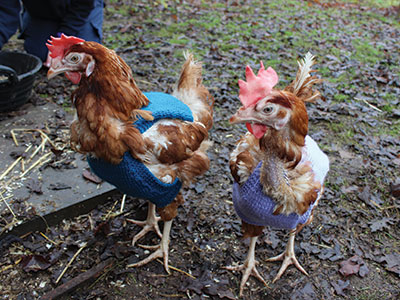 Since joining the college, the hens have already started to grow new feathers, and students are closely monitoring their progress and behaviour as they transition to free-range hens at the college's onsite zoo.
The hens are just over a year old, and were adopted by the college from the British Hen Welfare Trust, a rehoming charity for commercial laying hens destined for slaughter.
"The hens responded very quickly by showing natural behaviour such as perching and scratching the ground, and will hopefully go on to enjoy long and happy lives with us," said Lauren Lane, head keeper at the college.
"It looks like they're being thoroughly spoilt which is the kind of life we want for all our ex-battery hens," added Francesca Taffs, communications officer for the British Hen Welfare Trust. "While the jumpers are not something we would generally recommend for rehomer use, it's clear these little ladies are being monitored and cared for closely."
WATCH: The Reaseheath College hens get their jumpers fitted