The long-awaited traineeship scheme was in the spotlight at an Association of Colleges conference in Central London last Tuesday.
More than 60 delegates from across the country asked questions about and discussed the programme, which will be available from September for 16 to 19-year-olds.
Traineeships will prepare young people for work or an apprenticeship through offering unpaid work experience placements, as well as employability skills training and basic maths and English.
Eoin Parker, the deputy director for pre-employment and basic skills at the Department for Business, Innovation and Skills, said the traineeships, first announced by Deputy Prime Minister Nick Clegg in July last year, developed after employers voiced concerns that many young people lacked the skills and experience to compete for work or apprenticeships.
There was, Mr Parker said, "a real need for something that was a pre-apprenticeship step, which doesn't really exist at the moment".
He said many of the 450 responses to the discussion paper on the scheme, launched in January, supported the government's emphasis on providers having discretion to determine the exact content of their traineeships.
"The feeling was that individuals differ, localities differ, the needs of a business may differ and we really wanted this to be flexible for providers on the ground," he said.
"There was a strong consensus around the importance of the work experience element that reinforced our thinking, and on the importance of collaboration between employers and training providers."
When questioned about the decision to limit traineeships to 16 to 19-year-olds, he said that age group had been prioritised so that the scheme was available for the coming academic year.
He said that the intention was to expand it to 19 to 24-year-olds. "I can't confirm the precise timescale at the moment but we're working to make this happen," said Mr Parker.
We are looking for a quality start, this is a deliberate decision by [Skills Minister Matthew Hancock] to start with a quality group of providers"
The Skills Funding Agency head of funding for pre-employment Sara Tulk acknowledged that the timeframe had been very short.
She said: "It's very unusual to have a policy move to implementation so quickly. To say that lots has been going on behind the scenes to get us to this point is a slight understatement."
The Education Funding Agency's head of funding development, Kevin Street, agreed that traineeships would allow for a degree of flexibility.
"A large proportion of this development now really is up to you, and the partnership between yourselves, employers, Job Centre plus and the young people to design the programmes in the way that you see fit," he told delegates. "Therefore the rules are deliberately vague.
"In the words of Alison Wolf, 'only ask for what you definitely need', the rest is up to you to decide when you're designing your programme."
He added: "The more guidance you get from us, the more questions it generates, the more restricted you feel when delivering your programme."
Only providers with an Ofsted grade one or two can offer traineeships, along with some subcontractors.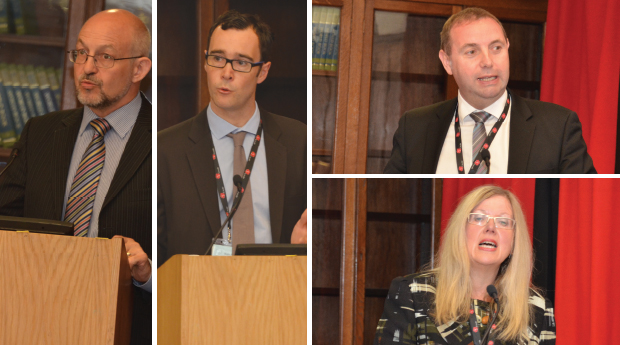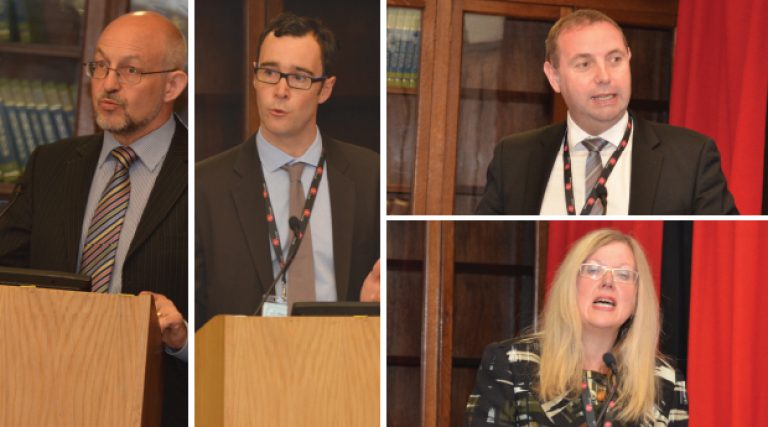 Clockwise from left: Kevin Street, head of funding and development, EFA, Eoin Parker, deputy director at BIS, Paul Oginsky, Youth policy advisor to the Prime Minister, David Cameron and Sue Clarke, EFA
Mr Street said: "We are looking for a quality start, this is a deliberate decision by [Skills Minister Matthew Hancock] to start — I won't use the word small — but with a quality group of providers.
"He is concerned that the traineeship brand, and there will be a brand in due course, is a respected one.
"Why use Ofsted grades?  We all understand they're not perfect, they don't say whether or not you will deliver a good traineeship, but what they do is give us a good impression of an overall well-managed operation.
"The long-term plan is to have a suite of robust destination measures to monitor
traineeships."
One of the biggest questions has been whether trainees will be able to claim jobseeker's allowance; critics say there would be little incentive to enrol if trainees lost financially.
Jim Patrick from the Department for Work and Pensions (DWP) confirmed that the rule requiring claimants to do less than 16 hours of training a week would be enforced at present, but that it would not apply under the government's new universal credit.
He said that DWP representatives were talking with the Treasury to try to relax the 16-hour rule for those who needed basic skills training.
"We'll just have to continue to work with and be supported by those colleagues in this because we both believe it's the right thing to do," he said.