A team of catering students from Barking and Dagenham college have designed a new fizzy drink that will go on sale in local shops this year.
'Rapple Fizz', a blend of apples and rosehip, will be the latest beverage to hit the shelves in the London borough, following a competition run by Company Drinks, a community drinks enterprise, to find new flavours to add to their existing range.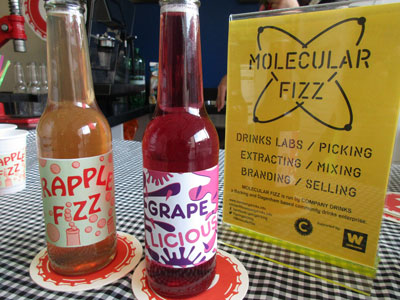 The students, who study at the college's Technical Skills Academy in Barking, split into two teams for the competition, and underwent a series of drinks-making workshops in preparation, using lab-based experiments to explore the science behind flavouring.
The final creations were tested on members of the public, before the Rapple Fizz team – headed up by 17-year-old Angel Smith – announced the winners. Team 'Grape Licious' were the runners up, with their mix of grapes and blackcurrant.
The winning team will help decide where the drinks will go on sale, and have already overseen their product be processed, bottled and packaged.
"We encouraged them to pick and mix their own ingredients, to extract flavour and to brand and market their creations to the public, ensuring that they've been involved at every stage of the process," said Cam Jarvis of Company Drinks.
Main image: Barks fizz: Designers Angel Smith and Gemma Naidoo with their products