A pair of enterprising students from Bedford College were triumphant in the 157 Group 'Going Further' Digital Skills competition last week.
Ben Dixon, aged 18 and Kylan McCaffrey, 20, who called themselves Benny Ben and the Funky Bunch, competed against five other finalists at Google headquarters.
The competition challenged students to test their digital and design skills by redesigning the 157 Group website.
During the final each group pitched their design to a panel of experts, who quizzed them on their work in a Dragons Den style format.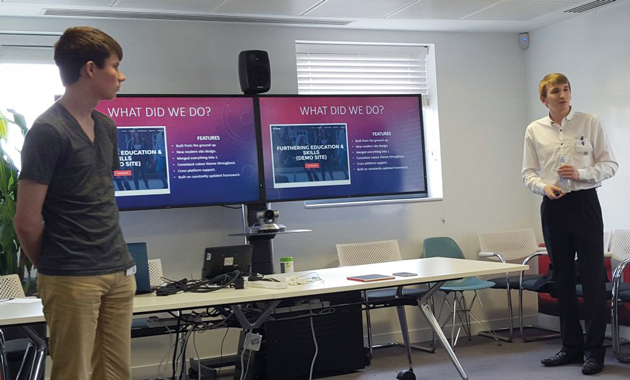 The judging panel included Ian Pretty, 157 Group chief executive, TV presenter Maggie Philbin, Nigel Sale, senior manager at Google, and Sophie Devonshire, chief executive of The Caffeine Partnership.
Ben and Kylan, who study a level three BTec diploma in IT, bagged an HP Chromebook and an HP Officejet Pro printer each for winning as well as an ingenious HP Sprout Pro for their college.
Skills Minister Nick Boles said: "157 Group's competition is an excellent way to help students gain the skills needed in our increasingly digital world. The participants will take away a wealth of experience to use in their future careers."