A former finance director has been singled out as the "root cause" of a major London college's financial failings, in one of three recent FE commissioner reports.
The former commissioner Sir David Collins and his team visited Lambeth College in September, following a "significant deterioration" in its cashflow.
Their report found that college finances were "no longer sustainable" unless it merged.
They cited and concurred with an investigation that had been carried out by the college itself, which found that "the root cause for both management and governors was the reliance on and trust placed in the vice-principal for finance and business planning who oversaw financial controls that were inadequate".
Meanwhile, reports of the FE commissioners' interventions into Tresham College and Epping Forest College – both published on Thursday – revealed that both had been placed in administered status.
Sir David's team visited Tresham in September after it had been rated 'inadequate' by Ofsted, while his successor Richard Atkins (pictured) visited Epping Forest in January, after it was given a grade four.
The report into Lambeth College found that both the 2015/16 budget setting process and financial reporting had been "poor".
Its budget had been prepared by its former finance director, but it "was not based on a realistic and accurate curriculum plan", while there had also been "a lack of rigour in ensuring the budgets were deliverable".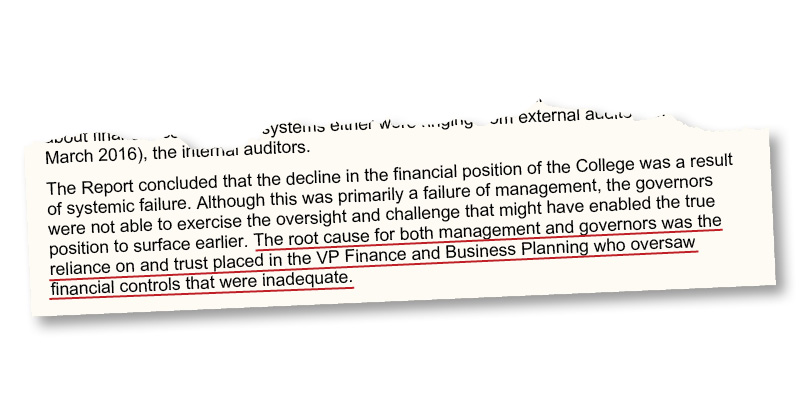 The college's principal at the time, Mark Silverman, and its then-finance director, Shaun Orrell, have left the college since its financial difficulties were uncovered.
Mr Orrell, who is currently finance director at independent training provider JTJ Workplace Solutions, said when he took up his post in March 2014 he had inherited a number of issues at the college that he had "worked hard to address".
He added that there were "several ongoing and significant issues that affected the college's finances", including funding cuts, and industrial action at the college.
As previously reported by FE Week, Lambeth is pursuing plans to join forces with London South Bank University, though no date has yet been set for any link-up.
Monica Box, the college's interim principal, said: "Lambeth College is currently working to address the recommendations within the commission report".
She added that discussions with LSBU were "moving forward on models of governance".
The report into Tresham College said there had been a "high level of churn" in senior management, and that the board had failed to identify this as a "key risk".
"Weak performance has been left unchallenged until it has reached a crisis point," it said.
Financial forecasts were meanwhile found to be unrealistic, and it was "likely that the college will go back into deficit this year".
Although it noted that changes were now being made, the report concluded that "the quality and finance improvement agendas are both now urgent".
Ioan Morgan, who is the interim principal at Tresham, said he was pleased the report "acknowledges that we have taken appropriate action to address the college's position".
He added: "The college is now working towards a merger with Bedford College which will address both quality improvement and financial sustainability."
The commissioner's report into Epping Forest was damning about governance, standards and finances at the college.
While the college's financial health had been rated 'good' until recently, the report concluded that a "significant deterioration" in its finances meant that it would fall to 'inadequate'.
I have every confidence that the college is on the way up
There were found to be "serious issues" in governance, and both the board and the senior team had "been too slow to recognise the declining quality and financial performance".
Saboohi Famili, Epping Forest College's principal, said she agreed with the commissioner's report and was already working to implement his recommendations.
"The college has already established a renewed leadership team and new members of the board of governors," she said.
"Our practices have been revamped to ensure our learners are successful in their qualifications and gain university places or progress to higher-level courses or jobs. I have every confidence that the college is on the way up and I am personally grateful for the support we receive from government agencies on our journey."